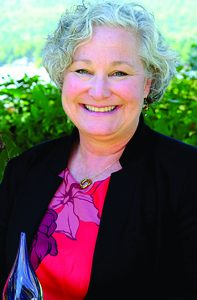 Wiawaka Center for Women located on the eastern shores of Lake George has presented this year's Mary Fuller Women Helping Women Award to Warren County Supervisor Andrea Hogan.
In keeping with the vision of Mary Fuller, the Wiawaka Center for Women annually recognizes a person or an organization that exemplifies direct service to and impact on local women with the award.
Hogan has many responsibilities in her many roles in our community. She is the supervisor for the Town of Johnsburg, supervisor of the Warren County Board of Supervisors, an appointed Adirondack Park Commissioner and chair of Economic Growth and Development.
In her role as the Economic and Growth chair  for Warren County, "she has demonstrated her fierce advocacy for our community. Her efforts impact women across the State, but they especially impact Warren County, Johnsburg and the Adirondacks," the organization said.
To that end, in the spring  Hogan sponsored the first-ever legislation prioritizing diversity, equity, and inclusion. She works tirelessly to provide countless opportunities for small businesses and zealously advocates for minority and women owned businesses.
In addition to her other positions, Hogan is dedicated to the Girl Scouts in our community, and she helps Adirondack Community Outreach Center provide clothing to those in need, developing community gardens to address food insecurities, providing toys for those during times where they are without and helping mothers and families that are sometimes left not knowing who to turn to for help.
Also, Dorothy Burt was awarded the Spirit of Wiawaka award for her many years of support and dedication to Wiawaka.
She not only financially supports Wiawaka by being their very first season passholder for the last 20 years. She has sewn beautiful curtains for several of their buildings and provided her grandmother's antique curtain rods to hang them, plus she graciously donated chairs she had won at a previous Ladies of the Lake luncheon, that occupy the parlor in Fuller House.
Wiawaka Center for Women is a  charitable organization dedicated to enriching the lives of women through wellness, learning and art. Since the early 1900s, artists, including Georgia O'Keeffe, have spent summers painting on Wiawaka's beautiful lakeside campus.
It is the oldest and longest continuously operating retreat for women in America. We are proud to honor our tradition and embrace the future as we work to maintain this historic property and fulfill the mission set forth by our founders, Mary Fuller and Katrina Trask.
Contact  Executive Director Doreen Kelly at wiawakadirector@gmail.com for sponsorship, workshop instruction or for volunteer opportunities by calling (518) 668-9690.
For more information about their events, programs, and workshops, visit www.wiawaka.org.