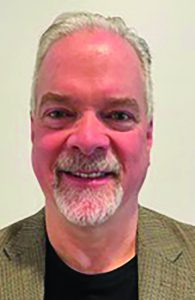 By Christine Graf
In the early days of the pandemic when non-essential businesses were forced to close, companies relied on information technology professionals to help keep their businesses running.
At Glens Falls-based TIMIT Solutions, software professionals helped customers by writing software that allowed them to work remotely. TIMIT works with small to medium-sized companies around the globe to develop software applications that improve efficiency.
"If people are working from home, they are having to do things that normally they might have done in the office using old fashioned paper and pen. We help to digitize some of those things on the software end of it," said Tim Montgomery, one of TIMIT's three principal owners.
When the pandemic shut down non-essential businesses, many companies reached out to TIMIT to write COVID screening software which in some cases needed to be HIPPA compliant.
"We had some local customers that deal with the medical and healthcare industry, and they need a HIPPA-compliant screening setup where they would have fully encrypted end-to-end data and people could do that on their cell phones from wherever before they were to come into the office or meet with somebody outside of the office. We did that for customers in multiple states."
Within these application, all personal health information was fully encrypted to ensure patient privacy.
"The application was making sure end-to-end that nothing was being shared in an external email or something like that," he said. "We had to provide a completely locked down HIPPA-compliant environment."
The demand for this type of software went well beyond the medical industry. Customers in other industries also reached out to TIMIT for help during the pandemic when in-person contact was limited.
"This pandemic brought us from writing cool mobile apps and doing web sites and other kinds of custom apps to helping customers with their move into the digital arena. That literally that meant replacing paper and pencil," he said. "We hear things from clients saying, 'This is so easy. Why haven't we always done it this way.'"
As an example, Montgomery referenced the Adirondack YMCA in Glens Falls. Instead of having someone at the door screening members, they used software developed by TIMIT that allowed them to prescreen members, employees, and vendors before they walked through the door. People were required to answer screening questions on a digital device before arriving  and only those who passed the screening were allowed inside.
"The Y had a database that was completely encrypted where they could see all of the rejections and all of the accepted," said  Montgomery.
TIMIT also helped an unidentified customer in Ballston Spa that is in the service industry and was deemed an essential business. The business remained open during the pandemic shutdown.
"They go into schools and businesses and do testing of their heating and cooling and water systems. They had to keep working but didn't want people coming into the office every day," said Montgomery. "So we developed a field service app—a custom mobile app—so that technicians didn't have to come into the office. They could go to straight from their homes to a client's site and complete their services and upload everything to a central database."
Because of the challenges that were introduced by the pandemic, Montgomery said companies have become much more receptive to developing digital apps.
"I think what it's done is opened their eyes to what the opportunities are to reduce costs by simplifying the processes, by taking labor out of the processes, and by automating simple tasks that people are bored doing anyway."
Montgomery said it is essential that all data is encrypted end-to-end in order to ensure that it can't be shared outside of a database. It is also critical that employees are trained on how to avoid falling victim to cybersecurity threats.
"We aren't in cybersecurity, but education and training is probably the most important piece of it. Don't click on that link. Don't believe everything you get. Educate and train your people on how to respond to these types of things."
TIMIT also recommends using two factor authentication or one-time passwords. They also architect their applications in a way that ensures that data is separate from the applications which makes them more secure.
"Passwords are not secure," he said. "If enough time and effort is put into it, almost any password can be figured out. You really need to have that second level of protection."