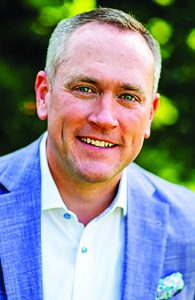 By Christine Graf
According to the Federal Reserve, only 36 percent of Americans are adequately saving for retirement.  The National Institute on Retirement Security estimates that almost 40 million U.S. households have no retirement savings.
Certified Financial Planner Mark Wells, co-founder of Three Buckets Wealth Management, recommends that everyone have three to five months of living expenses in their savings accounts. A private wealth advisory practice of Ameriprise Financial Services, Three Buckets has offices in Glens Falls, Latham, and Tucson, Arizona.
"If you don't have disability insurance through your employer, it should be closer to six months of living expenses," said Wells.
He recommends making maximum contributions to employer matched 401K programs in order to take advantage of "free money." He also recommends Roth IRA's to many of his clients including recent college graduates who are in lower tax brackets than they will be later in their careers.
"What we have been doing with a lot of our clients is a Roth conversion which is essentially realizing the tax or converting pre-tax assets like a 401K or IRA to a Roth IRA so that you realize the tax in that year. But that amount going forward is tax free, and the earnings are also tax free. It's tax free to the owner of the account but also tax free to the beneficiary when they receive it down the road. In your early years when income is lower than it will be in the future, making a Roth contribution is a wise idea."
Many of Three Buckets' clients are members of the Baby Boomer generation and plan to leave inheritances to their children.
"The Baby Boomer generation is getting older and older, and it is the first generation that is expected to leave behind more money than the prior generation. A lot of money will be changing hands," he said. "There's a lot of financial planning that goes into making sure we are making a client's situation as tax efficient as possible and also for the next generation's because we want to make sure that Uncle Sam isn't your biggest beneficiary when it's all said and done."
When developing investment strategies, the firm focuses on what Wells refers to as the "three buckets." The first bucket, the pre-tax bucket, contains IRAs, 401Ks, and other investments that will be taxed upon withdrawal. The second bucket, the after-tax bucket, contains fully liquid assets for which earnings are taxed. The third bucket, the tax-free bucket, contains Roth IRAs and other investments for which distributions are tax free.
"Start saving for retirement sooner than later. The sooner you get started, the more money you will have at retirement, and you may be able to retire sooner than expected or have the quality of life you always hoped to have," he said. "The best advice I can give to a college graduate is that the first thing they need to do is put away as much as they can into a pension plan, and because they are likely in a low tax bracket, fund a Roth IRA."
Roth IRA contributions are taxable, but earnings and withdrawals are tax free. Individuals who are covered by an employer's retirement plan can make contributions to a Roth IRA as long as they do not exceed IRS income limits.
Those who haven't adequately saved for retirement often find themselves having to work for much longer than they had planned. This is a major concern for those who begin to experience health issues as they get older.
Wells recommend finding a financial advisor who best meets a client's individual needs.
"If you're hesitant, come in and have a conversation," said Wells. "At the very least, you are going to learn something. And the end of the year is a good time to take a look at your portfolio and rebalance it and make sure that you are still aligned with your risk tolerance and your goals.