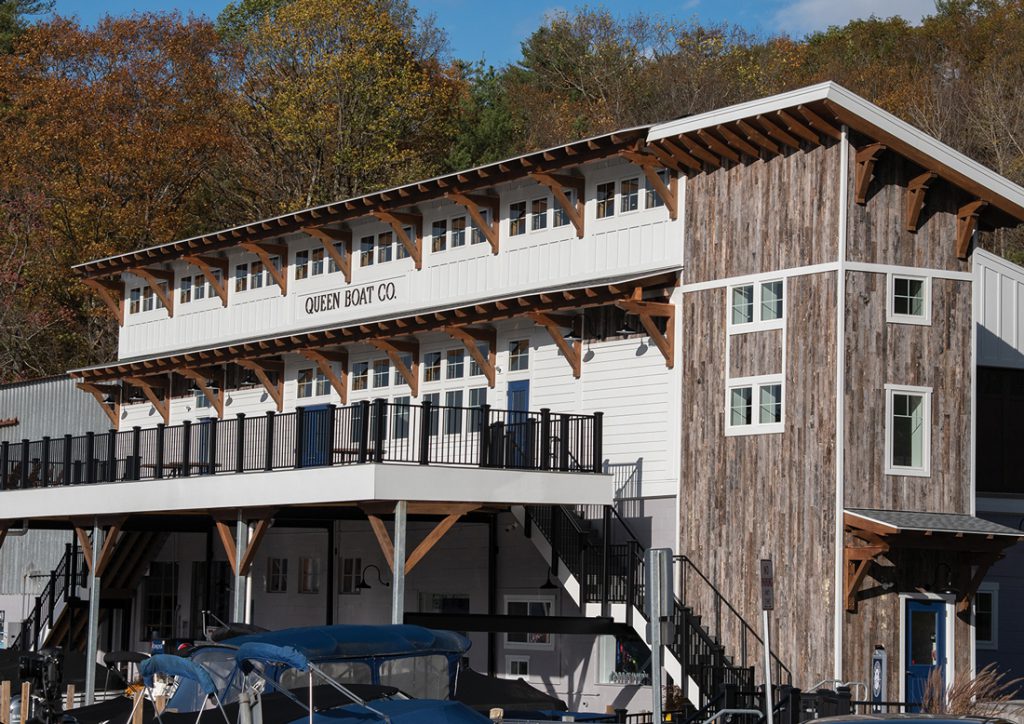 With the transition to solar power, Queen Boat Co. in Lake George has completed a multi-year renovation that began when owners Rebecca and Matt O'Hara purchased the former Dunhams Bay Boat Co. in the fall of 2018. 
After taking ownership, they relocated their Freedom Boat Club franchise and embarked on a three-year overhaul of the marina and site.
Before tackling the marina building renovation, the new owners completed environmental upgrades including the excavation of an underground fuel tank and the development of a new wastewater system. 
In the spring of 2020, Adirondocks was hired to replace over 250 linear feet of aged docks. When those projects were completed, renovation began on the site and building. 
Phinney Design Group in Saratoga Springs was tasked with modernizing the marina, combining Adirondack and nautical-inspired aesthetics, while upgrading the amenities available to guests. Construction was completed by BBL Construction Services. The centerpiece of the project is an over-the-water deck overlooking Dunhams Bay.
"We are very excited to now offer one of the most amenity-rich marinas in the region. From upgraded wifi to new bathrooms we have made the day-to-day experience better for our boaters," said Rebecca O'Hara. "And now, with the over-the-water roof deck, we have a space that will allow us to connect and grow our community of boaters with a range of special events like brewery tastings, sunrise yoga classes, fishing seminars and much more."
The marina itself now hosts 20 Freedom Boat Club boats in addition to private slip renters, operates a public full dock and ships store, provides winter storage, and has a growing service department. 
With the renovation complete, Queen Boat Co expects to increase its focus on electric boating. As more sustainable propulsion options have hit the market in the past year, Queen Boat Co has worked to establish itself as an electric boating destination. 
The Freedom Boat Club fleet will provide an electric boat for member use for the third consecutive year in 2022. The marina now sells two electric outboard lines, Torqeedo and ePropulsion, and is in talks with Flux Marine about distributing their higher powered electric outboard line. With the additional electric usage needed to power these boats, the O'Haras believe that charging the boats sustainably is imperative.
"We are very bullish on the future of electric boating. The appeal of maintenance-free, emission-free, and quiet boating really resonates with boaters in the Adirondacks, particularly on some of the smaller lakes," said Matt O'Hara. "However, we felt we were not truly capturing the environmental benefits without converting to sustainable solar power at the marina for charging."
Kasselman Solar has installed a 32 kW system using LG NeON2 445W panels which has been designed to provide 100 of the electricity needs for the marina.
Freedom Boat Club has over 300 club locations operating in the U.S., Canada, and Europe. For more information about Freedom Boat Club in Lake George, call 845-642-0201 or visit www.freedomboatclub.com.
Queen Boat Co. is a  family-owned marina located in Dunhams Bay. Marina services include dockage, storage, service and repair, fuel sales, ships store, electric motor sales, and the Freedom Boat Club. For more information visit www.lakegeorgeboating.com.