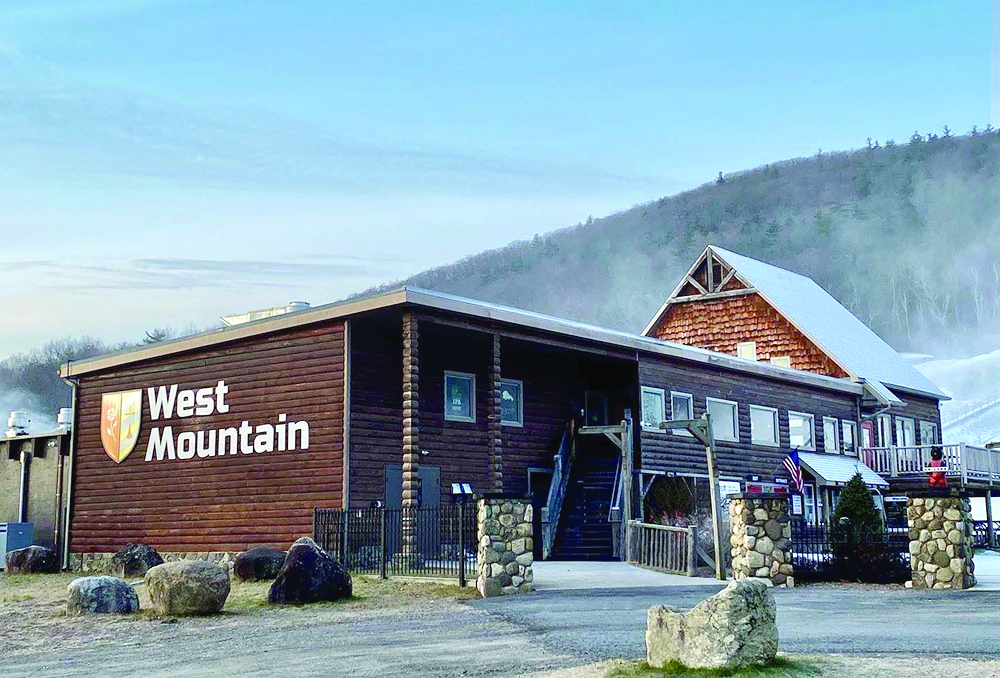 West Mountain kicked off its 2021-22 season, opening Christmas weekend for skiing, riding and tubing.
 "The progress continues at West Mountain," said Sara Montgomery, general manager of West Mountain. "Our snow sports school continues to grow, and this year we have expanded our learning center to accommodate more skiers and riders. We are excited to welcome newcomers who will be making their first winter sports memories at West. It's going to be a fun-filled season."
West Mountain offers beginner through advanced terrain and will be open for day and nighttime skiing, riding, and tubing. There are some additions to the mountain, as well as a continuation of West Mountain's  lesson programs.
That includes a newly expanded learning terrain/bunny hill and more snow tubing lanes added to the Tubing Park. Being continued are the individual and after school program, the Academy and Club Race Team membership offerings for athletes ages 6-19, and continuation of events like Fire on the Mountain, Slush Cup and more. 
Officials said during non-holiday periods, West Mountain will offer ticket promotions such as Monday and Tuesday $35 for a four-hour ticket specials and breakfast or lunch plus lift ticket specials. 
West Mountain's Bar and Eatery will be open at full capacity with daily specials such as Burgers, Beers and Bands Wednesdays, Fiddlehead and Fettuccine Fridays and Bloody Mary Sundays.
After nine years of a complete ski area infrastructure rebuild, West Mountain officials aid they have completed its Stage 1: Ski Area Infrastructure. West will now embark on Stage 2: A Luxury Ski/Stay Resort Development at the north side of the mountain.
The completed Stage 1 includes new chairlifts, 40,000 feet of new snowmaking pipeline, a new snowmaking pump house, a new cafeteria, a new rental ski and snowboard fleet, new LED trail lighting, 100 percent snowmaking and night skiing, a new tubing conveyor lift, an expanded Bunny Hill and a remodeled Northwest Lodge.
The resort built in Stage 2 will consist of a suite-style hotel and conference center, a West Athletic Club and Spa, fractional-share and full-share condos, as well as duplexes, apartments and custom homes, according to officials.
"The northwest side is an idyllic setting, set on an old farm property with beautiful locust tree groves and rows of cobblestone fences," said Spencer Montgomery, co-owner and operator of West Mountain. "The walking paths have views of the ski mountain as well as the Green Mountains of Vermont. It's a total getaway for the mind and soul, while being only two miles off I-87."
There are many promotion programs at West Mountain scheduled for the season, including live music and special appreciation days. There are also teaching and trainings programs, as well as racing programs.
Among them is the mogul freestyle development program. This six-week program is designed for intermediate/advanced skiers ages 9-17 who have an interest in learning the Olympic disciplines of mogul skiing and slopestyle skiing. The program is offered on Tuesday evenings with a coaching staff that includes World Cup mogul freestyle champion John Witt. It will teach technique on a new dual mogul freestyle line that will be built on Go-Go trail and run into the Banister Terrain Park. The program will focus on technique including turns, airs and speed as well as slopestyle skill building. 
The Academy and Club team programs, led by head coach Steve Lathrop, are for available for U12-U19 alpine ski racers. The Academy program is customized for U12-U19 racers who are looking to advance or have advanced to post season competition and beyond.  For more information, visit westmountain.com/racing.
For all program and promotion details, as well as hours of operation,details, visit westmountain.com.
Officials said several health measures are in place and they are asking guests' cooperation to meet the state recommendations, as they are a priority. West Mountain remains attentive to changes in the state's health and safety guidelines, and operations could vary rapidly depending on the situation, officials said.
More about West Mountain's Mountain Safety initiatives can be found online at www.WestMountain.com/safety. 
An established ski and outdoor activities year-round community with a family-friendly atmosphere, West Mountain provides an authentic upstate experience on the mountain. Family-owned and operated, it continues to evolve to meet the needs of families as well as skiing and riding loyalists and year-round outdoor enthusiasts.