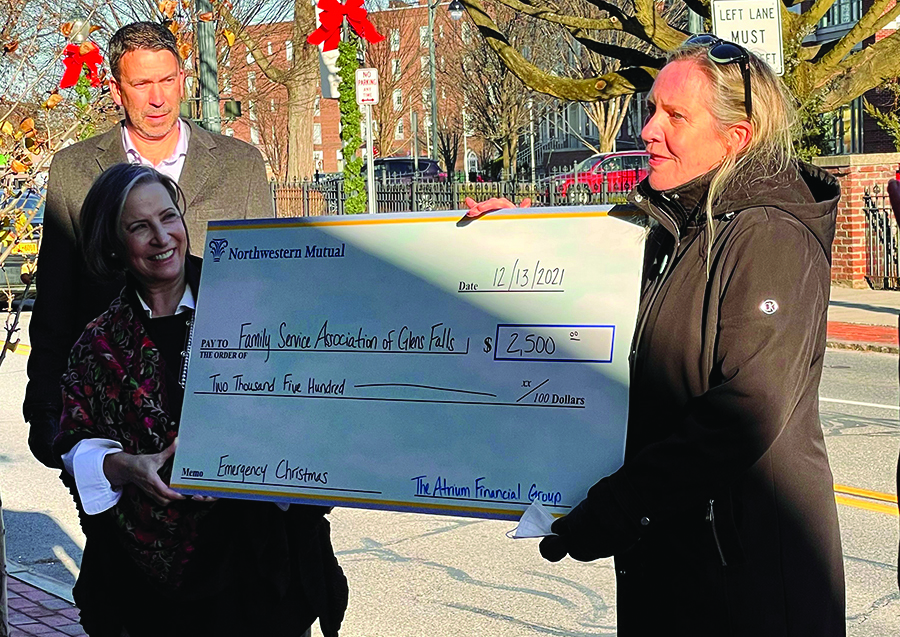 The Atrium Financial Group, a member of the Private Client Group at Northwestern Mutual, recently celebrated the opening of its office at 11 South St., Glens Falls, with a ribbon cutting ceremony that was marked by the donation of $2,500 to the Family Service Association of Glens Falls Inc.
The donation benefited the Family Service Association's Emergency Christmas initiative.
The new satellite office is led by private wealth advisor Sherry Finkel Murphy, CFP, ChFC, RICP.
The company said the new location allows the Atrium Financial Group to strengthen its presence in the Adirondack region, while continuing to build relationships with both new and existing clients and further develop their commitment to the Glens Falls community.
The Atrium Financial Group is led by founder and private wealth advisor William J. Newman, CFP, ChFC, CASL, RICP; partner and private wealth advisor Jeremiah J. Makey, CFP, CLU, ChFC, CASL, AEP; and partner and private wealth advisor Michael P. Mennella, CFP, CLU, ChFC, CLTC. The firm works with families and small businesses that share its values of family, commitment to excellence, mutual respect, integrity, and personal and professional growth. 
The team specializes in creating financial freedom through multi-generational estate planning and income distribution strategies. The company said its comprehensive, tax-efficient approach to finance integratestraditional financial planning with cutting edge behavioral finance. 
Finkel Murphy is a member of the Adirondack Regional Chamber of Commerce, where she is a founding member of the Women's Business Council, and the Lake George Regional Chamber of Commerce.
The Family Service Association of Glens Falls Inc.'s Christmas initiative serves families who  find themselves unable to provide a holiday meal or gifts for their children. The fund was set up to help families in need during a time of the year when budgeting for expenses on a limited income can be difficult with increasing utility bills, warm clothing needs, school costs, and more.
Northwestern Mutual has been helping people and businesses achieve financial security for more than 160 years. Through a holistic planning approach, Northwestern Mutual combines the expertise of its financial professionals with a personalized digital experience and industry-leading products to help its clients plan for what's most important. With $309 billion in total assets, $31.1 billion in revenues, and $2.1 trillion worth of life insurance protection in force, Northwestern Mutual delivers financial security to more than 4.75 million people with life, disability income and long-term care insurance, annuities, and brokerage and advisory services. The company manages more than $224 billion of investments owned by its clients and held or managed through its wealth management and investment services businesses.