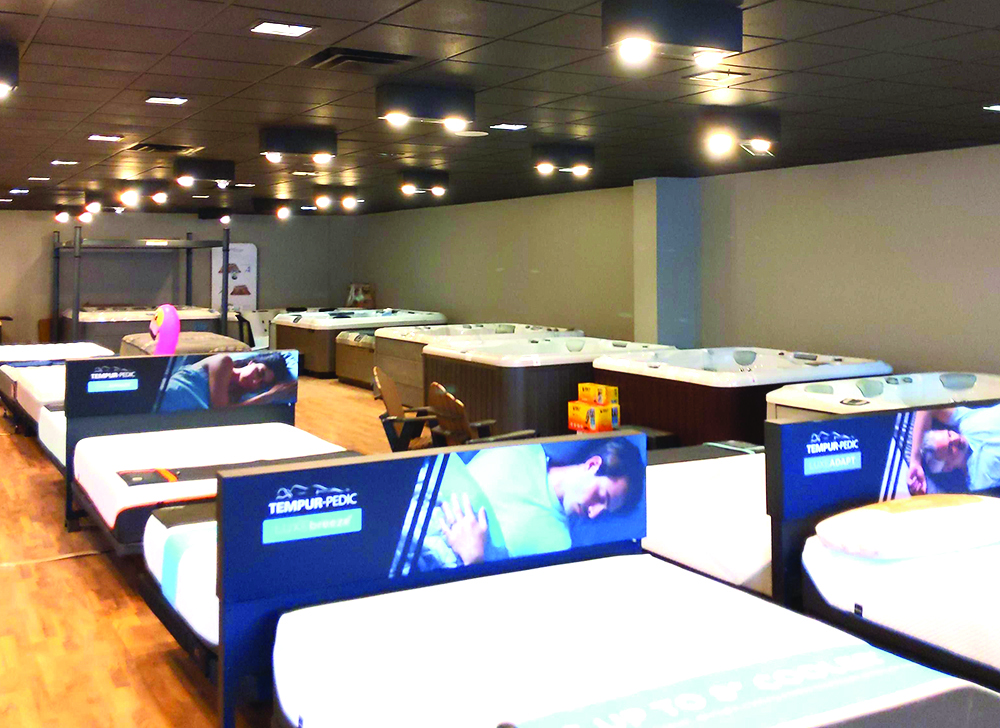 By Jill Nagy
At the new Sleep and Spas location at 1851 Route 9 in Lake George, they are selling almost as many hot tubs as mattresses, according to sales manager Kevin King. 
Maybe a few more mattresses, he admitted, but dollar-wise, "it's really even." This is a good time of year for hot tubs, he said, noting that the company had just delivered two tubs to customers in Queensbury that day.
Business, so far, has been "very good," King said. 
The Lake George location, at the Log Jam Outlet Center just off Route 9, opened two months ago and it is the fifth location for the business. They also have stores in Saratoga Springs, Latham, North Greenbush, and Kingston. 
King pointed out that the store is easy to find. It shares a parking lot with the Log Jam restaurant, a Lake George landmark. 
In addition to mattresses and hot tubs, Sleep and Spas sells massage chairs, patio furniture, and swimming pool supplies.
They sell Memory Foam, organic latex, Innerspring and hybrid mattresses, as well as foundations and frames. Spas are the Bullfrog and Caldera brands.
King has been with the company for eight months. Before coming to Lake George, he helped build and open the company's Latham store last August. 
The Lake George store occupies about 4,000 square feet of leased space and there are two employees in addition to King. The company is owned by Eric Cruz.
All of the Sleep and Spa branches are open from 10 a.m. to 7 p.m. Monday through Saturday and from 11 a.m. to 5 p.m. on Sunday. 
The company website is  sleepandspas.com. The telephone number is 518 896-8959.