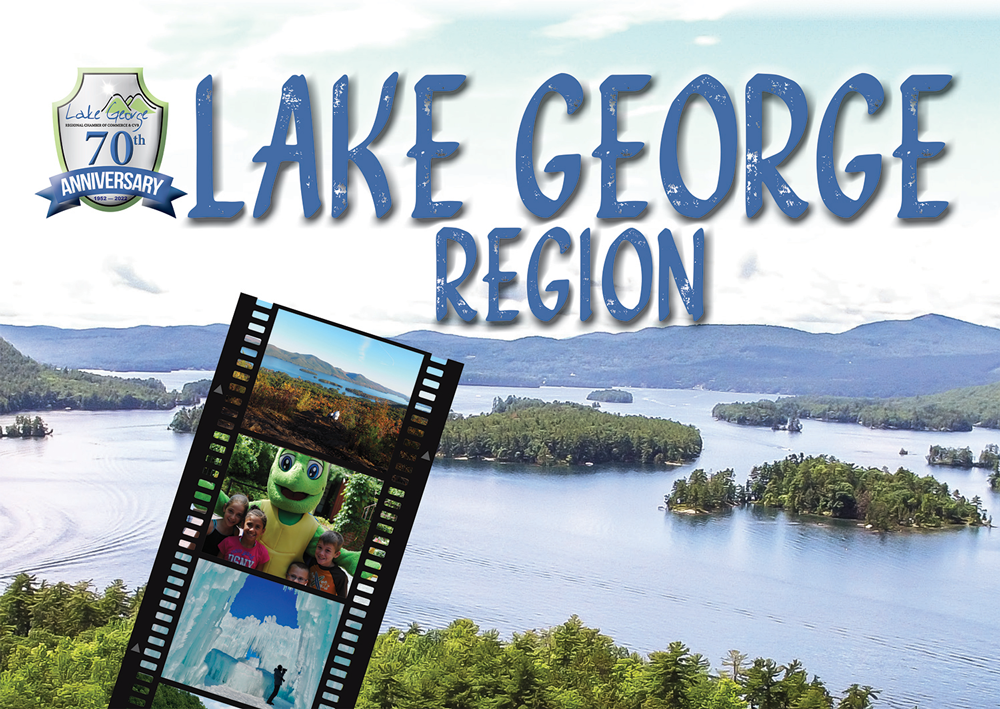 The Lake George Regional Chamber of Commerce announced its 2022 Four-Seasons Travel Guide is available, celebrating the organization's 70th anniversary and introducing a special logo for the year to commemorate the milestone.
The Chamber produces the Travel Guide in house and prints 70,000 copies annually. They are strategically distributed around the state, at AAA offices, and across the U.S. and Canada through direct mail by request.
"With new data from where our visitors were coming from, we were able to readjust our distribution plan in 2021 to place the guides where they'd be most likely to be picked up. In 2022, we made similar changes to our distribution plan to match current intel," said Executive Director Gina Mintzer, CMP, MHA.
This year's cover features a photo of Paradise Bay by F. Cavone Productions as well as a photo strip showcasing different seasons and activities. The cover design was chosen with the help of the Chamber's social media audience, who voted on two different designs.
Some highlights of the content within the 52-page Travel Guide include:
• Reader-submitted travel pro tips and photos.
• Color-coded area map.
• Lodging Grid to help people sort through camping and accommodations amenities
• 400-plus member listings including attractions, dining, shopping and more.
• Facts about Lake George.
• Lake George region trivia.
The submitted photos and pro tips will also be used in a social media campaign. Photos and pro tips are continually being accepted for social media and the 2023 Travel Guide online  via a link at the chamber website, lakegeorgechamber.com.
The 2022 Travel Guide was printed by Freeport Press of Ohio without any special coatings in an effort to provide a publication that is as environmentally friendly as possible. It was also printed with water-based ink, which is thought to be more environmentally responsible than other options.
Print copies of the Travel Guide can be requested on lakegeorgechamber.com/contact or by calling (518) 668-5755. The digital version will be available in the coming weeks at lakegeorgechamber.com/contact.
The Lake George Regional Chamber of Commerce strives to drive tourism to the Lake George region year-round while fostering a vibrant business community. The Chamber seeks to promote growth and development of its member businesses by offering networking events, educational programs, ribbon cuttings and other opportunities.