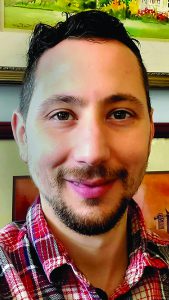 The Lower Adirondack Regional Arts Council (LARAC) announced that Phil Casabona will take over as executive director with the departure of Candice Frye.
Casabona was LARAC's gallery curator and festival coordinator and has worked at the organization since July of 2014.
At LARAC, Casabona has been in charge of both the annual June Arts Festival and the annual Fall Arts Festival, as well as LARAC's year-long gift shop and annual Holiday Shop. For the past four years he has also been LARAC's gallery curator, bringing seven different gallery exhibitions to LARAC's Lapham Gallery each year. 
"Phil has been an integral piece of LARAC for years, and brings essential skills and intense passion to continue the work of LARAC. We are lucky to have Phil to work with as LARAC heads into the future," said Will Sawma, LARAC board chair and head of the search committee. 
Casabona, an artist himself, with a Bachelor in Fine Arts degree, is active in the arts with his own home studio as well as representing the arts and his community through LARAC in his professional life. Phil is also an active member of North Country Arts in Glens Falls, where he has served since 2018 and is the organization's vice president. 
"I have felt at home here at LARAC these past eight years and have been humbled by the constant support of the local artists and community," said Casabona. "I am looking forward to continuing to do my best for LARAC, the artists we support and who support us, as well as the community as LARAC's new executive director. I intend to build upon the wonderful foundation that has been laid these past 50 years."    
"I'm very excited  with the Search Committee's choice. Phil is the perfect fit for LARAC and he understands the needs of the artists and our community," said the outgoing director Frye.
The Lower Adirondack Regional Arts Council's mission is to enrich the quality of life in Warren, Washington, and Northern Saratoga counties by supporting arts and culture through promoting, developing, sponsoring, networking, coordinating, and providing arts activities and services.
It is a tax exempt 501(c)(3) nonprofit organization, and is governed by a volunteer board of directors.