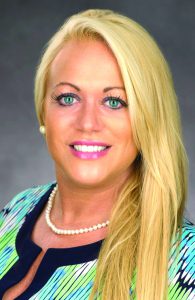 Local principal broker and owner of EXIT Realty Empire Associates Jennifer Vucetic is  the New York State Association of Realtors (NYSAR) president for 2022.
She was formally installed Feb. 7 by 2021 National Association of Realtor's President Charlie Oppler as part of the organizations mid-winter business meetings. 
The celebration was held at the Crowne Plaza- Desmond Hotel in Albany.
Vucetic is a 2012 graduate of NYSAR's Leadership Academy and a 2020 graduate of NAR's Leadership Academy. She was named Realtor of the year in 2016 by the Greater Capital Association of Realtors, has served as local NS  NYS Women's Council of Realtors president and regional vice president for the National Women's Council of Realtors. 
Vucetic is also an 2019 Realtors Political Action Committee (RPAC) Hall of Fame inductee, 2020 recipient of the Lawernce B. Caldwell RPAC Service Award and currently Region 2 RPAC trustee. She also has several professional real estate designations.
"Jennifer is a valuable member of our team and we offer our warmest congratulations on this appointment," said Amanda LaForte, office administrator and Realtor of EXIT Realty Empire Associates. 
EXIT Realty is a  real estate franchisor with offices across North America. Officials said it has to-date paid out more than a half a billion dollars in single-level residual income to its associates.  A portion of every transaction fee received by EXIT Realty Corp. International is applied to its charitable fund, and to-date, $6.8 million has been allocated to charity. For more information, please visit www.exitrealty.com and www.joinexitrealty.com.  
EXIT Realty Empire Associates is located at 805 Route 146, Clifton Park. For more information, call 833-518-3948 or visit www.exitrealtyempireassociates.com.