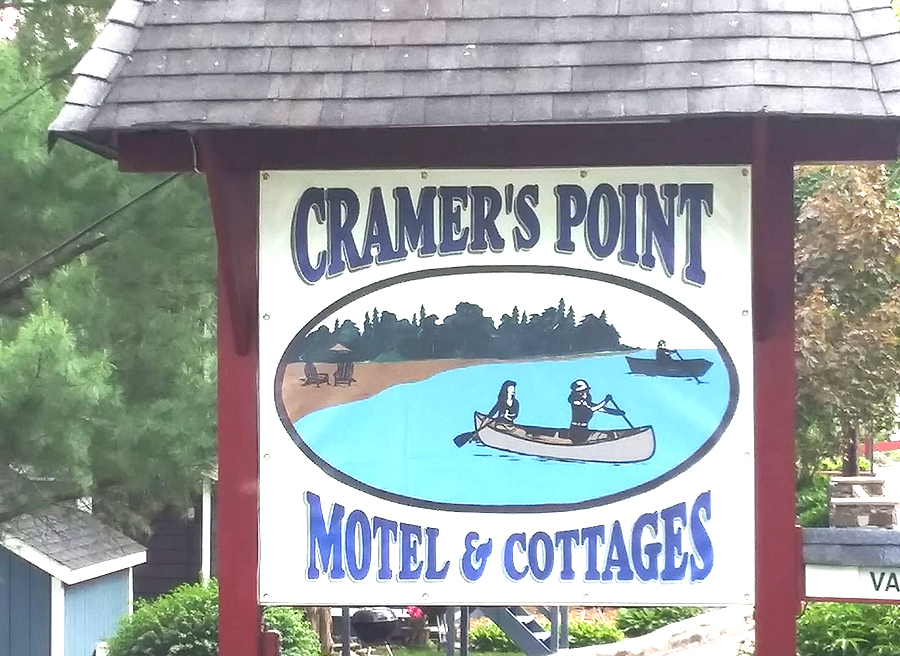 By Paul Post
Todd Drake is recapturing a popular period in Lake George summer tourism with the purchase and upgrade of two mid-20th century type resorts on Lake Shore Drive.
He recently purchased Cramer's Point Motel & Cottages, 3382 Lake Shore Drive, recently sold for $1.275 million. That follows last year's $915,000 acquisition of Adirondack Diamond Point Lodge, 3629 Lake Shore Drive, which underwent a more than $300,000 makeover.
"The purpose of buying these properties is to maintain them as 1950s-style resorts with modern amenities in excellent condition and quality," Drake said. "Instead of tearing down and replacing these places with condominiums, townhouses or a $7 million lake home, I see it as my job to maintain this tradition so people have a place to go that's reasonable, affordable, quality, but fun for the kids and adults offering amenities like shuffleboard—which you don't see much anymore—or a nice pool deck under the trees, fire pits and barbecues. It's the outdoor Adirondack-style vacation."
He purchased Cramer's Point from Francis and Marion Sause, who owned the business for nearly 30 years.
Drake wants to provide the type of experience people can't find at major brand-name, corporate-owned hotels.
He owns a Watervliet-based construction firm, CornerStone Building Corp., and Empire Real Estate Management, which specializes in long-term apartment rentals at sites such as Remsen Place, a four-story residential, office and retail building that opened two years ago in Cohoes.
The two Lake George resorts fall under the umbrella of a different business he owns called Adirondack Lodging Co., which includes rustic-style Moreno's Cottages in Ray Brook, campgrounds in Crown Point and Chestertown, and several short-term vacation rental homes.
Drake learned that Cramer's Point was for sale last year, but the timing wasn't right. Then things changed.
"And now with the experience of renovating the (Adirondack Diamond point Lodge)  I could tell this property offered value," he said. "It needed upgrading, but less in terms of expense. Time is money as well as money is money. Looking at this project we felt we could do something similar with less upfront costs and time. That's why we decided to pursue it."
Cramer's Point Motel & Cottages has a seven-bedroom home, 10 seasonal cottages, eight motel rooms and two suites. It is about a mile south of Adirondack Diamond Point Lodge. The two resorts are similar in size, but offer different amenities. Cramer's Point has two pools and beach access.
Drake spent considerable time in Warren and Essex counties, pursuing year-round outdoor activities, while growing up in Clifton Park. He first learned about Adirondack Diamond Point Lodge about 20 years ago. Last year, he saw an opportunity that was too good to pass up, he said.
That property has seven cabins plus the 16-room main lodge.
"We closed on it in mid-April 2021 and really had to put things in high gear to be open for Memorial Day," he said. "It was neglected for many years. We spent a considerable sum of money replacing all the furniture, a lot of the flooring and did the whole exterior over again, everything from windows, doors and roofs to top-level lawn furniture."
In addition, all housekeeping material such linen and bedding was tossed out and replaced,  Drake said. "But we kept it in the price point of expectations for a mom-and-pop resort. It was very well-received by guests. We did a considerable amount of business over what the previous owners did. We also enjoyed very good feedback and return rate for people coming back last fall or this summer."
The job got done despite difficulty obtaining materials and supplies caused by COVID-19, and an ongoing statewide and nationwide labor shortage problem.
"We brought the marketing to a modern level with a strong website and reservation system that was very user-friendly and interactive," Drake said. "But what really mattered was the service. We took time with each customer, telling them how we could best accommodate their party, group or event. You don't see that today with 1-800 systems."
"By bringing the quality up, I think we attracted a new audience that was looking for quality, which made a difference. That said, we did have a lot of returners who had reserved from prior years. Their reaction was nothing short of astonishment," he said.
The properties are located between Lake George and Bolton Landing. Either site gives out-of-town people a place to stay for large family gatherings, such as a wedding or reunion, without encroaching on local relatives.
"We're very popular with Capital Region and Hudson Valley guests as well as Central and Western New York," Drake said. "That's about one-third of our business. The other two-thirds is from Connecticut, New York City, Long Island and New Jersey."
During peak season, cabins at Adirondack Diamond Point are booked for three- or four-night minimum stays, while rooms have two-night minimums. "People with families coming from farther away tend to stay longer and stay in cabins or a large multi-room suite with full kitchens," Drake said.
"I do have accommodations like our king suites or smaller cabins that lend themselves well to people getting away to boat, motorcycle, hike or shop in outlets. Our biggest demographic is middle-aged people who want a low-key place that doesn't break the bank."
Cramer's website is www.cramerspointmotel.com. www.cramerspointmotel.com. Adirondack Diamond Point Lodge can be found at www.adirondackdiamondpointlodge.com.