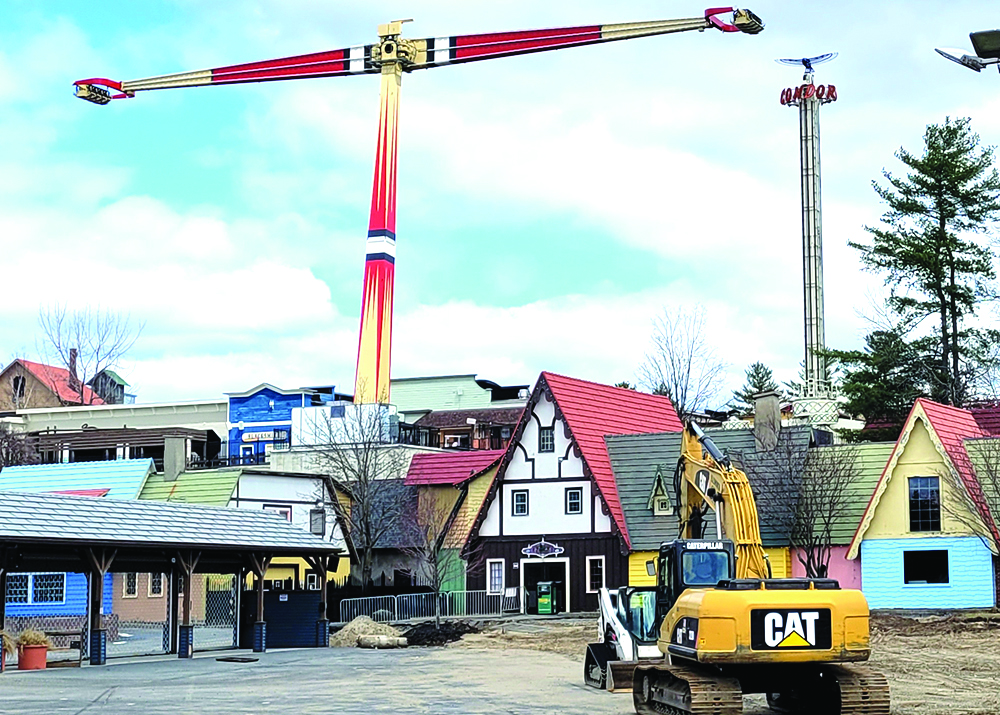 By Paul Post
Great Escape is gearing up for a new season of family-oriented fun as it returns to normal with COVID-19 restrictions hopefully a thing of the past.
The Six Flags-owned theme park never opened in 2020 and guests last year had to comply with numerous protocols such as mandatory face coverings, temperature screenings, social distancing and making online reservations prior to visiting.
All these have been eliminated, although one practice—a cashless payment system—has been adopted permanently. All purchases including entry tickets, concessions and souvenirs must be made with credit or debit cards, or some type of mobile phone platform.
For those who don't have or forget to bring these, Great Escape has installed cash-to-card kiosks where people can turn cash into a prepaid VISA debit card. The cards can be used anywhere, just like a regular debit card, so people can spend what remains if there's money left over after visiting the park.
"It gives people a third option if they don't have a phone, or credit or debt card," said Jason Lee, public relations and marketing supervisor.
Plans call for a May 21 opening.
Great Escape is one of the biggest engines in a tourism sector that accounts for up to 40 percent of Warren County's total economic output, said Jim Siplon, EDC Warren County president. "They're one of the driving forces," he said.
An estimated one million people visited Great Escape and its adjacent year-round Great Escape Lodge & Indoor Waterpark in 2019.
"That means those visitors, whether to the park and-or the Lodge also enjoyed other aspects of the region such as shopping, dining, things to do both indoors and out," said Gina Mintzer, Lake George Regional Chamber of Commerce executive director. "All of these add up to significant economic impact when you put a dollar figure to each person's spending."
Lake George area visitors spend about $140 per day for food and beverage, recreation, retail shopping and transportation. If that same person spends the night, the average is approximately $285, based on destinations international economic impact calculations for Warren County as well as the Tourism Economics Annual Report on the Adirondacks tourism spending, Mintzer said.
"This information is strictly for Great Escape's year-round visitors," she said. "When their payroll, property tax and other aspects of the costs of doing business are factored in, their contributions to our community's economic vitality are exponential. This year, they have spent considerable amounts of time and money upgrading the Lodge as well as other aspects of their property."
The theme park and Lodge & Indoor Waterpark employ up to 1,500 people at peak times. The firm recently filled hundreds of summer positions such as lifeguards, food and beverage staff, and ride operators during a pair of late-March job fairs.
"But we're always hiring, quite literally," Lee said. Walk-in applicants are welcome to visit the human resources building at 33 Round Pond Road, Queensbury, or people may apply online at www.sixflagsjobs.com.
For some positions, such as security and lifeguards, Great Escape pays for required training and licensing. Employees are also given in-park discounts, free tickets and are treated to special gatherings, when they get to be a theme park guest for a day.
Great Escape provides housing for international students, which comprise about 10-12 percent of the summer workforce.
Two special events are planned for 2022, a July Fourth Fest (July 2-4) with rides lit up and fireworks each night, and the annual Fright Fest, held each weekend in October beginning Saturday, Oct. 1.
No new rides have been added, but guests will be greeted by an entirely new front entrance that allows people to start enjoying the theme park much quicker. Old ticket booths have been removed, replaced by a building that houses metal detectors for guests to pass through.
The structure will include rest rooms, a welcome addition for people who have just driven a considerable distance. The  redesigned entrance will have nearly 35 percent more green space and a colorful fountain.
Last year, Great Escape made a major addition to its long list of thrill rides with installation of the 16-story-high Adirondack Outlaw that whips guests through the air at 55 mph, up to 165 feet high, while making 360-degree rotations similar to a giant wind turbine. It's located near the Steamin' Demon coaster, easily visible from the park's Route 9 front entrance.
Great Escape is one of 27 Six Flags theme parks in the U.S., Mexico and Canada. The upcoming season will  be crucial as Six Flags, like all theme parks, seeks to rebound from a pandemic that caused attendance numbers industry-wide to plummet.