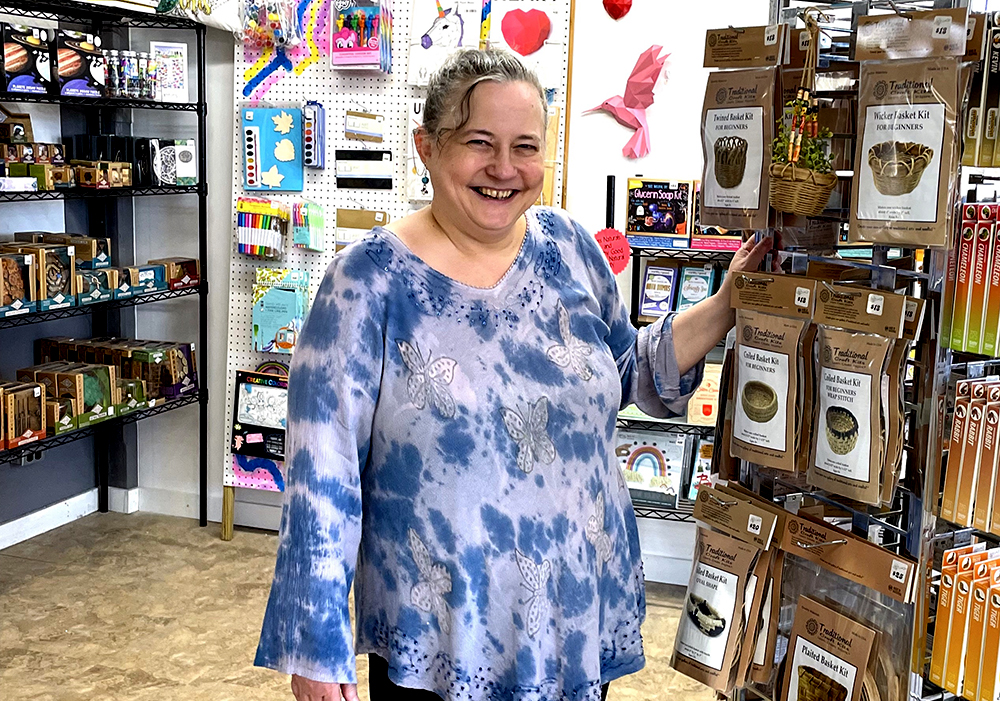 By Susan Elise Campbell
Moving into Suite 101B at The Shirt Factory, 71 Lawrence St., Glens Falls,  is enabling the owner of The Creative Chameleon, Cie McCullough, to expand her offerings of unique games and crafts for young people. 
"I love this building," said McCullough, sole proprietor since 2018. "The owner does so much for us."
Going from 500 to nearly 900 square feet gives McCullough more room to add retail products, some of which are from different parts of the world, she said.
The shop has a wide assortment of do-it-yourself offerings for the creative child, puzzles, yarn and paper crafts, paintable ceramics and magnets, wood and wicker crafts, plus playing cards, books, journals, and many more items and activities, she said.
"Our biggest sellers are UGears and Eugy craft kits," she said. "To my knowledge no one else in the area stocks these kits. The 'U' in UGears stands for Ukraine, and the distributor is a Ukrainian man who was looking for toys for his own kids. UGears are in a category all their own."
McCullough had ordered a kit online and "fell in love with the company and their cleverness," she said. "The child builds something amazing out of the wooden pieces and it moves, usually on its own or with a small spring or elastic band,"
The end result will be a model vehicle, clock, building, animal or something else with moving parts.
"There's a moving horse with leg joints and a jewelry box with a secret compartment," she said. "Adults like UGears too, and grandparents just love my store."
Eugy Kits are from Australia. These are cardboard crafts that form different animals and "are a big draw when people walk by," said McCullough.
Each cardboard piece is like a slice that stacks together on their sides "and becomes a cute shabby animal," she said. "There is information printed on the cardboard to read about the animal, wherever in the world it comes from."
"Everything in the kit is biodegradable, including the ink and the little vial of glue," she said. 
Other international finds are beads made from Acai berries and another sustainable resource called Tagua, also known as 'vegan ivory,' she said.
"Tagua is a nut from Brazil that can be carved," McCullough said. "Two women moved from Brazil and are making the beads in Scotland now. They are helping the Rainforest by putting more emphasis on alternative materials, buying from local sources and giving money back to the Brazilian communities."
While about three-quarters of her business is retail, McCullough also has studio space where up to eight patrons can sit and paint an item they purchased, such as a molded plaster figurine or a magnet.
"We had a group from Big Brothers/Big Sisters come in to paint and we gave them a small discount," she said. "I am all for any qualified group that wants to contact me in advance to come in and get a percentage off the retail price."
McCullough started The Creative Chameleon in 2014 with a business partner who later took a full-time job. That was in 2018, so when the coronavirus hit, McCullough faced the challenges of closing down temporarily'
"I contacted clients and told them if they needed indoor projects for their kids, I would deliver them," she said. 
Soon she was getting calls, which better prepared her for reopening the shop to a handful of visitors once restrictions were lifted, she said.
"My biggest goal now is to stay in business," said McCullough. 
While most of the crafts she sells are quiet activities, there are other items for the outdoors, such as books for identifying birds or plants, children's log books for camping or field trips, and information about outdoor medicine.
The new space opened April 2 with a friend bringing in a live chameleon and two geckos. 
"My daughter named the shop when she was 15 and she's 23 now," said McCullough. "Now people bring me chameleons all the time."
The business website is www.creativechameleongf.com.