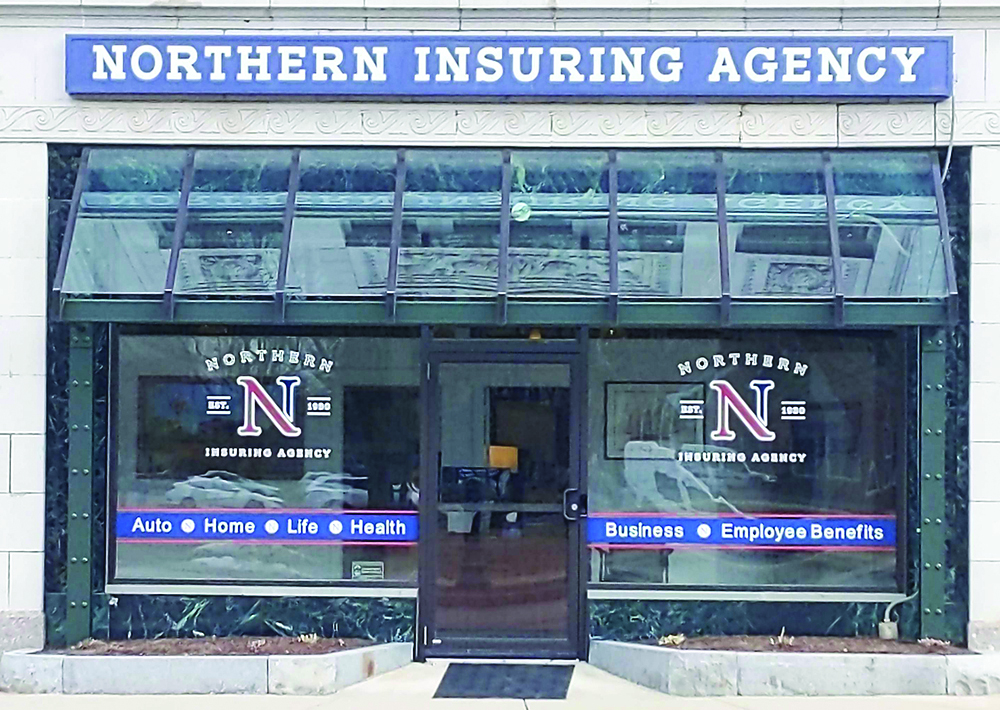 By Susan Elise Campbell
Northern Insuring Agency Inc. has expanded its presence in and commitment to Glens Falls and north country communities by moving offices to 21 Bay St.
The Adirondack Regional Chamber of Commerce held a ribbon cutting event at the new office on Tuesday, May 17.
Doubling the space from the former suite at 136 Glen St. will enable the agency to add staff, provide a comfortable conference space, and attract more people traveling in and out of the city, Deena Giltz McCullough, CEO, said from the company's headquarters office in Plattsburgh. There is a another satellite in Potsdam.
In its 90-plus years, Northern Insuring has had many offices in smaller communities but moved strategically into select communities with higher populations and economic growth potential, McCullough said.
"We thought when we came into Glens Falls from Massena that the traffic circle would be a high visibility location," she said.
"We could watch people going around the traffic circle, but they weren't looking at us," said Melissa Davidson, who runs commercial sales from the Glens Falls office. 
"It was a narrow space and parking was difficult," McCullough said. "Now we can have management level training sessions and client conferences without taking over someone's workspace."
Three years since situating at Glen Street, Davidson said Northern Insuring "is better positioned to grow the business. We are all very high energy here, we are in a stunning, building, and there is better parking," McCullough said.
There is a search underway currently for a part-time administrative assistant with flexible hours and another full-time person may be added in the future.
Northern Insuring is a third-generation family business. McCullough took over the leadership role from her father, Roderick Giltz in 2008. She said her management style is different from that of her father and her grandfather, E. Glenn Giltz, who joined the agency in 1933 and became president in 1941, and not because she is the first woman at the helm.
When her grandfather passed away and her father assumed the presidency, he asked McCullough, recently married, if she would consider joining the agency. McCullough and her husband were living in Texas where he was stationed with the Air Force. They agreed.
"Women were in support roles but now I was the only female salesperson," she said. "This was unusual because insurance is a male-dominated industry, more so back in 1985."
"A post card came in one day asking us to bid on a policy. It was from a farmer and the sales team said, 'Let's give this to the new girl,'" said McCullough."
"My family treats people with dignity. We were raised that way, and it has served me well in life," she said.
McCullough's philosophy as a leader is "the customer is not always right, but should be listened to. So should employees. This is an important distinction to me," she said. "People are stretched and people have bad days, especially during these tough times."
Davidson said that with COVID-19 and many businesses closing or changing hands, people began to be more cost conscious. 
"There are many agencies in this market," she said. "We are continuing to grow the name and the office move has increased that already."
"There are no additional offices planned because so much is done electronically," McCullough said. "We have a nice triangle of offices going here, a strong culture and a strong balance sheet." 
"Organic growth is the best way to grow through our clients and our own hard work," she said. Her role as CEO charges her with "strategic planning, thinking long term, and being clear about what our values are as a company." 
McCullough's son Colin has been on the sales team for several years and represents the fourth generation at Northern Insuring. Her brother Randy Giltz has made his career at the agency and is senior vice president. Both are in the Plattsburgh office.
People can learn more about auto, home, life, health and business insurances, employee benefits, and other products for individuals and businesses at www.northerninsuring.com.