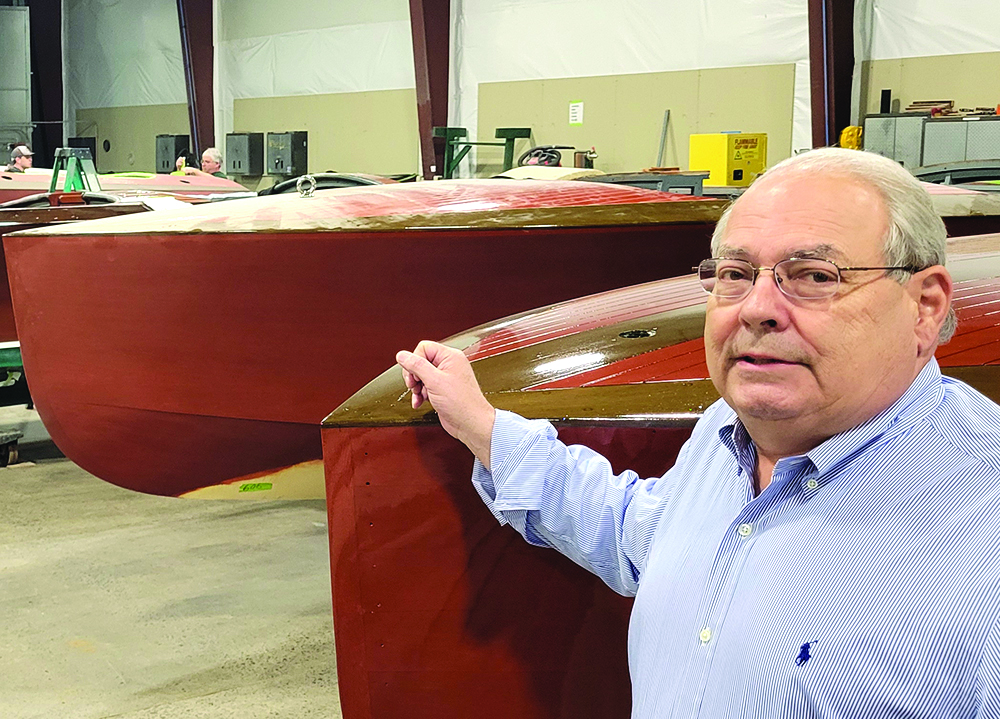 By Paul Post
Hacker Boat Co. is awaiting a new season, located now in Queensbury where it acquired a 6.4-acre manufacturing and office complex less than a year after moving its operations there from Ticonderoga.
The business shifted operations to the former Perkins Recycling plant at 315 Corinth Road, just west of Northway Exit 18, last September. The manufacturing and office complex sold for $2.35 million.
The move to Queensbury was necessitated in part by a simple need for more space. Hacker now has 40,000 square feet to work in, about 25 percent more than before in Ticonderoga.
The former recycling plant has been completely remodeled and retrofitted for new boat building and restoration jobs. 
"We reinsulated everything, new walls, new lighting, all new piping, compressed air, electrical and pressed air drops," said owner and CEO George Badcock, who purchased the company 11 years ago. "We also have a wood and varnish shop where we work on all the pieces."
"When we moved here we hired eight people immediately, without even advertising," he said. "We have more people coming in for jobs. There's a lot of pride in this building because people working on these boats are proud of what they're doing. They're craftspeople. They come to work and enjoy doing it."
A 10,000-square-foot storage building is full of boats, most of them finished and awaiting delivery. Plans are also in the works for a showroom and additional storage on the front side of building.
The company has retained its marina and storage building at Silver Bay on Lake George. A Vermont-based custom wood working company is in the process of buying Hacker's former Ticonderoga factory.
The luxurious wooden Hacker-Craft brand boats, made with mahogany from Guatemala, sell for up to $600,000.
"Our boat is not an instant buy," said Babcock. "No one needs to buy one of our boats. They have to think about it, they talk about it, they come visit us. That's what makes this location so much more attractive. It's easy to get here from Albany, New York City, Boston. We've got people flying into Warren County Airport all the time."
Clients range from Wall Street executives to famous film stars, and boats are sold around the world from Southeast Asia to France, Italy and The Netherlands.
Hacker Boat Co. was founded in Detroit by John Ludwig Hacker in 1908. Silver Bay boat builder William Morgan purchased the Hacker-Craft name in 1959 and eventually moved the firm there.
Badcock, the fourth owner, acquired a majority interest in Hacker Boat in 2008 and bought it outright in 2011. 
"The company needed a complete shakeup and turnaround," he said. "They had a backlog of orders even though we were in the middle of a recession. That told me there was definitely a demand for these boats. The level of demand from people around the country was surprising. But there was very little restoration work being done and no used boats at all."
These are now two big slices of Hacker's revenue stream, accounting for 25-30 percent of overall business.
Badcock also moved manufacturing off the lake from Silver Bay to a larger manufacturing space in Ticonderoga and hired a naval architect along with production and parts managers and a marina manager. Hacker now employs 36 people including woodworkers, mechanics and upholstery workers.
With increased storage capacity in Queensbury, the company can handle 150 boats now, compared to 60 before.
"It's an entirely different operation from when I bought into it," Badcock said. Badcock's daughter, Erin, the chief operating officer, oversees day to day business.
New boats have the same look and splendor that made Hacker-Craft world famous more than 100 years ago, while featuring 21st century, state-of-the-art technology. "So they can be used in many different places," Badcock said. "Engines can be used in salt and brackish water as well as fresh water. It's a different boat from the 1920s, 30s and 40s."
Three new models, called the Evolution Collection, were recently unveiled at a major boat show in Fort Lauderdale and plans call for unveiling a fourth new boat this month.
The priority is building the most high-quality boats possible, not volume. Only 11 new boats are currently under production.
"We're moving this company along, seeing a lot more custom requests than the standard model," Badcock said. "People want to put a cabin in, put jets on it or have a joy stick to drive it with. We've done all those things. We're seeing more and more of that. That's a good thing because customization makes our profit margin a lot better than a standard model. The level of interest if phenomenal."