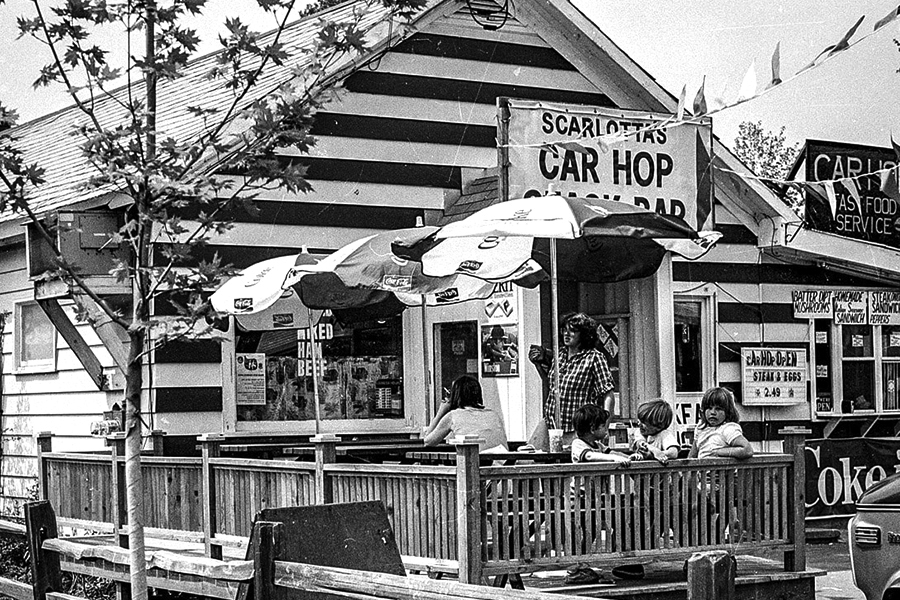 By Susan Elise Campbell
With the name restored and the business in the hands of the original owner's granddaughter, Lauren Barlow, Scarlotta's Car-Hop in Granville is seeing loyal customers once again enjoying some of the home style recipes that go back 40 years.
Over the 10 years that the diner was under different management, Lauren and her husband Wes of Barlow Electric had opportunities to purchase the establishment but the timing wasn't right, according to Barlow. 
"My husband has a business and we were raising our children," said Barlow. "I had always said to the previous owners, please call us first, and when they came to us we were ready."
She remembers not only working at the car hop as a young woman, but also waiting on her future husband.
"It was June 13th 25 years ago but I still remember what he ordered," she said. "Beef and cheddar, fries and lemonade."
Once again Scarlotta's is a family business with the Barlow's daughter and son working there, Lauren's sister on staff, and her brother helping cook, she said. The Barlows were able to purchase the restaurant with a loan from the Washington County Local Development Corporation. 
"The committee was wonderful," she said. "[LDC executive director] Deanna Derway helped me with my fear of the unknown by answering every question, day or night," she said. 
Scarlotta's reopened in April after some minor kitchen renovations and an expanded ice cream section, which made the restaurant area slightly smaller, Barlow said. 
The new menu reintroduced some favorite family recipes from 2008.
"Grandma Betty's meat sauce is back by popular demand, also the homemade sausage sandwich," she said. "We are also making fresh, six-ounce burger patties and fresh-cut fries, which are a lot of work."
Despite rising food prices everywhere, Barlow said "Scarlotta's prices are very fair."
"We have had amazing support from the community and these past six weeks have been overwhelming," she said. "I haven't had time to think about what's ahead for the car hop,. We're going to keep doing the best we can."
Visit Scarlotta's Car-Hop, open daily at 45 Quaker Street in Granville.