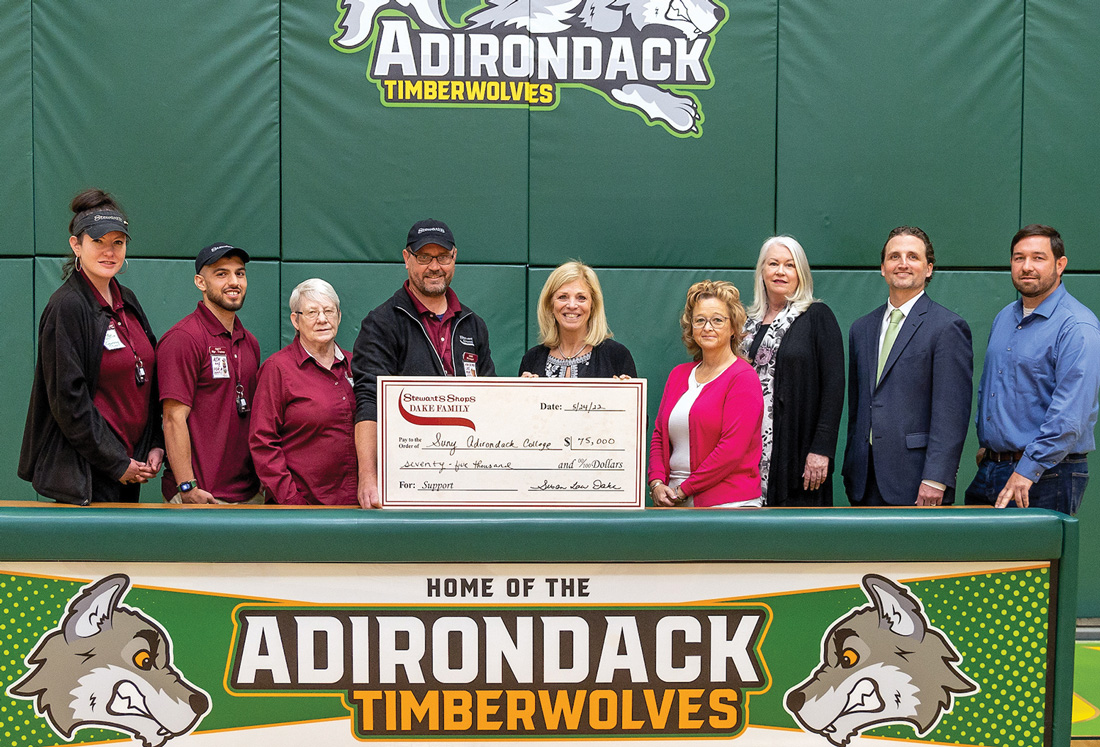 Stewart's Shops and the Dake Foundation, has donated $75,000 to SUNY Adirondack for the college's athletics facilities renovation project.
"The Dake Family Foundation and Stewart's Shops are among the college's most generous corporate donors and, once again, they have lent their generous support to the college and our community," said Dr. Kristine D. Duffy, president of SUNY Adirondack. "Their commitment to the communities they serve is unsurpassed and greatly appreciated."
The donation will go toward replacing the college's playing fields with a turf surface, part of a plan approved by the college board of trustees in 2019, but delayed by the COVID-19 pandemic. The work, when completed, will help extend the playing season for sports including soccer, baseball, lacrosse and softball, and allow the region to attract tournaments during the off-season, bringing tourists to the region.
"Having a state-of-the-art turf facility improves the training and competition experiences for our current Timberwolves, and helps our coaches attract and recruit high-caliber student-athletes," said Zach Schwan, director of athletics at the college.
The project is the latest in a series of renovations targeting SUNY Adirondack's athletics facilities. In early 2020, the college repaired the roof of the gymnasium and replaced the basketball court. In 2021, a large room adjacent to the gym was repurposed and now has a workout facility, including batting cages, and equipment for strength and cross training.
Stewart's Shops Foundation President Susan Dake said Stewart's Shops "is committed to sharing with all our shops' communities. This turf field will help to attract athletes to SUNY Adirondack and improve the aesthetic of the campus. This donation is an important part of our commitment to the communities we serve."
Dan Cook, manager of the Bay Road Stewart's Shop; Sheri McGarr, Stewart's district manager; and members of Stewart's staff and marketing team presented a ceremonial check to Duffy; Schwan; Rachael Hunsinger Patten, the college's chief advancement officer and executive director of SUNY Adirondack Foundation; and Marc Morin, director of facilities at the college.
The $5.7 million project, which includes dugouts, bleachers, a press box and a scoreboard, is also supported by SUNY Adirondack Foundation; the state; Adirondack Housing Association, which owns and operates the college's Residence Hall; the Faculty Student Association; and other  donations.
There are still opportunities for naming-right donations. To learn more, contact SUNY Adirondack Foundation at 518-743-2243 or foundation@sunyacc.edu.