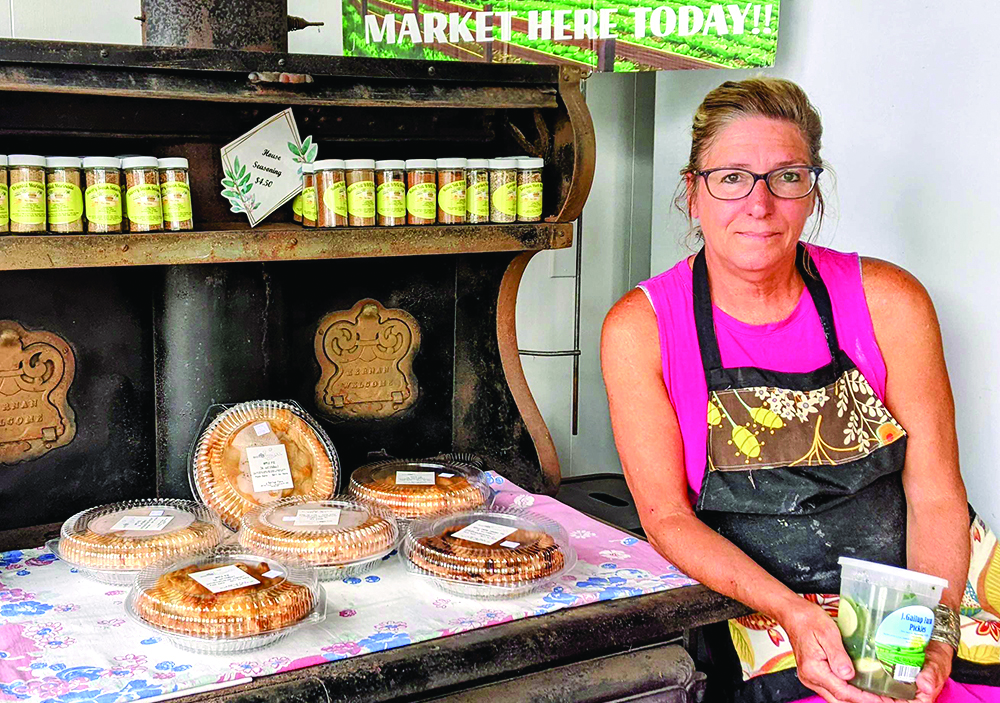 By Christine Graf
After 10 years of selling baked goods, produce and other items from the front porch of an old farmhouse at 3952 Main St. in Warrensburg, j.Gallup Farms has relocated to a 600-squre-foot storefront at 3916 Main St. 
Owner Julie Gallup Harrington runs the business with her daughter-in-law, Mandy Cook.
Before becoming a business owner, Harrington worked as a waitress and once owned her own bar and small resort. It was because of her desire to put her cooking and baking talents to work that she decided to establish j. Gallup Farms.
The decision to relocate the store came after the COVID-19 pandemic that made it impossible for her to hire the five employees the business relies on during the busy summer months. As a result, she and Cook couldn't service the more than 15 mom-and-pop stores that purchased their products wholesale.
"We weren't able to get people to work, deliver, or help us prepare. We couldn't produce, so we ended up losing most all of our wholesale business," she said. "We made the decision to downsize how much product we put out the door. That way the two of us could run the business ourselves."
Although she and Cook are now churning fewer products out of their kitchen, their profit margins are higher because they are no longer selling wholesale. 
"For us, it turned out to be a blessing," said Harrington.
She said the store's "claim to fame" are its pies—both fruit and cream—as well as its signature pickles.
"Our pickles are one-of-a-kind. If someone comes in and says they have never tried them before, we give them a sample and they walk over and buy them. We say they have a fickle flavor; they are sweet and tart. We used to call them the Fickle Pickle, but someone in Texas had a trademark on the name, so we now call them Gallup Farm pickles. They are sliced and come in a plastic tub."
Just like everything else in the store, the pickles are homemade in a kitchen that is on the premises. Products include homemade salsas, salad dressing, and pickled eggs. The store sells sweet breads, cinnamon buns, buckles (fruit coffee cake), and filled cookies called pattycakes. Homemade white, wheat, and raisin bread are also available.
A wide variety of frozen foods fill the store's freezer. It has soups, meatballs, pulled pork, hot dog sauce, and frozen meals that can be reheated. Meals include chicken and biscuits, stuffed shells, tater tot casserole, shepherd's pie, stuffed peppers, and their very popular chicken pot pies. A selection of fresh produce from local farmers is also sold along with seasonal items such as plants and hanging baskets. 
Business has been brisk at the new location, and after a settling in period, Harrington said she hopes to go back to offering a daily hot lunch special. Since relocating, she has noticed an uptick in business from local residents who pop in to see what the store has to offer. When located in the farm house on the north end of town, the majority of their business came from tourists and people who were on their way to their second homes.
"We're next to a pizza shop, so people see us when they go to get their pizza," she said. "They see our window and see that we have pies and are curious to find out what we else we have."
For more information, visit j. Gallup Farm on Facebook.