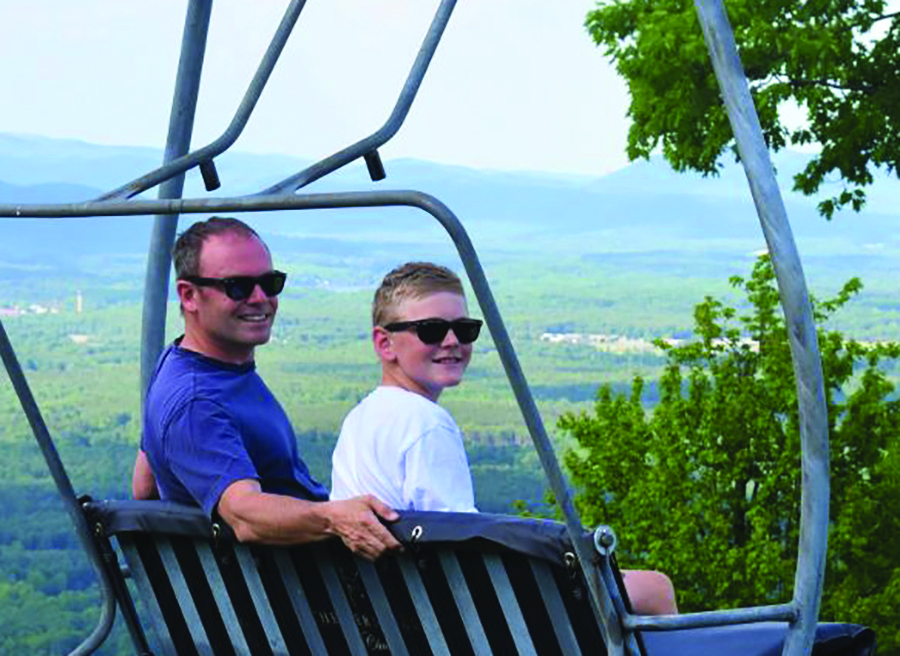 As the summer season gets into full swing, so does West Mountain and its array of outdoor activity offerings, including biking, an aerial treetop (high ropes) adventure, mountaintop yoga, scenic chairlift rides and hiking, mountaintop picnic packages, summer camps, birthday pizza parties, and weddings or events.
West has more than 25 cross-country and downhill mountain biking and hiking trails, as well as multiple mountaintop locations. New this summer is the Music on the Mountain with live music, vendors, activities and fireworks from 4-10 p.m. on Aug. 20, sponsored by DeCrescente and eight of its brand partners.
."We look forward to the summer season at West just as much as the winter," said Sara Montgomery, general manager of West Mountain. "We pride ourselves on being a year-round destination for local and out of town guests. It's our goal to create memorable family or group adventures that people look forward to year after year."
West Mountain is located at 59 West Mountain Road, just 3 miles off the  Northway Exit 18, in Queensbury.
It is open through Labor Day weekend, 9 a.m. to 4 p.m.
The Music on the Mountain admission,  parking and fireworks is $20 (people 20 and Over), $15 (ages 13-19), $10 (ages 7-12), and free for kids 6 and under. All guests must purchase a Music on the Mountain admission ticket for entry and purchase in advance. Tickets are  on sale. Many activities are planned that night.
Adventure Park offers six high ropes courses for all different ability levels, beginners to advanced. The park is situated at the peak of West Mountain and is nestled among the treetop canopy. After taking the chairlift to the park, adventurers will be met by the West Mountain climbing crew who will outfit guests with helmets and harnesses before participating in a safety clinic. Adventurers will then climb up to a treetop platform to begin their journey through rope spider webs, zip lines, log waves and more. 
After climbing, adventurers return to the base area by chairlift. Guests begin their tour when they load the chairlift every half hour from 9 a.m. to 1 p.m. Aerial treetop tickets include two hours in the park and the chairlift ride to the park and back to the lodge, about a three-hour tour.
West Mountain's popular picnic packages include a scenic chair ride to the top of the mountain complete with a picnic lunch packaged beautifully in a picnic basket. There are many scenic picnic locations with views of the Adirondack and Vermont mountains and the Hudson River Valley region. Picnickers can also hike on mixed-use trails. 
New this summer is a wine (or beer) and charcuterie picnic package for adults 21 and older. Pre-book picnics online in advance prior to visit to be guaranteed a spot. Picnics can be picked up at the ticket window between 11 a.m. and 2 p.m.
West Mountain's Bike Park has over 25 cross-country and downhill trails for riding. Riders are welcome to bring their own bikes or rent one There are mountain bike rentals and protective gear packages that can be pre-reserved online. 
New this year for the Outdoor Adventure Camp for ages 7-15 are three-day and five day camps that meets from 9 a.m. to 3 p.m. At camp, kids explore the great outdoors with amp counselors as they engage in activities including hiking, climbing and organized games and activities.
More information is available at westmountain.com.