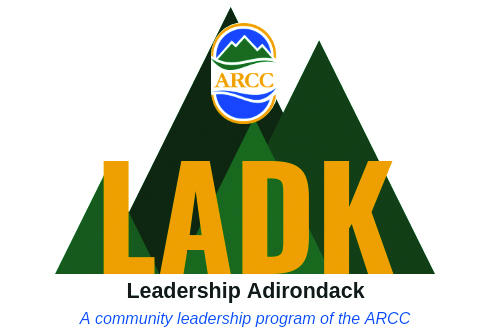 The Adirondack Regional Chamber of Commerce (ARCC) is brining back its Leadership Adirondack program after a two-year hiatus during the COVID-19 pandemic.
ARCC has partnered with Catamount Consulting to offer a program consisting of leadership training class time, paired with industry tours throughout the region.
"ARCC is thrilled to introduce the revamped and elevated Leadership Adirondack program for the fall of 2022, facilitated by our partners at Catamount Consulting. After putting the program on pause during the pandemic, we are excited to offer a full, in-person program for this year's participants," said Marc Monahan, ARCC board chair and regional executive vice president  of NBT Bank.
Catamount Leadership Training believes that "understanding human behaviors and valuing relationships are the pillars on which highly engaged cultures are built upon. With Gallup reporting that nearly $500 billion dollars is lost annually in the United States due to unengaged teams, it is Catamount's mission to provide the young leaders of our community with not only the knowledge, but the tools necessary, to develop compassionate, emotionally agile and high performing teams within their organizations," the company said in a statement.
"Leadership Adirondack has been a staple of our organization for over 30 years and has been a vital part of shaping leaders in our region. The emphasis of our updated program will be on Servant Leadership. The skills and knowledge imparted during the Leadership Adirondack training program will help those future leaders have a greater community impact with the aim of shifting our business culture to incorporating an attitude of service in leadership roles across the region. I am a proud graduate of the program and still cherish my experiences with my fellow classmates," Monahan said.
The program is designed for individuals who demonstrate a potential for community leadership and a sincere commitment, motivation and interest in serving the community.
Those interested in applying for the program are encouraged to visit www.adirondackchamber.org/leadership- adirondack, or contact Carol Ann Conover at caconover@adirondackchamber.org. 
Applications are being accepted through July 31. Information can be found at www.adirondackchamber.org/leadership-adirondack.
ARCC members and their employees pay $3,000 to participate in the program. A deposit of $500 is required with an application. 
Benefits include increased understanding of the critical issues and opportunities affecting the community/region; gaining new and lasting friendships from a network of participants who come from different backgrounds and diverse interests; gaining access to top leadership in the region; getting the inspiration to address community challenges and produce change; and strengthening of leadership skills and management techniques through personal development training.
Leadership Adirondack is a dynamic, interactive program that provides skill development and community immersion experiences that enables participants to grow personally and professionally as they explore issues and opportunities in Warren & Washington County.
Through a combination of class time and industry tours, Leadership Adirondack develops the leadership potential of participants and builds a solid foundation of informed, action-orientated, productive employees and citizens.
Leadership Adirondack is for individuals who demonstrate a potential for community leadership and a sincere commitment, motivation and interest in serving the community. In addition, the participant has the time to fully complete the program with the full support of their organization and intends, upon program completion, to seek roles on community boards or committees, key volunteer leadership positions, or public office.
In order to receive the full benefits of the program, participants are asked to attend the Get Acquainted event in September, two introductory leadership classes in late September, as well as the majority of the industry tours that will run on select weekdays late September through  December. 
A graduation ceremony will be held for qualifying participants in February 2023.