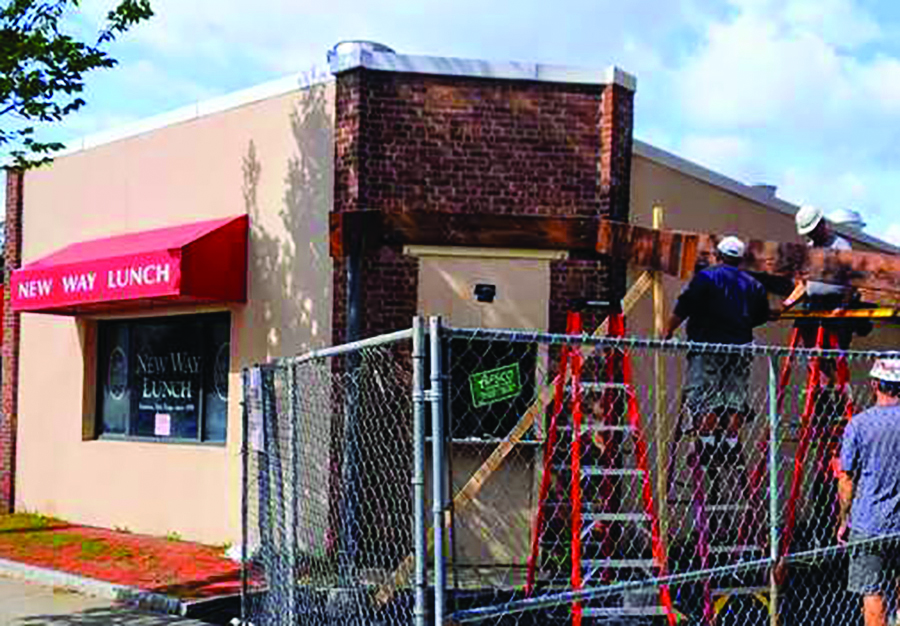 By Christine Graf
New Way Lunch, home of the famous "dirt dog," is finishing up renovations to its restaurant at 21 South St. in Glens Falls. 
Established in 1919, the popular family-owned eatery has been a fixture in downtown Glens Falls since 1919. New Way Lunch also has locations in Queensbury and Warrensburg.
The popular lunch spot closed in March 2020, and because of the pandemic, work on the project was significantly delayed. 
"We're still in the process updating and fixing all that needs to be fixed and extending the building out on South Street," said owner Peter Gazetos, grandson of New Way Lunch founders John and Mary Floro. His wife, Susan, along with son, Nicholas, and daughter, Alexandria Minneo, work alongside him in the family business.
"We're putting a small addition on the back and changing interior and exterior color. We've updated all of the infrastructure including the plumbing. We will have a covered outdoor seating area with a galvanized roof. We're giving it a nice face lift," he said.
Gazetos started at New Way Lunch in 1979 and has owned the business since 1990. His flagship location was moved from 54 South St. to 21 South St. more than a decade ago. 
"We bought this building when it became available, and it's one of the few businesses in downtown that has its own parking," he said.
Gazetos is hopeful that 21 South St. will reopen in November. Predicting an exact date is difficult because of the construction labor shortage. 
"We don't know because of the situation with the contractor who is having to shift his crews around to keep all of his jobs moving. Labor has become an immense issue for everybody including those in the service industry like us. The service industry got hit harder than anybody," he said.
It is because of the labor shortage that New Way Lunch is no longer able to operate the Queensbury and Warrensburg locations seven days a week. New Way Lunch in Warrensburg is closed on Mondays, and New Way Lunch in Queensbury is closed on Sundays and Mondays. 
"Things change and you adjust," said Gazetos. "I started here in the time when Jimmy Carter was president and interest rates for a home mortgage were 20 percent. I've seen difficult times.  The rising cost of food is something I've seen before, but the thing that is different now is the labor situation."
When 21 South St. reopens, operating hours will be adjusted based on staffing. 
"I assume we are going to start out slow based on the way things are going," he said. "We will probably start at five days and just have a day shift until things get better. Hiring goes in waves. We've hired a few people recently, but now we need more workers and are having trouble finding them. It's hit or miss. 
"You may run an ad and have no responses or you may put out an ad and get multiple responses. It's just the ebb and flow of the way the labor market is right now. Our staffing is probably around 75 percent right now."
"Pre-pandemic, business was consistent and we paid our workers at a higher wage than the normal fast food places," said Gazetos. "If you want to keep quality people, you have to pay them. That's always been our philosophy."
The website for the New Way lunch operations is www.newwaylunch.com.