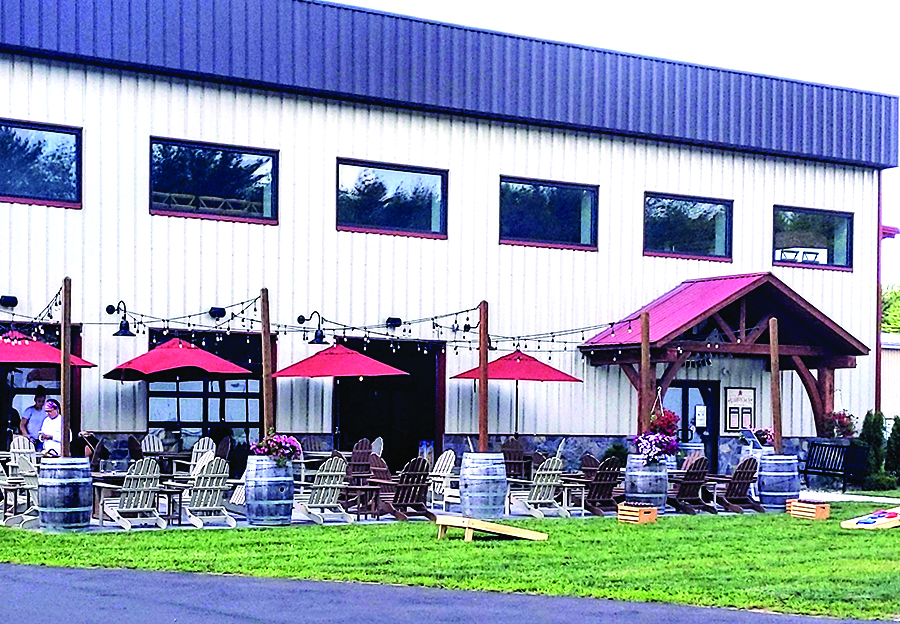 By Jill Nagy
Adirondack Winery has opened a new tasting room and event space in Queensbury at 395 Big Bay Road. 
Adirondack Winery, with locations in Lake George and Queensbury, produces 35 varieties of wine from New York state grapes, most of them from the Finger Lakes region. In addition to many standard wine varieties, they specialize in fruit-infused wines.
Sasha Pardy and her husband and co-owner, Michael Pardy, opened their first winery in 2008 at 285 Canada St. in Lake George. That year, Pardy and his father produced 1,000 cases of wine, using a 1,000-square-foot space at the back of the tasting room. They quickly sold out and had to supplement with wines from other New York state wineries. 
Three years later, they moved their wine-making operation to their location in Queensbury and they also renovated and enlarged the Lake George tasting room. Pardy estimated that more than 60,000 people visit that tasting room each year. The winery added Brad Casacci to its staff, promoting him to winemaker in 2021.
The Pardys also developed an online sales capacity and began shipping their wine to 35 states.  
"We are now in a position to reach the thousands of customers who visited us in Lake George each year, more than the one time they visit us on vacation: we can ship to them, they can find it in a store near them,"  Pardy said.
When the pandemic hit, the Pardys pivoted to curbside pick-up, polished up their e-commerce and shipping operations, and introduced outdoor tastings. At the same time, they found that they were again running out of space and began work on the new building in Queensbury.
A formal ribbon-cutting and grand opening celebration is scheduled for 4-6:30 p.m. Wednesday, August 16.
According to Sasha Pardy, their best seller is Berry Breeze, a rose wine infused with strawberry, raspberry, and blueberry natural flavors.
The room offers wine tastings, two-ounce pours, and wine by the glass. They also serve wine slushies and some cocktail. Beer, cider, and spirits from other local producers are also available.
The room can host private events of up to 85 people for birthdays, anniversarys, meetings, conferences, or team building.
The company website is www.adirondackwinery.com.