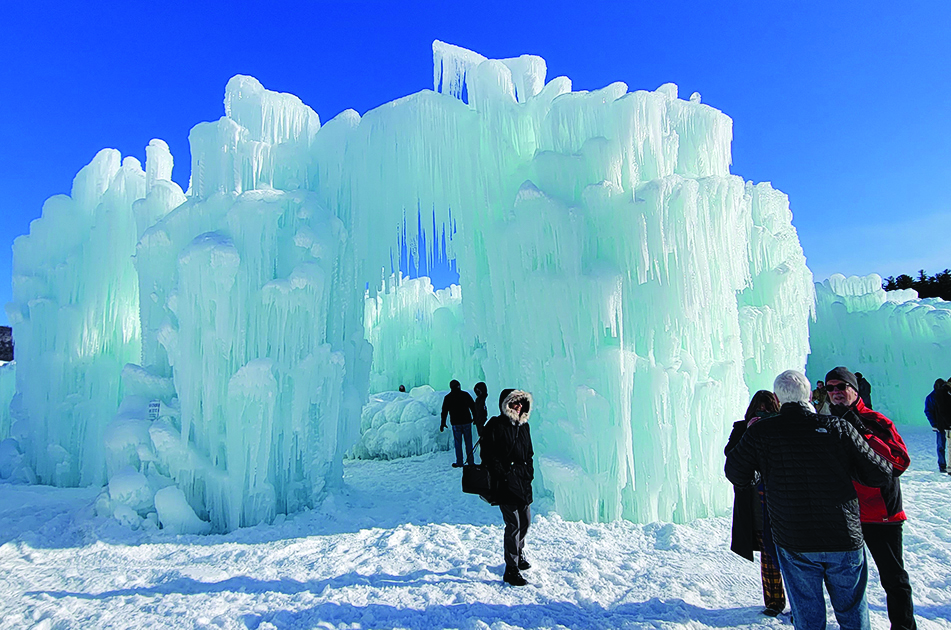 By Paul Post
Local officials welcomed Ice Castles with open arms last year, hoping it would help fulfill the long sought-after goal of making Lake George a year-round tourist destination
It did that and more, by generating enough occupancy tax to bring four brand new attractions to Charles R. Wood Park's Festival Commons in 2023, exponentially increasing Ice Castles' economic impact by drawing even more people to the village, according to local officials.
"When Ice Castles was open, the streets had as many people on them as we'd see normally and all the accommodations I'm aware of that were open were full on weekends," Mayor Robert Blais said. "So many people stayed at Fort William Henry Hotel, Holiday Inn, Quality Inn and the Marriott Courtyard that our occupancy tax collection for that period was up 40 percent. That will go toward increasing the number of special events the village can support and expanding the special events we have here presently."
Warren County Tourism expected last year's inaugural Ice Castles to give the local economy a $4 million boost. That figure should be much larger in 2023, both directly and indirectly, thanks to more attractions throughout the year, officials said.
Plans call for adding a garlic festival, Christmas holiday festival, country living craft show, and Jeep rally and car show to a lineup that already includes major draws such as the Adirondack Wine & Food festival, a tow truck show, craft producers event and barbecue festival. Each one brings large crowds to Lake George.
Buoyed by last year's positive response (more than 88,000 tickets were sold), Ice Castles will be even bigger this year with space around the perimeter allocated for an ice bar serving winter-themed alcoholic beverages, a concession area and colorful light walk. 
"At night there will be an area where you're immersed in lights hung in trees and large light features will surround you as you walk through," Ice Castles marketing director Melissa Smuzynski said. "We're also going to be creating snow features like igloos and snow carvings. We're just hopeful the weather will cooperate. Last year the weather was definitely a challenge for us."
Ice Castles didn't open until Jan. 23 last season. The company would like to get started by early- to mid-January in 2023 and stay open through at least the end of February.
Toward that end, a new water line is being installed at Charles R. Wood Park and it's that hoped National Grid will put in three-phase power so Ice Castles can use a snowmaking machine to build and maintain frosty attractions.
Blais said Ice Castles is footing the $80,000 bill for the work. Because it's taking up more space, the Utah-based company has also agreed to a $10,000 rental fee increase (from $50,000 to $60,000) for using the park.
"It's a big investment for Ice Castles," Blais said. "I would guess it's a signal that they'd love to stay here for several years. I was told last year that they had a tremendous season, but it was a little bit shorter than they would have preferred. Let's just hope we get the weather. 
"Every full-service restaurant was open last year plus the pizza places, and they all reported that they did very well. We also had at least six retail outlets that opened up last year and I'm hoping the rest of them will see their way clear to open again. You don't get 80,000 people to come to Lake George over a seven-week period without having an impact."
Most visitors came from the Greater Capital Region, Metropolitan New York and across upstate New York including Syracuse and Buffalo, officials said. 
"This year we'll also be promoting the attraction to Montreal," Smuzynski said. "Last year,  the border was still closed so we didn't generate much traffic from there. Hopefully this gives them a great reason to come to Lake George."
More than 4 million people have visited Ice Castles at sites across the U.S. and in Canada since its inception in 2011. Founder Brent Christensen crafted his first icy creation in his home's front yard, for his children, after moving from sunny California to snowy Utah. Similar attractions are in Minnesota, Wisconsin and New Hampshire.
Lake George was the company's first foray into New York.
Ice Castles also helps the economy by creating jobs. About 60 workers—some local and others from across the country—built last year's mammoth structure, which covered 1.5 acres with 25-foot high walls.
The construction process starts by growing 5,000 to 12,000 icicles per day, formed by spraying water onto horizontal sections of chain link fence. Icicles are then harvested by hand and individually added onto existing formations, which keep growing as a fine spray of water, from nozzles located throughout the grounds, turns small icicles into tall upright pillars.
"We're hiring for both build and event crew positions," Smuzynski said. "We prefer to hire locally. It helps out the community and provides jobs to people who need seasonal opportunities."
People can apply for jobs at Ice Castles online  at www.icecastles.com/work.