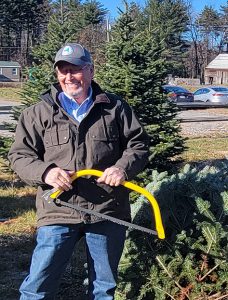 By Paul Post
COVID-19 shone a spotlight on the need for a safe, secure food system and strong local agriculture, which has a $500 million economic impact on Saratoga County alone, led by its diverse equine industry.
Numerous farm businesses, from large dairies to maple production, award-winning goat's milk cheese and Christmas trees, are prevalent throughout Warren and Washington counties as well.
"I'm really excited about what we learned during COVID-19," state Agriculture Commissioner Richard Ball said. "We had supply problems, getting food in grocery stores. We've got to leverage that right now and make sure people remember that we need food here, and need it grown here." 
Ball is president of the National Association of State Departments of Agriculture, which recently brought hundreds of people from throughout the U.S. to Saratoga Springs for a four-day, annual conference. Participants attended panel discussions on critical farm issues such as labor shortage, toured local ag enterprises and worked on policy proposals. 
"I'm excited about connecting with a population that maybe didn't know as much about New York state agriculture as it really should. It's upstate New York's biggest economic engine and it's so large we don't know totally how large it is," he said.
A 2019 Cornell University study said the agriculture, farm and food system had a direct $43.6 billion in total industry output, encompassing over 163,000 jobs. The impact is even greater when linking the full farm and food system to the entire supply chain, growing to $65.2 billion
"For every on-farm job there's like seven more jobs somewhere else," Ball said. "Think about a dairy farm. Then think about food manufacturing processes for Greek yogurt and the deliveries they have. It just goes on and on. We think about agriculture as farmers. We really need to think about agriculture as the food system. There's research, restaurants, culinary schools, logistics, transportation and the genetics that are going along with this. You start talking about that and almost half the jobs in the country are related to the food system."
"The particular thing about farming is the multiplier effect," said Willard Peck, co-owner of Welcome Stock Farm in Northumberland, recognized as a leader in dairy genetics. "Money is brought in as revenue, goes out as payroll and is multiplied many times over in the economy."
A green infrastructure plan he worked on several years ago touted related agricultural benefits such as open space, scenic vistas and water recharge areas. "These are all very important to the health of communities in Saratoga County," Peck said. "Part of our tourism attraction is Saratoga Springs being known as a 'city in the country.' You leave in any direction and you run into beautiful countryside, so it makes for quality of life issues as well."
With 3,600 farms, dairy is by far the state's largest ag sector. New York is the nation's fifth leading dairy producer and second only to Washington and Vermont for apples and maple, respectively.
But in all parts of the state, including urban areas, officials are seeing a rapid growth in micro-farmers that raise non-traditional crops such as garlic, mushrooms, ethnic vegetables for New York City dwellers, and hops and barley for the booming craft beverage industry. 
"I see that as people who are more interested in knowing where their food comes from and being part of the ag community," Peck said.
Saratoga Springs native Julie C. Suarez is associate dean for land-grant affairs at Cornell's College of Agriculture and Life Sciences.
"Based on the last ag census, there's been a huge 56 percent jump in controlled environment (greenhouse) agriculture; huge facilities going in across the state, what I call 'plant factories'," she said. "We're also seeing season-extending technology at small-scale greenhouses, where a farmer will put plastic up over a hoop to get a longer crop season. That again is a huge growth opportunity."
However, two main issues must be addressed for agriculture's continued health and prosperity, Suarez said. First and foremost is keeping good farmland in production. The state's renewable energy goals have triggered widespread growth of large solar panel installations, which in addition to fast-paced residential and commercial development, threatens to take up valuable farmland.
"Hopefully more marginal lands will be utilized," she said. "That's one of the coming land-use challenges. Everybody I know likes to eat. We absolutely need to support our food system, which includes farmers and farmland."
Second, is the federal government's support for agricultural research.
"That's what is going to drive us all," Suarez said. "Support for ag research from the federal government has been flat to stagnant. Most people don't know that China and Brazil have outpaced the U.S. government when it comes to support for ag research. We're going to need more, particularly with a changing climate. We need to make sure we have support for sustained and robust agricultural research because all the improvements we make are based on this."
Looking ahead, Ball has a positive outlook for the future of New York agriculture. 
"We've got the most amazing marketplace in the world," he said. "About eight million people live in the metropolitan New York area. We've got urban centers upstate as well. I'm optimistic because here in New York we've got the land, we've got some of the best farmers in the country, we've got the water. We aren't on fire like out West. We had a dry year here, but we can irrigate and we've got a great land grant system (Cornell) for educating people in agriculture. So I like our chances."