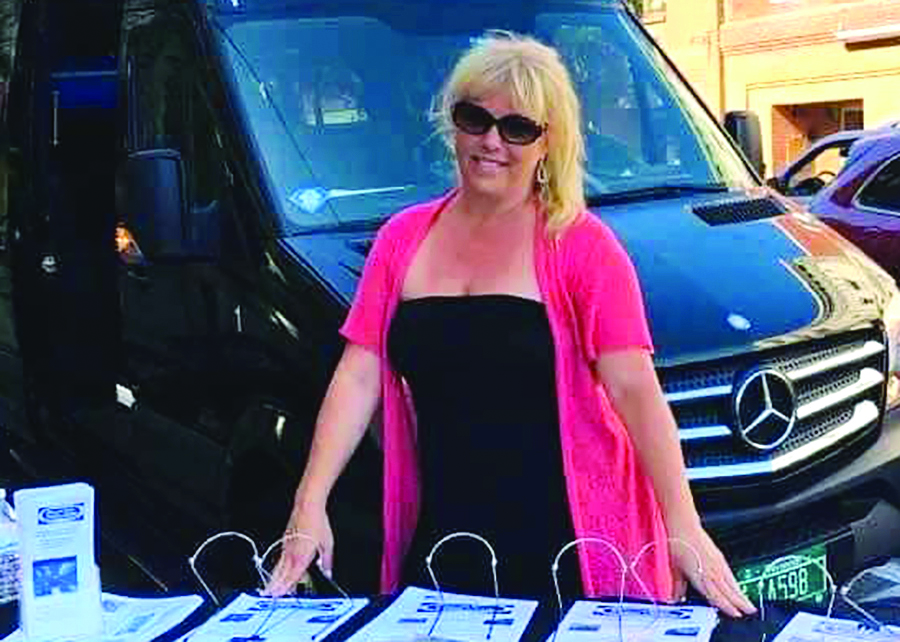 By Christine Graf
Premier Plus Travel and Premier Plus Travel and Tours are now operating out a new location at 154 Warren St. in Glens Falls. 
The property was purchased by Dawn Biddiscombe and her son, Matthew Colucci, for $375,000 in September of last year. Biddiscombe is the owner of Premier Plus Travel, and she and Colucci co-own Premier Plus Travel and Tours. 
A former paralegal, Biddiscombe opened her travel agency in 2014 while still working full-time in the legal profession. The following year, she and her son established Premier Plus Travel and Tours. 
The company provides airport and special event transportation. Their fleet of Mercedes Benz vehicles includes a limousine, executive coach, and shuttle. They also own the Hoppy Tour Brew Bus, a 14-passenger bus that offers tours of breweries, wineries, and distilleries in the North Country, Capital District, and Vermont.
 "You could consider us a mini Yankee Trails," said Biddiscombe.
In 2016, Biddiscombe left the legal profession in order to dedicate herself full-time to both businesses. For the next three years, her companies operated out of a leased building in Glens Falls. As their fleet of vehicles continued to grow, they moved to a new location that had a parking lot large enough to accommodate their growing fleet of vehicles. 
When that building was sold, they decided the time had come to purchase their own property for their businesses.
After purchasing 154 Warren St.—a former private residence that had been converted into a large doctor's office—she and Colucci embarked on an extensive renovation project that spanned an entire year. During the course of renovations, the majority of the building was gutted. 
"We had 12 months of very stressful construction. It was very expensive—much more than we thought. Labor and materials were very expensive, and there was limited availability of contractors," she said. "We also found things like cement in the floor that we had to remove. This is also an older mansion. It's built very well."
The renovations are complete, and the property now houses the travel agency and the tour company. It also has newly-constructed one-bedroom, two-bedroom, and five-bedroom apartments. 
The one-bedroom is leased to a long-term tenant, and the two- and five-bedroom apartments are leased to the Adirondack Thunder to house players during the season. Between May 1 and Sept. 30, those apartments will be rented out as Airbnb's.
 "We're within walking distance to downtown Glens Falls. We're right near the Civic Center and the hospital. We're 15 minutes from Lake George and 25 minutes from Saratoga," said Biddiscombe, noting that the rentals would be perfect for large groups who are attending weddings in the area.
Although renovations of the 5,100-square-foot property are complete, the mansion was damaged when a broken sewer line caused the basement to flood on several occasions. Biddiscombe has a claim pending.
Biddiscombe is looking forward to resolving the issue so that she can concentrate on her thriving businesses. At the height of the pandemic, she wasn't sure if either business would survive. They are now outperforming expectations.
"It was a bad time, but we were able to hang on," she said. "We're doing very well now. We're doing better now than before the pandemic."
According to Biddiscombe, the price of travel has risen about 30 percent. She said that rising costs have not translated to decreased demand for travel.
"People want to travel. Europe is huge right now and the Caribbean is always a big sell. People were told that you couldn't travel for so long that they don't mind spending the money."
The transportation side of the business is also booming, and the company is currently in need of additional vehicles for its fleet. Due to a shortage of vehicles and the inability to add to the fleet, they have had to turn business away.
For more information, visit https://premierplustours.com