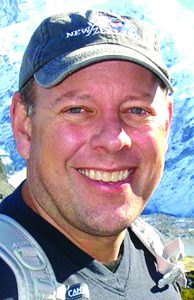 By Jim Siplon
Economic development is in the midst of major change. So is our region.
We can no longer focus exclusively on attracting employers. We're also focused on attracting more people. Warren County and many communities like us are engaged in a war for talent. If we bring great people here, local employers can grow again, and other opportunities will follow.
When asked to step in after the sudden passing of Ed Bartholomew in mid-2020, I assumed the role was focused on attracting, retaining, and growing local business. In short, economic development in the traditional sense. 
What I've learned is that achieving sustainable local economies and communities requires those things but so much more. We need analysis, strategic planning, and tactical execution in a wide swath of areas that exceeds and underpins the traditional approach.
Our communities and many of our businesses are struggling to adapt to a future with fewer workers, an aging population, and new stresses on our traditional assets. Significantly, the birth rate locally and nationally has not resulted in enough new workers to replace those who are retiring since the early 1970s. 
Because our local population is older on average than the rest of the nation, New York state and the Capital Region is experiencing this  sooner than other areas. Warren County's average age is 48. To put that in context, New York State is 39 while the nation is 38 and those are viewed as problematic.
Attracting new residents to augment our workforce is the right answer, but one major impediment is housing. For a variety of reasons nationally, we have not built enough housing for more than 20 years to meet the demand as our demographics have changed. Time was when many family members, often including one or two generations, lived under one roof. 
Today, seniors live on their own, as do newlyweds and many recent college graduates. In the 1970s, a typical Warren County home had four to five residents (depending on where) on average. Today, that number is fewer than two. The result is increased demand for our existing housing supply, which means higher prices and which inhibits the inflow of new residents who can replenish our shrinking, aging workforce. Incoming residents have other needs, too. 
They need reliable, professional childcare, which since the pandemic has been in short supply. They may also need transportation services. They have other needs we are working to bring voice to as well as we engage with them including pathways to connecting and serving their new community.
The real-world consequences are already all around us: restaurants that cannot open more than a few days a week due to lack of help; employers with scores of open and unfilled jobs; our reliance on large numbers of traveling nurses and healthcare workers just to keep our local healthcare systems working; local fire departments once staffed by volunteers now turning to paid staff and communities dealing with lengthening emergency response times; and declining school populations in literally every school district in the North Country. 
Projecting current trends forward twenty years results in a grim picture. Without addressing these troubling trends, our communities and local economy will become increasingly older and unbalanced with a workforce that is unable to maintain current levels of output and public investment.
There is some good news here as the area is experiencing a renewed demand with your professionals and families looking to rebalance their lives and make their way in our Warren County communities. Even better news is that the EDC and local communities are taking action now to reverse these trends: Investing in universal and competitively priced broadband and working with local communities to provide connected transportation, increased childcare capacity and more housing—all types of housing, including transitional housing for older residents, newer formats such as condominiums and townhomes, housing that is supported by our workforce economics and additional single and multi-family homes.
In 2022, EDC began amassing and analyzing the data to understand these trends and sharing the information with local business and community leaders. In 2023, our focus is on bringing this message to the communities we serve and to our school boards, community service groups, chambers of commerce, and organizations large and small to help everyone understand where we are now and the choices we as a region face.  
This is not a story of discouragement. It's all about taking action now as a community to shape our future. The path is challenging, but we can successfully navigate it together if we start now.