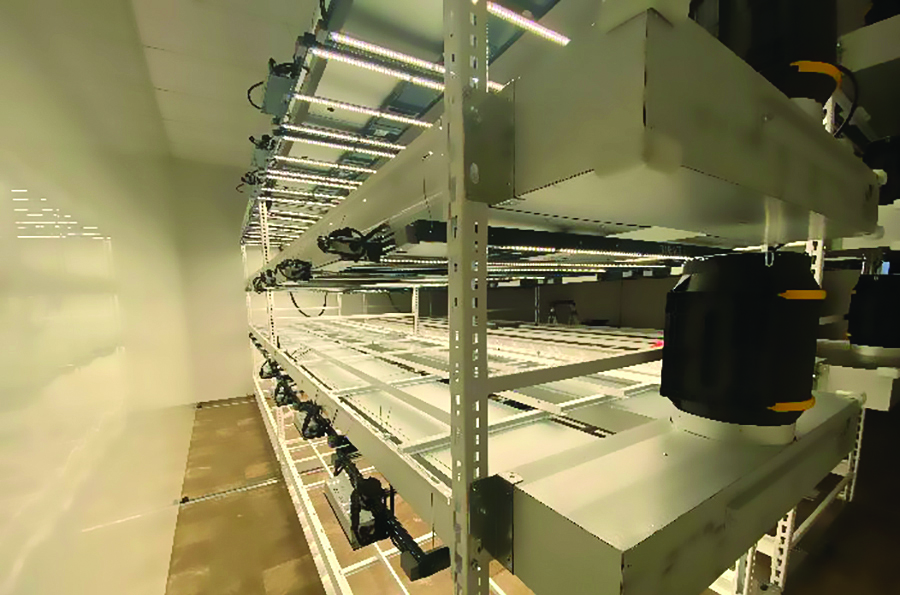 The City of Glens Falls innovative Urban Agriculture Project reached a key milestone in December when a one-ton heat pump system was installed on the roof of the Lapham & Parks building at 22 Ridge St.
The three-story building houses the city's indoor hydroponics project that will grow fresh produce.
The farm will produce leafy greens from cilantro to lettuce as part of a state pilot program and,  if economically viable, will seek to be replicated in other regional cities in upstate New York.
The project, funded by a grant from Empire State Development's Smart Cities Innovation Partnership, has been in the works for more than a year.  
Pooling together contractors and consultants throughout New York, the project is intended to demonstrate the ability of cities to address the problem of "food deserts" by repurposing older, underutilized industrial buildings into farms that supply upstate New York cities and villages with fresh organic produce.
"The arrival of this ultra-efficient heating and cooling system is both a symbolic and substantive leap forward in our efforts to complete the project and start producing," said Glens Falls Economic Development Director Jeff Flagg.
The next step for the city will be the installation of a reverse osmosis watering system. Flagg noted he hopes indoor farm will begin fertilization and growing micro green in mid-January.
The third floor of 22 Ridge St., was chosen as the location for the Glens Falls urban agriculture pilot vertical garden. Building owner Brian Bronzino offered the space at no cost. A number of equipment suppliers from around the country offered discounts on necessary materials and several local plumbers and electricians have donated their services. National Grid has also provided  financial and technology support for the energy-entensive project.
To get a grant, municipalities were required to partner with technology companies. Glens Falls partnered with  New York City-based Re-Nuble, a company that helps communities utilize food waste for more sustainable growing practices, as well as Syracuse-based The Tech Garden, a technology incubator.
The pilot program was slated for 2021 but was delayed due to COVID. Pandemic-related cost increases and material shortages have proved challenging.
The vertical garden takes up about 480 square feet of the 2000-square-foot third floor. It will be used to grow a variety of greens, lettuces, and herbs.
One of the goals of the pilot program is to ensure that the vertical garden is complementing, not competing with, local farmers. The pilot program is designed to demonstrate whether vertical gardens are economically viable while identifying potential stumbling blocks.
For further information, contact Tony DeFazio at Sustainable PR via email tony@sustainablepr.com or call 518-223-9962.