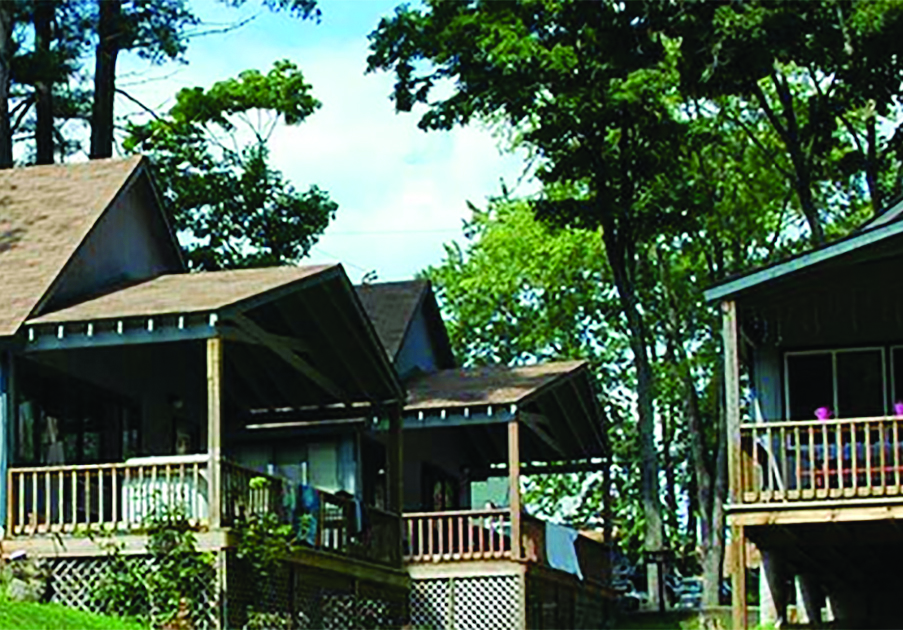 By Susan Elise Campbell
The Depe Dene Resort, sitting on 750 feet of prime Lake George waterfront, has been sold to husband and wife team Christopher Menter and Jessica Ferguson for $11.4 million.
The Depe Dene was part of the estate of Ken Ermiger, a local businessman who operated the resort for 45 years.
"We knew of a few potential buyers who were aggressively trying to put in a bid," Menter said. "But we came up with the right number in the right time frame."
He said that the executor of the estate was hoping to finalize a sale before the year ended.
"We were able to secure financing and come up with a competitive offer," he said. "All were lovely to work with on either side of the table.  Like any acquisition, there is much to do behind the scenes, but we're veterans."
This is the fourth resort in Menter and Ferguson's Lake George area portfolio. They invested in the Juliana Resort in Bolton in 2018, and co-own Scotty's Lakeside Resort and the recently acquired Lakefront Terrace Resort with several other members of the Menter family.
The hospitality industry is their main endeavor and Ferguson said she and Menter have invested in Florida property, as well.
The Depe Dene at 3494 Lakeshore Drive sits on 11 acres and includes 84 rental units among the motel building and stand-alone cabins.
"People enjoy the cabins," Ferguson said. "They have a private space to make a meal, sit out and visit. It's definitely unique."
Located three miles north of Lake George Village, Ferguson said the Depe Dene "is out of the major cities, in the woods, and people feel safe and comfortable there."
Another unique feature is the property's separate mansion for larger groups renting for a weekend or extended stay. Menter said it has a current sleeping capacity of 24.
"We are working to finalize the layout of the mansion, and are undecided at this time how we will structure the units," Ferguson said.
For the immediate future, the owners said they are operating the resort as it had been and making some needed small enhancements, such as paint, carpeting and new furniture.
"It needs extensive upgrades and some new features," Menter said. "It is still too soon to make decisions on all the drafts we have of upgrades, but we are planning renovations and ordering materials."
The owners did not mention which contractors they may hire for the upgrades, but said they will be from the area.
"We will be using local contractors, as we always do, once plans are finalized," Menter said. "We have had lots of success using local."
There is about 400 feet of beach, a heated pool and hot tub, plus volleyball, basketball and tennis courts.