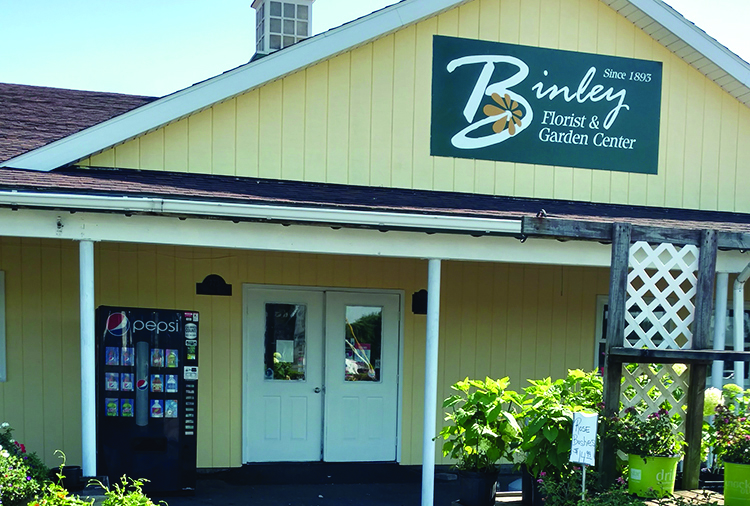 By Paul Post
Binley Florist has been there for its customers' best and worst of times, welcoming new life to the world, weddings, milestone anniversaries, and painful loss when flowers voice expressions of sympathy.
But after decades on the job, owner Wally Hirsch has sold the iconic, 130-year-old business to long-time employee and general manager Tami Field and her husband, Dave.
"I'm 75," Hirsch said. "I've probably been doing this for 60 years. It's time. Tami has really earned her place at the helm. She's been a good, faithful employee. I've had a lot of good employees over the years. They've been loyal to us through recessions, through pandemics. This is an old business. We've seen it all."
The $1.25 million sale had two parts. The Fields purchased the business, at the corner of Dix Avenue and Quaker Road, and will lease space from East Huron Street LLC, one of America's largest Taco Bell franchise owners, which bought the 7.1-acre property.
Tami Field said she has no immediate plans to relocate.
But East Huron, which owns Taco Bell restaurants on Upper Glen Street and near Northway Exit 18, has plans to build another store adjacent to Binley's about where its greenhouses are currently located. The company is expected to go before the Queensbury Town Planning Board on Feb. 21 seeking a two-lot subdivision.
A 1.35-acre parcel would be for the new Taco Bell store, while 5.83 acres would continue as Binley's Florist & Garden Center, according to the plans.
Field said Binley's will no longer grow its own plants, a costly and labor-intensive job, but will instead buy from wholesalers in Albany, Averill Park and Vermont. However, there won't be any change to the front end of the business or the quality, service and care customers are used to, she said.
In fact, Field said she's already considering new ways to "reinvent" the business by adding gifts, sold on consignment, made by talented local artisans and crafters. She also might do event planning for weddings and other special occasions.
"Binley Florist has been in business since 1893," Field said. "That name needs to go on. It's a feel-good business. Even if you're having a bad day, if you get flowers it brightens up your day."
Hirsch's father, Alexander, began working for Binley's in 1933, hired to be their grower, four years after immigrating from Hungary. After serving in France with the U.S. Army during World War II, he came home and bought the business, which transitioned to his son, Wally, in the early 1980s.
The florist shop was previously located at 31 Grant Ave. in Glens Falls. In 1978, the Hirsches bought property at the corner of Dix Avenue and Quaker Road in Queensbury, and opened a garden center called Quaker Farms.
In 2004, the florist shop moved there, too, so everything would be at one site, operating as Binley Florist & Garden Center ever since.
The property is at a major intersection with a great deal of traffic, making the location ideal for doing business. A Speedway gas station and convenience store, Stewart's Shop, McDonald's and Dunkin' restaurants, and Livingston Furniture store are all nearby
Several years ago, owners of the Fastrac gas station and convenience store chain had an option to buy the Binley property from Hirsch. "They wanted to close in the middle of our greenhouse growing season," he said. "I told them we had too much invested."
In the meantime, Cumberland Farms acquired Fastrac. By the time that deal was finalized, Cumberland Farms didn't want the Binley's site because it already had several stores nearby.
Hirsch said he's going to miss daily interaction with customers, which in some cases involves second- and third-generation family members. 
"Congressman Jerry Solomon and his wife were customers," Hirsch said. "He once told me, 'Anybody who's ever made something of themselves in Glens Falls worked at Binley's, including me.' That always made me feel good. People older and younger than me have said they worked for me or my dad. That's a good feeling to know we contributed to the community. 
"That's one of the things I always believed in. We took out of the community so I always wanted to give back. It was an enjoyable stretch."
The business has thrived despite increased competition not only from other garden centers, but big-box stores that sell plants and flowers.
"One thing we have that they don't have is knowledge and customer service," Hirsch said. "I always tell my people, 'What does it take to make the customer happy? Let's do that while keeping in mind we have to make a profit. Always give them an honest answer and treat them the way you'd like to be treated, the old Golden Rule.'"
The Fields took over on Feb. 7, right before Valentine's Day, one of the floral shop's busiest dates on the calendar along with Mother's Day. 
As general manager,  Tami Field is familiar with all aspects of the business.
"You never know. You could see me from the end of a water hose to a delivery van," she said. "I did it all."
But Field is glad to know that Hirsch has no plans of moving away, now that he's retired. "When I need help and some advice, he's a phone call or text away," she said.