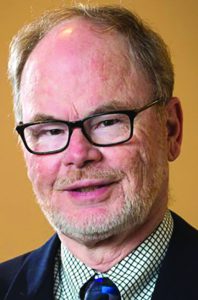 The Adirondack Regional Chamber of Commerce announced that the 34th Annual J. Walter Juckett Community Service Award will be presented to Dr. John Rugge, retired physician, and the founder of Hudson Headwaters Health Network.
Rugge will be presented with the award at the ARCC annual dinner on  March 10, at The Sagamore Resort in Bolton Landing.
The event begins at 5:30 p.m. with registration and a cocktail reception. At 7 p.m. will be dinner with live music. The Juckett Award ceremony is scheduled for 8 p.m.
"We are excited to celebrate Dr. John Rugge as the 34th Annual J. Walter Juckett award honoree," said ARCC President & CEO Tricia Rogers. "Dr. Rugge is so deserving of this honor. As the founder of Hudson Headwaters Health Network, his passion and drive to further healthcare in our region is admirable. We are fortunate that Dr. Rugge chose to stay in our region and establish a healthcare system that helps so many of our community members."
Rugge was a family physician who came to the Adirondacks to finish writing a canoe book in 1974. He then accepted a position with the Glens Falls Hospital to serve as supervising physician at a new health center in Chestertown, with the intention of practicing for six months before returning to Albany Medical Center.
As it turned out, all the surrounding communities were losing their GPs to retirement, and there was no one to take his place. Instead, he combined medical practice with community engagement (and grant writing) to establish the Hudson Headwaters Health Network which has grown to include 21 health centers between Saratoga County to the Canadian border with some 200 medical providers and more than 150,000 patients.
Dr. Rugge said the way local need generated remarkable community support attracted the attention of health care policymakers in Albany and Washington, D.C., leading him in turn to serve on 40 government advisory panels, task forces, and councils—all of which has served to make Hudson Headwaters a model for others across the state and across the nation.
He has combined clinical practice and leadership of several related organizations that provide health care services across northeastern New York. Special emphasis is on caring for the underserved communities. His experience also includes service as senior policy advisor to government, development of managed care organizations, and organizer of innovative models of care for the Adirondack North Country Region.
The J. Walter Juckett Award, named in honor of the longtime chairman of the Sandy Hill Corp., was created 34 years ago to recognize and honor a deserving member of the community who has selflessly gone above and beyond by contributing time and energy to help others.
To see a list of past honorees, visit www.adirondackchamber.org/j.-walter-juckett-community-service-award.
Founded in 1914, the ARCC is a 100 percent  membership funded organization representing businesses in Washington, Warren, Essex and Northern Saratoga counties.