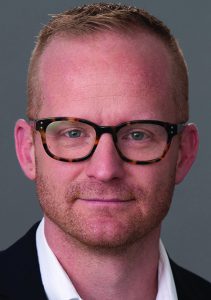 The board of trustees of The Hyde Collection  announced the election of John Lefner as the museum's new chief executive officer (CEO). 
Lefner will replace retiring CEO Norman E. Dascher Jr. on May 1.
"We are very thankful to Norm Dascher for his exceptional leadership during a difficult period for The Hyde Collection," said Jason Ward, chair of the board of trustees. "His vision and business acumen financially stabilized our organization, reducing expenses by creating a five-year capital replacement plan and instituting smart financial decisions to minimize monthly expenses for the organization. 
"He established a successful new development program, implemented a new position for the curator of modern and contemporary art, updated hardware, software, and the security system, led the organization through a successful American Alliance of Museums Museum Assessment Program (MAP) review, updated the strategic plan, and so much more. The Hyde is very well-positioned for a leadership transition."
Ward said Lefner's "will mark a new era of growth and civic engagement for the museum. John is deeply committed to pursuing the vision to bring exceptional exhibitions and programming to The Hyde, like this summer's premiere Songs of the Horizon: David Smith, Music, and Dance. 
"He is poised to work alongside our three new, extremely talented curators to deliver outstanding art experiences for members and visitors alike. John is the leader we need at this transformational moment."
An accomplished leader and community builder, Lefner currently serves as chief operations and development officer at The Hyde Collection, where he provides leadership to fundraising, relationship cultivation, marketing, and physical plant solutions for the organization. 
In the past two years, Lefner and his team have exceeded fundraising targets, launched the campus Reimagine Project, executed two highly successful galas, and bolstered community confidence in the organization throughout the pandemic.
"I am honored to be leading The Hyde Collection, which I have long admired," said Lefner. "With its internationally renowned collection, exceptional educational programming, and incredibly talented personnel, the museum is one of the world's most important cultural institutions. I look forward to working collaboratively with the board, the internal teams, and our partners to enhance the museum's relevance and build on its success locally, nationally, and globally. 
"I am driven by Mrs. Hyde's mission and look forward to working strategically and collaboratively to propel the organization forward in a responsibly courageous manner."
Dascher said Lefner's appointment comes "at a moment of incredible transformation for The Hyde Collection, and his exceptional leadership experience will contribute greatly to further strengthening our mission and reach … John has helped The Hyde through tremendous change, from helping navigate through the pandemic to raising funds for outstanding exhibitions and significant upgrades required to maintain a world-class museum."
Lefner has a Bachelor of Arts from Champlain College and brings extensive experience in leadership and operations for mission-driven organizations, having previously served as district executive director at Capital District YMCA, director of operations at Saratoga Independent School, and assistant director of operations at Double H Ranch.
During his career, he facilitated association-wide strategic plan priority areas of mission awareness and advancement. He also served as an organizational values steward in identifying the values and competencies that represented the organization. Lefner has shaped several nonprofits' strategic plans and policy initiatives throughout his career and reorganized the operations and fundraising infrastructures for successful outcomes.
Lefner has provided expertise to nonprofits as a consultant and volunteer, including the Spina Bifida Association of New York, The New York State YMCA Foundation, and Wellspring.