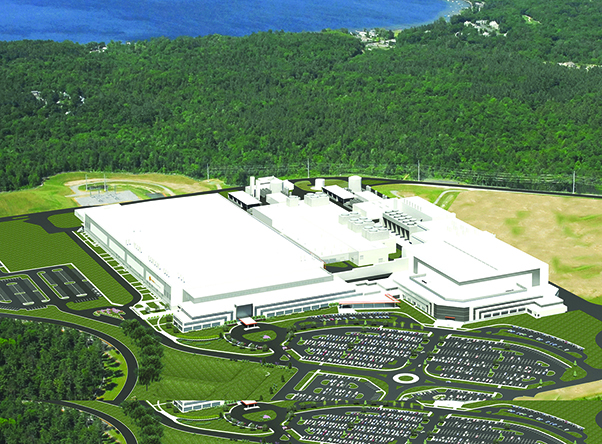 GlobalFoundries Inc. has completed the purchase of approximately 800 acres of additional land adjacent to its Malta manufacturing facility. 
With the purchase, which has been in process since early 2022, GlobalFoundries now owns the entirety of the approximately 1,110-acre park, formerly known as the Luther Forest Technology Campus.
With this additional land, GlobalFoundries has the flexibility to add manufacturing capacity and expand its footprint in New York state in alignment with customer demand, and provide space for further development with its ecosystem partners, the company said. 
The rate and pace of GlobalFoundries's expansion in Malta will be aligned with market conditions, customer commitments, and U.S. federal funding from the CHIPS and Science Act, officials said.
"Semiconductors are essential to daily life, and are at the heart of the U.S. economy, domestic supply chains, and national defense. GlobalFoundries stands ready to play a key role in the implementation of the CHIPS Act, which will boost U.S. semiconductor manufacturing by creating a globally competitive framework," said Steven Grasso, managing director of global government relations at GlobalFoundries. 
"This land purchase gives us the space and flexibility we need in the near-term to service the growing market demand for secure, reliable U.S.-made chips. This purchase also represents GlobalFoundries' long-term commitment to New York and growing the semiconductor ecosystem that supports both GlobalFoundries' world-class manufacturing facility in Malta and the regional semiconductor cluster envisioned by the CHIPS Act," he added.
GlobalFoundries employs approximately 2,500 people in Malta and to date has invested more than $15 billion in the facility.  
The company is one of the world's leading semiconductor manufacturers. 
Last year, GlobalFoundries received local approval needed to go ahead with the construction of a second major building on its Malta property. Officials said the billion computer chip factory will cost $6 billion to $8 billion. It comes as the computer chip industry worldwide has expressed the need to increase capacity to overcome a semiconductor shortage.
In another boost to the project last year, Congress passed legislation to increase U.S. semiconductor manufacturing known as CHIPS and Science Act, a semiconductor incentive, scientific research, and technological competitiveness bill to designed bring manufacturing back from overseas to places like Upstate New York.
"GlobalFoundries is redefining innovation and semiconductor manufacturing by developing and delivering feature-rich process technology solutions that provide leadership performance in pervasive high growth markets," the company said in a statement. "GlobalFoundries offers a unique mix of design, development and fabrication services. With a talented and diverse workforce and an at-scale manufacturing footprint spanning the U.S., Europe and Asia, GlobalFoundries is a trusted technology source to its worldwide customers."
For more information, visit www.GlobalFoundries.com.