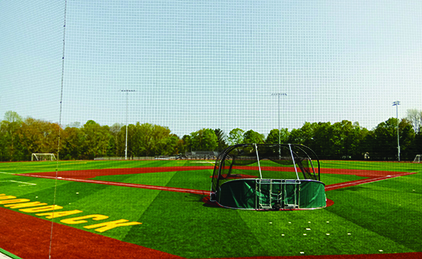 By Paul Post
 SUNY Adirondack's $5.7 million new turf field is a game-changer for its athletic program and could boost the local economy with major activities that attract teams from outside the area.
 "That's a big part of it," Athletic Director Zach Schwan said. "This is a resource not just for the college. It should draw all kinds of tournaments and events here as well."
School administrators, tourism professionals, elected officials and financial backers took part in a May 4 ribbon cutting to dedicate the facility, which includes synthetic fields for softball, baseball, soccer and lacrosse.
College President Dr. Kristine Duffy said economic development was a key factor behind the project's consideration. "We believe that we not only bring sales tax revenue into the community every time we host a SUNY Adirondack game, but we also expect to rent out the facility to sports organizations for tournaments that can be played in our region," she said. "This will bring out-of-town guests to our region who would stay in local hotels and eat at local restaurants."
 Attracting fans to the area also helps local tourism officials promote the region to guests for future events and vacation stays.
"This substantial investment elevates the opportunities to bring new sports tournaments and events to the area and showcase the college to new athletes, fans and families," said Gina Mintzer, Lake George Regional Chamber of Commerce executive director. "SUNY Adirondack is an asset for our entire region as these facilities are used by the college's athletic teams as well as by the community for various sports and recreational activities."
The project was funded by the college ($1,050,000), the Foundation ($800,000), the Faculty-Student Association ($500,000), SUNY Adirondack Housing Association ($500,000), Stewart's Shops and the Dake Family, a fund of the Community Foundation for the Greater Capital Region, the estate of Thomas Ross and Adirondack Trust Company with matching funds provided by the state ($2,850,000).
 "Recently, the Warren County occupancy tax committee approved our request to allocate $500,000 to the project," Duffy said. "It will be voted on by the full board on May 19. If approved, the SUNY Adirondack Foundation will collect the funds as part of their fundraising efforts. The foundation continues to seek donations for naming opportunities and field maintenance funding."
 Most money for the project was secured a few years ago, but construction didn't get under way until last June following a lengthy delay caused by the COVID-19 pandemic. Latham-based Bette & Cring Construction Group was the contractor.
 "We are proud of this amazing new facility and excited by the possibilities it brings to the college and our region," said Rachael Hunsinger Patten, the school's chief advancement officer and SUNY Adirondack Foundation's executive director.
 The complex, located behind the gymnasium, is the latest upgrade to SUNY Adirondack's athletic facilities, which has included refurbishing the gym floor; repurposing space adjacent to the gym with batting cages; sport-specific strength equipment and space for small-group training; and creation of a space for student-athletes to socialize and study.
Schwan said the new turf field will greatly enhance the school's ability to attract high-caliber athletes from both the Greater Capital Region and out of state. This year's baseball roster already has players from Texas and Canada.
 The baseball team held its first outdoor practice on Valentine's Day, when weather was unseasonably mild. This wouldn't have been possible on a muddy or frozen earth field.
 Dugouts are heated and lights allow for night games and practice sessions. The baseball field has seating for about 200 fans behind home plate, and bleachers hold the same number of people for soccer.
 The synthetic surface allows the spring season to begin earlier and include more games, which is also important to recruiting efforts.
 "It's going to be huge," Schwan said. "We're an extension of Enrollment and Student Affairs. As the athletic department our objective is to expand our recruiting. We want to attract top local talent and draw players in from all over as well."
 Of course, this should improve an already strong baseball team that won more than 20 games this spring.
 Previously, the Timberwolves practiced and played home games at East Field in Glens Falls. Now players can literally walk across the parking lot from their dorm to the field, which saves time and expense. Twenty-two of the baseball team's 32 players are housed in dorm rooms facing the new complex.
 "I love East Field, but taking care of the field was a challenge," baseball coach Casey Jobe said. "It was really exciting seeing this whole thing being built."
 "I'm kind of speechless about it," assistant coach Cameron LaBarge said. "What it does for the community and school is limitless. It's going to bring everybody together and build on the winning culture we've had here the past eight years. It's huge."
 Finishing touches are still taking place and logistics for handling outside events are still being established, so no tourneys or events are expected this summer. But the site could become quite buy after the SUNY Adirondack spring season concludes a year from now.
Schwan said the state has helped fund similar projects at several other two-year schools recently such as Finger Lakes (Canandaigua), Cayuga (Auburn) and Jefferson (Watertown) community colleges, which are all part of the SUNY system.
 "But ours is the nicest," Jobe said.