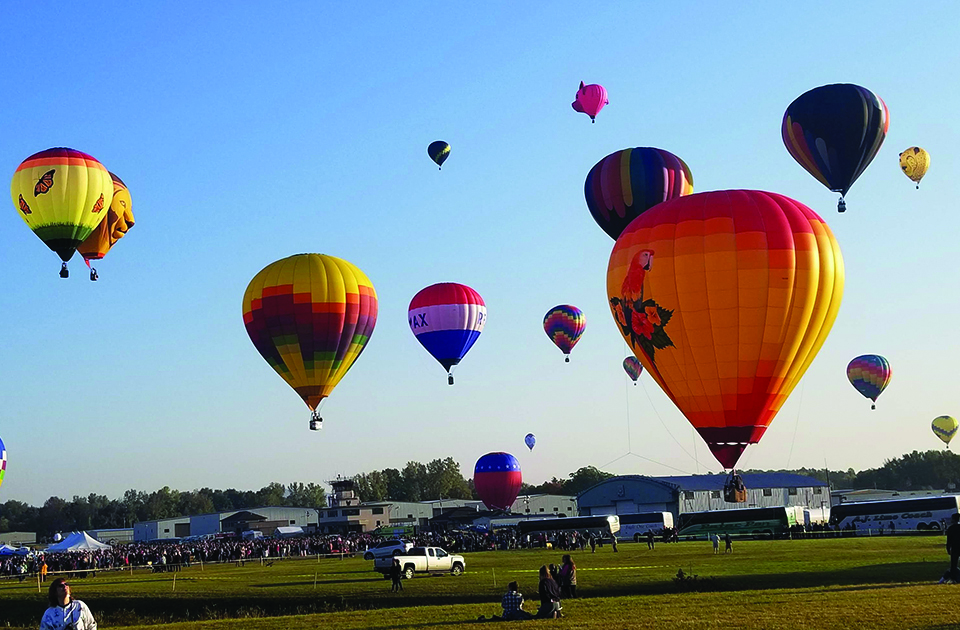 By Paul Post
A downtown parade, evening gala and record number of high-flying special shapes are among the events in store for people  at this year's Adirondack Balloon Festival and its 50th anniversary celebration.
The five-day event, slated for Sept. 20-25, gives a  boost to the local economy by generating thousands of overnight stays, creating a bonanza for hotels, restaurants and retail shops in addition to state and county coffers, which collect related sales tax.
Founded by the late Walt and Joan Grishkot, this is the East Coast's largest balloon festival, attracting people from throughout the U.S. and overseas, and third largest in the entire country behind only events held in Albuquerque and Reno.
In keeping with the Grishkots' wishes, the Adirondack Balloon Festival is organized and run strictly by volunteers and is entirely commercial free. There is no admission charge for any of the six flights or moonglow activities, all held weather permitting.
"There's no doubt in my mind that the absolute minimum economic impact from this festival is $5 million to $10 million annually," said Mark Donahue, balloon festival board president. "Last year the moonglow was picked up by the Associated Press. That went national and international. We couldn't pay for that publicity."
In addition, thousands of people per day see banners and huge photos promoting the festival at John F. Kennedy Airport and Penn Station in New York City.
 "TD Bank puts our schedule of events in every branch all the way down to Florida," Donahue said. "Every store in the Price Chopper chain tells customers about the festival on radio and with circulars a week beforehand."
 All of these combined efforts create priceless publicity for Warren County's tourism industry.
The festival operates with a roughly $200,000 budget. The festival foots the bill for lodging for  pilot and their crews, propane used to inflate balloons and special pilot luncheons.
 Revenue comes from business/corporate sponsorships, ad sales, merchandise sales and $50,000 in Warren County occupancy tax funding. Parking fees go directly to the county, not the balloon festival.
 To kick off this year's special golden anniversary, an extra fifth day has been added to the schedule, starting with a Wednesday evening gala and moonglow hosted by WNYT-Channel 13 news anchor Mark Mulholland at Hiland Park Country Club in Queensbury.
 Three business sponsors that have supported the festival throughout its long history will be honored, along with veteran pilots who are gathering from throughout the country for this special occasion. There will be live music by Rich Ortiz, and local artist Lynn Benevento will unveil a special painting done for the 50th anniversary.
 This event is open to the public. Tickets are $40 per person and may be purchased soon on the festival website, www.adirondackballoonfest.org.
 The event continues Thursday with a 4 p.m. parade from downtown Glens Falls to Crandall Park where opening ceremonies will be held at 5 p.m., highlighted by inflation of a special birthday cake balloon, the launch of 10 balloons, music by The McKrells (4-6 p.m.) and The Refrigerators (7-9) p.m. and a first-ever Crandall Park moonglow.
 On Friday, gates at Floyd Bennett Memorial Airport will open at 3 p.m., allowing guests to start gathering for the 5:30 p.m. launch of 70-plus balloons including special shapes. There will also be a Zonta craft fair, food vendors, exhibitors, numerous children's activities and music by Pluck & Rail from 4-6 p.m.
 In addition to boosting local business at the start of the fall tourism season, the balloon festival has helped area nonprofits raise nearly $1 million over the years, officials said. Groups and organizations set up fund-raising booths at the airport, and this money goes right back into the community.
The largest balloon launches are scheduled for Saturday morning and evening, and again on Sunday morning.
Airport gates open at 4:30 a.m. Saturday. There will be a special Dawn Patrol launch of five to 10 balloons in the dark (5:30 a.m.) and 90 more will take to the skies at 7 a.m. including special shapes.
 Activities will be ongoing in the afternoon with a craft fair and vendors and music.  About half the balloons will take flight at 5:30 p.m. Saturday while others stay at the airport and prepare for a large moonglow at 7:30 p.m.
 On Sunday, a mass ascension of all balloons at the festival will take place at 7 a.m.
 For a full schedule of events visit www.adirondackballoonfest.org.