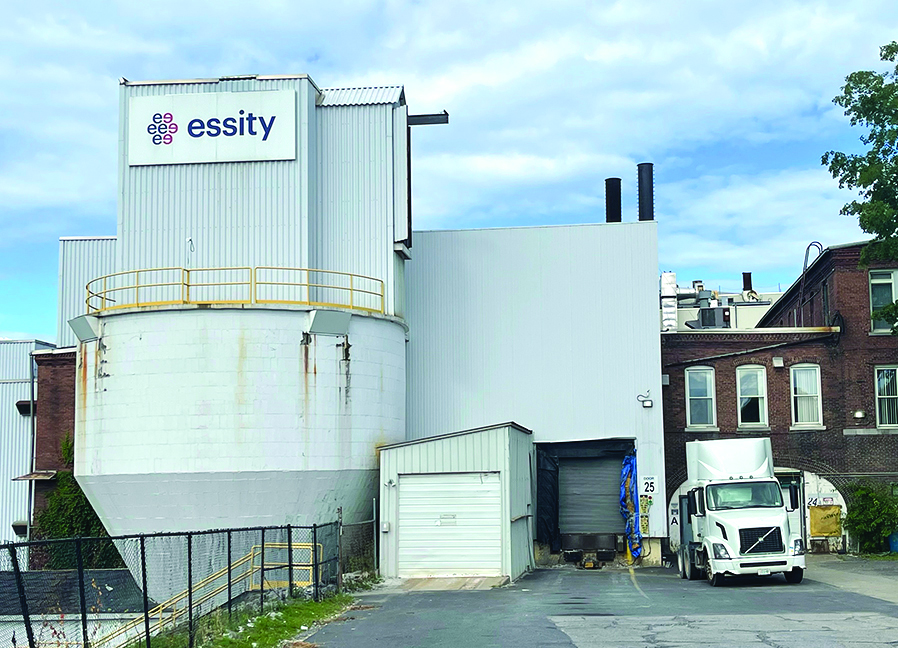 By Paul Post
State and local officials say the region's strong economy should be able to absorb the 300 people forced out of work by Essity paper company's sudden exodus from New York state.
The Sweden-based company unexpectedly shuttered its large South Glens Falls mill on July 20 and plans call for closing a Greenwich converting facility and Saratoga Springs warehouse-distribution center this fall.
Meanwhile, the union representing the workforce is urging the company to change its mind and not close operations.
Essity is the area's second large heavy industrial employer to shut down this year as Lehigh Cement, less than a mile away, is in the process of leaving, too. The fate of two large old mills is a major concern as potential public safety hazards if they can't be repurposed or new buyers found.
Parts of Essity date back to 1864.
"I don't think having an empty shell of an industrial plant is a good idea," said state Assemblywoman Carrie Woerner. "The good news is that our employment situation is very strong. We have many unfilled jobs in a variety of different industries. But that said, you want to make sure you aren't leaving an eyesore in a community that perhaps becomes an environmental nuisance. There's still a lot of questions about what condition they're (Essity) going to leave the buildings in and what can be done with them going forward."
 Company spokesperson Joanna Ford said Essity's top priority is keeping employees informed about everything they need to know about the closing. 
"The future of the sites is something that we will be discussing in the next several weeks," she said.
 However, Woerner said she contacted the United Steelworkers union, which represents Essity employees, and "they've been told there's no plan to sell the plant to another business, that their plan is to just mothball the building."
The United Steelworkers (USW) has sent a letter to Essity urging management to reconsider the decision. "The community needs management to consider alternatives to shutting down in South Glens Falls," said USW International Vice President Luis Mendoza. "Hundreds of loyal, experienced workers deserve to work for an employer with plans to operate the mill." 
Essity has indicated that it will neither seek a buyer to operate the facility nor allow the USW to look for one.
"We are shocked and disappointed that Essity has made the additional decision not to look or allow the union to search for potential buyers," Mendoza said. "This decision ultimately leaves these members, their families and the surrounding community in a devastating position."
Mendoza said that the company's actions in South Glens Falls are impacting morale at other USW represented Essity facilities.
The USW and Essity are engaged in negotiations over the effects of the company's decision to close the South Glens Falls mill, covering subjects such as severance pay and recall rights. 
The need for more modern, technologically-advanced facilities was a major factor in both Essity's and Lehigh's decisions to shift operations elsewhere.
 The South Glens Falls mill made Tork brand away-from-home paper products such as napkins, bathroom tissue and hand towels found in fast-food restaurants, travel rest stops, hospitals, schools and other institutional settings, all made from 100 percent recycled paper.
 "Our product line is evolving and many of the machines in our New York plants do not have the capability to make these more innovative and in-demand products," Ford said. "Essity will consolidate production at sites that make the products that have the highest customer demand. Our U.S. manufacturing plants are located in Alabama, Kentucky, Ohio and Wisconsin."
 Essity's U.S. headquarters are in Philadelphia. The company has no other facilities in New York aside from those South Glens Falls, Greenwich and Saratoga Springs, which are closing.
 Some observers believe New York's unfriendly business climate—high tax and energy costs—are also to blame along with a shrinking labor pool caused by a declining statewide population. 
"While Saratoga County has the lowest upstate tax burden, New York is a notoriously high-cost state with a regulatory bureaucracy that challenges even the smallest employers, never mind larger ones like this," said Todd Shimkus, Saratoga County Chamber of Commerce president. "Heavy manufacturing in the U.S. and New York state have continued to be challenged by foreign competition, labor rates, regulations and taxes. Now with inflation and cost increases for everything, every business is in a restructuring mode of some sort to adapt and remain successful."
 But he, too, is optimistic that Essity workers will be able to find new jobs fairly quickly.
 "Saratoga County leaders reacted swiftly to communicate with organizations like the Chamber as they plan job fairs for the impacted employees," Shimkus said. "We've already had a number of distribution, manufacturing and construction firms call us looking to talk with these employees. The county's Career Center is coordinating all of this and we've pledged to send an email to our entire employer database to invite everyone to help. We never want to see an employer leave Saratoga County, but from a labor perspective we have many jobs available locally as our historic labor shortage persists. As of June, we had more Saratoga Country residents working and fewer unemployed than in years."
 Woerner added, "I don't think it's a matter of leaving manufacturing and having to take a lower-paying service job. I hear from manufacturing businesses all the time such as Miller Mechanical, Fronhofer, machine tool businesses, medical device manufacturers, that they need workers."
 And despite the exodus of Essity and Lehigh, Woerner said she believes area manufacturing is still strong. A Canadian company that makes large wastewater pipes, creating 50 jobs, is coming to Grande Industrial Park in Saratoga Springs soon, she said.
 "There's also a lot of start-up manufacturing, a lot of spin-offs of other businesses and young people coming out of RPI and SUNY Albany, coming here that don't get a lot of attention," she said. "With the natural resources, quality workforce and quality of life we have to offer, companies find us a very appealing place to locate a business."
 Essity, previously called SCA, purchased the South Glens Falls mill from Encore Paper Company in November 2001. The closing comes as a surprise because the plant underwent a $20 million, 52,000-square-foot expansion upgrade in 2009, highlighted by an $8 million paper converting machine and a new employee service area. 
The new high-speed converting winder made hard-wound brown paper towels, the kind commonly found in public rest rooms.
 "It's too early to tell what will become of the existing facility," said Todd Kusnierz, Moreau supervisor and Saratoga County Board of Supervisors chairman. "As Essity remains the owner, they will be expected to continue to pay any property taxes owed and maintain compliance with any local codes regarding the appearance of the site."
 In 2016, the Essity property had an assessed valuation was $25,590,000. A stipulation Moreau Town Board approved by a 3 to 2 vote on Dec. 18, 2017, reduced this in steps to $14 million in 2022, the most recent year for which figures are available.
 "Essity has been a major longtime company in our community that has provided good well-paying jobs," Kusnierz said. "This news is a tremendous loss that will have a devastating impact on the employees and their families. Right now, the primary focus is to help those who have lost their jobs. We have the Saratoga County Department of Workforce Development, the Saratoga-Warren-Washington County Workforce Development Board, the state Department of Labor and the various Chambers all working to identify potential employers for these individuals."