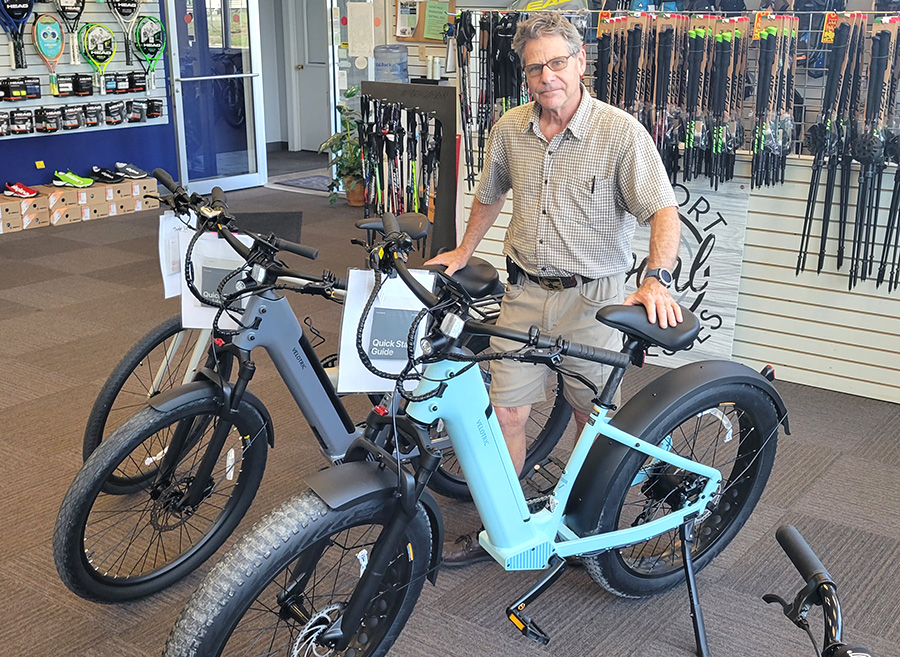 By Paul Post
John Jacobs has just the thing for Baby Boomer cycling enthusiasts who find uphill climbs a bit more daunting than they used to be.
 Velotric e-bikes allow people to keep pedaling their way to health and fitness with help from modern technology that takes the strain off tired muscles and achy joints.
 Inside Edge in Queensbury has three different models that have been leaving the store as quickly as Jacobs can stock them, he said.
 "I had no expectation that we'd be selling these as fast as we have," he said. "A lot of 'snowbirds' with second homes up here have been coming in. They live up around North Creek where there's hilly terrain. They like to ride, but they're getting older. These bikes are all designed to assist you. What they really do is smooth out the hills. It allows you to go somewhere fairly quickly, still getting some exercise but not struggling against a big headwind or steep hill. You're going to go right through."
 Jacobs is director of sales and development for Inside Edge's parent company, Reliable Racing Supply, an industry leader in ski racing equipment founded by his late father, Tom, a 1952 Winter Olympian and National Skiing Hall of Fame member.
The company currently offers three different e-bike models. They are the Discover 1 (26-inch wheel), the Nomad 1 (26-inch fat tire) and the T1 ST (700 centimeter wheel) urban commuter. All three models are available in step-through and step-over frame designs.
"The step-through frames are by far the most popular as they accommodate anyone from 5-foot-1 to 6-foot-4," Jacobs said. "The T1 ST  weighs only 35 pounds, which is incredibly light for an E-bike."
All three models may be ridden by pedal power alone or by pedaling with an electric-power assist, up to 20 miles per hour. Riders select the level of assistance they want.
But the Discover 1 and Nomad models may be driven by electric power alone, without pedaling, similar to a motor scooter.
All three bikes have an electric-power range of about 55 miles.
Velotric's most popular model, Discover 1 ST, retails for $1,399, which includes free shipping, free assembly and a free back rack.
"That's a savings of $179 compared to ordering direct from the company's website, even at their current promotional price of $1249," Jacobs said. "You pick the color and accessories, place the order and we'll see you in 10 days."
The Nomad fat tire and T1 ST models are priced at $1,599 and $1,499, respectively, also including free shipping and assembly.
Consumer Reports recently gave the Discover 1 its highest budget value rating, a score of 82, when tested against five other company brands. "An upright riding position and wide tires (which soak up bumps) provide a comfortable ride," the publication said. "In our tests, this e-bike accelerated quickly and climbed hills with ease."
Discover 1's tires and wheels are light enough that it can be taken almost anywhere. This model is ideal for commuting, for example from one of the small towns surrounding Glens Falls into the city.
"It's not meant to be off-road, but you can certainly take it on the Feeder Canal Trail, Champlain Canal or dirt road," Jacobs said.
The Nomad's fat tire makes this bike well-suited for more adventurous exploring.
"The fat tire was originally designed for winter cyclists," Jacobs said. "You used to see a ton of them out in Aspen and places like that. But slowly they've become popular everywhere because you can take them so many places. They're great for people who want to go out on a logging trail or mountain biking."
Jacobs described the T1 ST model as fast and efficient. "If you run out of juice, it has eight speeds and you do have a climbing gear to ride like a bicycle," he said.
 The T1 ST model comes with a charger, which can be carried in a pack or brief case, when going to work. Simply plug the charger into the bike and it fully re-charges in three to four hours.
"The Discover and Nomad bikes have removable battery packs that you take out and plug in," Jacobs said.
Inside Edge is the only Velotric dealer from Albany to Plattsburgh including Lake Placid, the Olympic Village, where cycling is extremely popular.
"Velotric's sales rep has opened 50 shops on the East Coast in the past few months alone," Jacobs said. "They protect our territory and make it profitable for us to partner with them. A new 'cargo' model with 20-inch fat tire wheels is coming on line, too. We'll have one here for show and to test ride soon."
California-based Velotric, founded just two years ago, is already the fastest-growing E-bike company in the U.S. Inside Edge began offering them this spring.
"We had been eyeballing e-bikes for the past three years, but it seemed to us that the bulk of the industry was selling direct-to-consumer online and we didn't want to floor-plan E-bikes while competing with the supplier," Jacobs said. "E-bikes were, up until now, expensive for something of decent quality and frankly, the dealer profit margins were thin."
Earlier this year, right out of the blue, Velotric's sales rep stopped in to introduce himself and the brand. He had visited other bike shops in the area, but was quite impressed with Inside Edge's operation and offered to make it the area's exclusive dealer."
"Once we received the three demo models of bikes, got them assembled and out on the sales floor, the flood gates opened up," Jacobs said. "Folks can come in, touch and feel the bike, review the specifications and quality, and then take a test ride through our adjacent neighborhood or the (Warren County) bike path just a few tenths of a mile away."
"We run a special-order program so that the customer can pick the color they want and any additional accessories they might need," he said. "It takes a week to 10 days for the bikes to arrive from California, and everyone seems okay with that. Plans call for Velotric to open a warehouse in New Jersey this summer. That will cut special order transit time down to one or two days on parts and components."