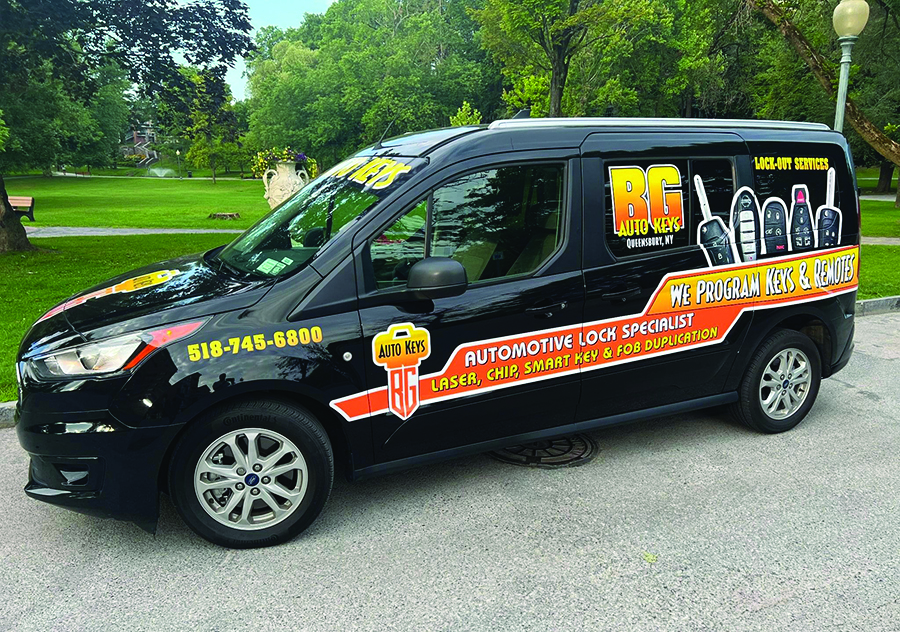 By Susan Elise Campbell
People who lose car keys on the golf course or at the beach or campgrounds that are miles from home can now get help from BG Auto Keys in Queensbury.
The company operates a mobile van that serves the North Creek area and Adirondacks down to Saratoga Springs, bringing the right equipment to copy keys or reprogram fobs, according to the company's founder Brian Granger. 
"We're not only faster but also cheaper than going to a dealership," he said.
Granger is a lifelong resident of Queensbury who has two other businesses based in the community. More than 21 years ago he founded BG Lender Services, an automobile repossession company that serves 500 to 600 clients per month. He sells some of the repossessed cars though BG Auto Auction and others online, he said.
His son Quinn is running, managing and growing the business for BG Auto Keys, Granger said, 
"He has been making keys since he was 13 years old," he said
There is a considerable learning curve to electronic car fobs and automatic starters because "different brands of vehicles have different tricks to them and you have to get to know each manufacturer," said Granger. "There is a lot of technology and practical knowledge in this line of work. Quinn is keeping up with the advancements."
The mobile van has all the right tools, materials and computers to program a new fob and remake a key with the appropriate blank—all in the customer's driveway. By avoiding the dealership, customers save considerable time and money. Granger said dealers don't stock them, so customers can never get a new key on the spot.
"One reason why the process is more expensive and time consuming is that the dealer has to order it," he said. "Then you're coming back a few days later to pick it up from another department."
BG Auto Keys can sell original manufacturer's equipment or use less costly, logo-free aftermarket items if the car model is a few years old. 
"It's the same fob, but without the emblem on it," said Granger. 
Quinn Granger has the van out almost daily and is doing about 80 percent of the company's business from his office on wheels. The remainder is out of their storefront at 100 Park Road in Queensbury, near the airport.
"Quinn will go out nights and weekends," Granger said. "Every weekend it's something, especially during tourist season."
The team expects that next year BG Auto Keys will have two trucks on the road.
When the car show rolls into town, car owners may need keys made and Granger said, "Classic cars are cheap and easy because there is no need for programming."
Commercial businesses that have large fleets of vehicles also use them for their extra keys. 
BG Auto Keys recycles old keys and fobs, sending them out to wipe the programming and then affixing a new blank. Using the products they recycle is yet another way the Grangers save their customers money. 
Visit www.bgautokeys.com for more information.