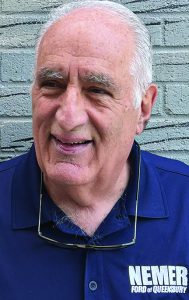 The Adirondack Regional Chamber of Commerce announced that the 35th annual J. Walter Juckett Community Service Award will be presented to Robert Nemer, co- owner of the Nemer Motor Group and financial contributor to many local community organizations. 
Nemer will be presented with the award at the ARCC annual dinner on March 8 at The Sagamore Resort in Bolton Landing.
"All you need is a couple of minutes with Robert Nemer to learn that he is passionate about helping others," said ARCC President and CEO Tricia Rogers. "His work spans through decades of helping our youth get the supplies and resources they need to succeed in school, all the way to helping fund the much-needed equipment that our hospitals need to serve their patients. When called upon, he answers the call. His contributions to our region will be felt for years to come."
Nemer moved to Upstate New York in 1970, after teaching elementary school in Philadelphia, to help run his father's Volkswagen dealership in Albany. Along with his brother Peter, they established and grew the Nemer Motor group which now includes four dealership locations.
Nemer is a founding member of the Adirondack Civic Center Coalition Inc. that was responsible for the acquisition of the Glens Falls Civic Center/Cool Insuring Arena from the City of Glens Falls. He also started the Kids with Packs program, in partnership with The Post Star and the Tri-County United Way, to provide school supplies to children in need in 14 schools in Warren, Washington, Saratoga, and other counties. Nemer also serves as a board member for Hudson Headwaters Health Network, and the SUNY Adirondack Foundation.
Nemer is a regular contributor and sponsor for many community organizations and their events. Through the Nemer Motor Group, he has made considerable contributions to Glens Falls Hospital, Saratoga Hospital, St. Peter's Hospital, and Hudson Headwaters Health Network. Nemer and his wife Francine have also donated time and funding to these health centers. The two have also contributed to the youth education efforts of The Hyde Collection.
Nemer is a member of the Lake George Association (LGA) and a founding member of LG30, a group of donors committed to the LGA mission of protecting and safeguarding Lake George. He also serves on the LGA's Council of Business Advisors and invests in the LGA's Science-to-Solutions programs.
ARCC board chair Marc Yrsha, chief banking officer, Glens Falls National Bank and Trust Co.  said Nemer "is an exceptional community leader who has been working for decades to ignite positive change and inspire compassion in us all."
The J. Walter Juckett Award, named in honor of the longtime chairman of the Sandy Hill Corp., was created 35 years ago to recognize and honor a deserving member of the community who has selflessly gone above and beyond by contributing time and energy to help others. To see a list of past honorees, visit www.adirondackchamber.org/j.-walter-juckett-community-service-award.
Juckett had a remarkable business career and was a major community leader in his adopted home, the Village of Hudson Falls, and the entire region. His leadership and commitment spanned a wide range of civic, charitable, religious, political, business and educational activities. He was recognized with honors for his work and contributions to the Boy Scouts of America, New York Business Development Corp., Salvation Army, Norwich University, Presbyterian Church, Hudson Falls Central School and many other organizations. He served as a director of the Lake George Opera and a major force in The Hyde Collection Capital Campaign.