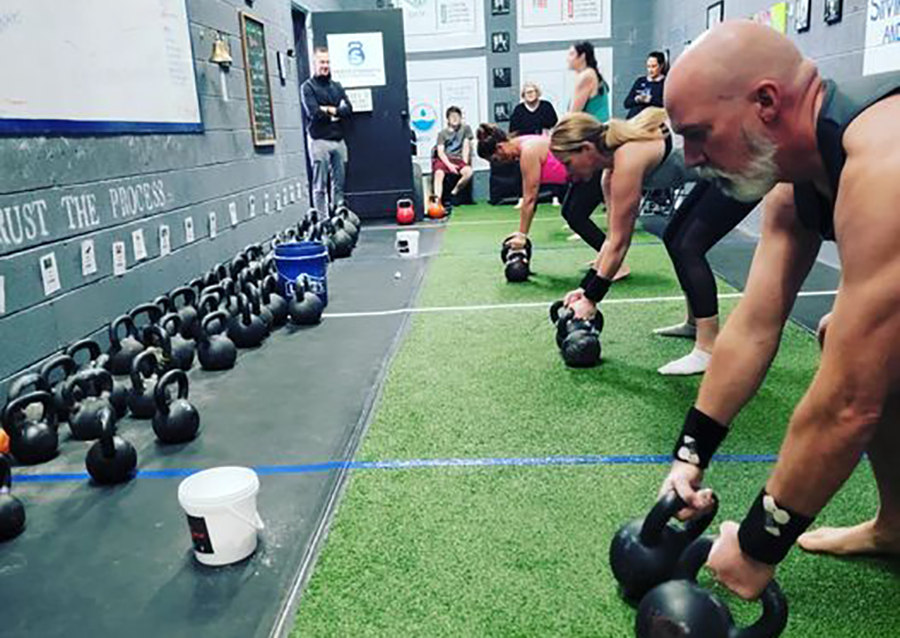 By Christine Graf
When it comes to working out, consistency is key. A person reaps more benefit from exercising regularly over a long period of time than from performing periodic extreme exercise routines. 
"Many people have this all or nothing mindset," said Mike Sirani, co-owner of Capital District Sports and Fitness in Round Lake "They think that if they start working out that it has to be five days a week for an hour every time and that they have to go really hard every workout. But, when you have a busy schedule, that can be difficult to stay consistent with."
It is for that reason that Sirani said it is important to be realistic when setting fitness goals. 
"It's about finding a routine that fits into your schedule and one that you can consistently do every week. You need to do an honest assessment of where your life is at. The most important thing in order to see progress is being consistent."
Taking that scary first step is something Ryan Carpenter, owner of Simple Strength and Conditioning in South Glens Falls, experienced firsthand. The former Marine started going to the gym in 2015 at a time when he weighed 335 pounds. 
"I got sober in 2012, and when I stopped drinking, I replaced the alcohol with sugar and food," he said. "I was super heavy, had aches and pains, and was feeling like crap. That's when I decided to make some serious lifestyle changes."
During his first workout, he walked for just 10 minutes on the treadmill, and over time, he lengthened his workouts and added weights into his fitness routine. When a friend suggested he try a kettlebell workout, Carpenter was hooked. 
"I absolutely fell in love with it because it doesn't bang up your joints, and it increased my strength tremendously," he said. "It's also great because you can use one bell and it can basically be your whole gym."
In order to achieve results, Sirani recommends performing full-body strength training at least two days a week. 
"As you age, you are going to lose bone density. You are also going to be more prone to losing muscle mass and therefore losing the strength and power in your body. When you strength train, you can improve your functionality and the quality of your life," he said. "You should also try to do a little something every day that is aerobic."
At Capital District Sports and Fitness, low-impact aerobic exercises are incorporated into each client's personalized strength and conditioning routine. 
"All of our programs for adults have a conditioning piece at the end that has low stress on the joints. We will either have them push the sled or do the bike or put together circuits of exercises where they can train aerobically and work on their cardio," said Sirani.
Both Sirani and his partner, Dan Jones, have degrees in exercise science and specialize in writing customized programs for their clients. Many of their members are recovering from injuries or surgery.
"As a new client, the first thing you would do is the strategy session. We discuss your goals, health history, and injury history. We also bring you through a movement assessment to see how well you move," said Sirani.
The gym offers semi-private personal training with one-hour time slots that accommodate between eight and 10 members. A coach is on the floor at all time, supervising members as they perform their customized workout. 
"Being at a gym with trainers is super important because you have this layer of accountability that you may not have if you are trying to do something on your own," said Sirani.
He acknowledged that it can be intimidating for someone who is out of shape to come to the gym for their first workout.
"It's going to be scary to take the first step, but once we can get somebody in here, it's about making them feel comfortable by building a relationship with them. I feel like our staff does a really good job of meeting people where they are at."
In July 2021, after receiving his level one and level two StrongFirst Kettlebell certifications, Carpenter opened Simple Strength and Conditioning. His wife, Cara Cogan-Carpenter, also received her certification and now teaches classes at the gym where their students range in age from 14 to 70.
"Anyone can do it, and we have people of all shapes and sizes and from all fitness backgrounds. Our classes only have five people at a time, so you get maximized attention. I also offer an introductory class so that people don't feel intimidated," said Carpenter, noting that modifications are available for those who are suffering from injuries or who are recovering from surgery. 
"The biggest appeal is that it doesn't bang up your joints. You aren't jumping around, but you're still getting a cardio workout and building strength. As we get older, it's important to build muscle and maintain muscle mass."
According to Carpenter, kettlebell workouts are perfect for people who don't have a lot of time to exercise. 
"We keep everything simple—we don't do anything super fancy—and this is probably one of the more efficient workouts you can do. Most of workouts last 35 to 45 minutes, so you can get a full-body workout in a short period of time. You are going to benefit even if you just come one time a week because you are building muscle."
For those who are nervous about trying a kettlebell workout, Carpenter encourages them to take that first step and come to the gym to try out a free class. 
"The hardest part of any program is the first step of going through the door," he said. "Stop the excuse making, and just get through the door and invest in yourself. I guarantee you will come back."
For more information, simplestrengthconditioning.com and capitaldistrictsportandfitness.com