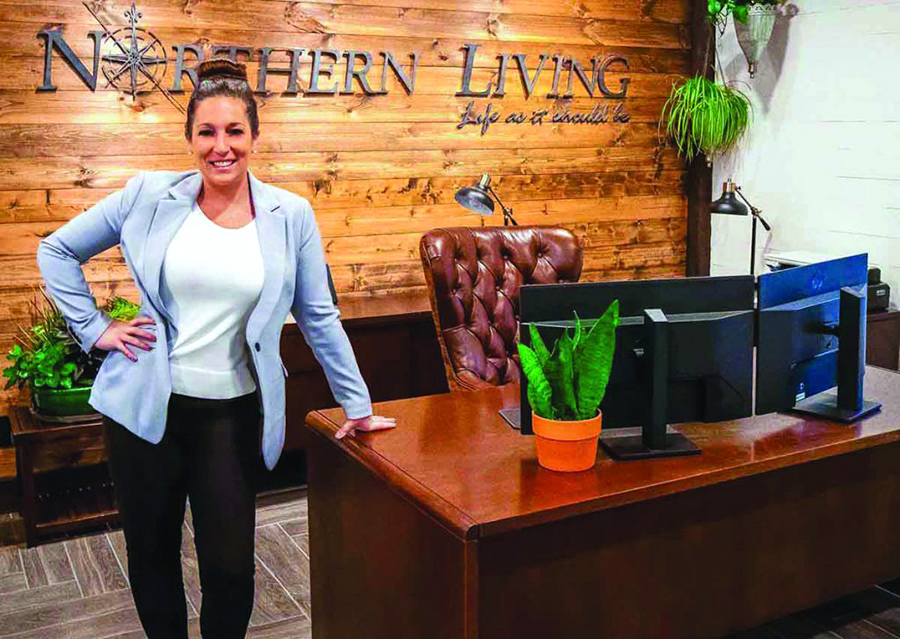 By Susan Elise Campbell
A home workspace that lets a person work the way they want to in surroundings they enjoy will contribute directly to an employer's bottom line, and interior designers say there are a few recommendations for making the space successful.
"I have business people working out of their homes come into my showroom and say, 'I don't want my space to be more office-like, but I want it to be professional,' which is how the term 'resimercial' came into the design vernacular," said Dorothy Rogers-Bullis of drb Business Interiors.
"Workers need to mentally disconnect from the residence in the work space," said Katelyn Moskos of Lake George Design. "The office has to flow with the home but at the same time, when you walk in you forget about any chaos and clutter behind you." 
The office need not be a separate room. Designers are finding creative ways to repurpose part of a bedroom, take over a closet, or add a desk in an alcove or wide hallway. If it's dedicated and professional, it can be productive.
"Most of my home office clients had been working in a building where they might have brought in a wall hanging or a box of knick-knacks," said Moskos. "I need to remind them, you're at home now. There are no limits."
"Residential design is at its root very emotional," said Julie Maleski Putzel of JMP Interiors. "But there are both an emotional and a functional aspect of what the work space has to do."
"Every client has a different priority but most want a clean-lined, updated space that is also homey," said Ronni Rosenfeld of Ronni Rosenfeld Interiors. 
"You are what you surround yourself with, so keep it simple and minimal," Moskos said.
"If I don't design and deliver a project that hits who they are, they are never going to be comfortable in the space," Putzel said. 
"Many people have no idea what their style is," Rogers-Bullis said. "I ask then questions like, what do you want to see in your desk? Some want everything out in front of them, others stark and simple." 
"A client I am working with now is an accountant and he needs to work from two monitors," said Rosenfeld. "Not only do you need to proper size desktop, but all the wires and outlets he needs for the internet and must be in the right places."
A related technical question is where will the router be, and Rosenfeld said she is the one who would bring in and direct the electrician on projects like these.
Putzel said she aims to give clients the tools they need to have a useable space they can succeed in as both the work zone and also the command center for the home to pay bills and store important papers.
A home office can evolve functionally to become more of a library or a place to sit and unwind, as well as become a guest space, Putzel said. 
"That is when you pull out from the client, if this was not an office, what would you want it to be," she said. "Then I can come up with a plan that makes all these things work together."
Acoustics are probably the number one concern for employee and employer, according to Rogers-Bullis.
"Hearing your refrigerator running in the background is not professional," she said. "We encourage those without a closed-off office to mitigate all noise."
The experts say that even if the employee doesn't have a lot of Zoom meetings to be prepared that what viewers can see is uncluttered and business-like.
"Create a niche with a backdrop or screen or use a Zoom filter at video conferences,"  Rosenfeld said. Rogers-Bullis said many young people have their office in an apartment bedroom but the bed should never be visible on video.
Lighting in a home office need not be just an overhead fixture and lamp on the desk, and Moskos said to have fun with it.
"Try having a couple of floor lamps," she said. "Lighting can also help separate the workspace and help set a calm mood."
Open shelving is popular today because it is more light and airy than traditional bookcases. Moskos said these units are also useful for separating spaces, but "you don't want to walk in and see storage on the shelves. Storage is for storage."
Rogers-Bullis said there is an interesting trend she's seeing in her business. She is now redesigning at office buildings so employees' spaces are as up-to-date there as they are at home. Employers still have long leases and are hoping to lure some workers back.
"We are bringing in high-end coffee makers, air fryers, you name it," said Rogers-Bullis. "I have designed areas where employees can make sandwiches together or shoot a game of pool and communicate effectively."
Putzel said another aid to work productivity is bringing nature indoors.
"Our bodies respond at a molecular level to nature," said Putzel. "The more we can bring in with organic fabrics and natural materials, the better we produce."