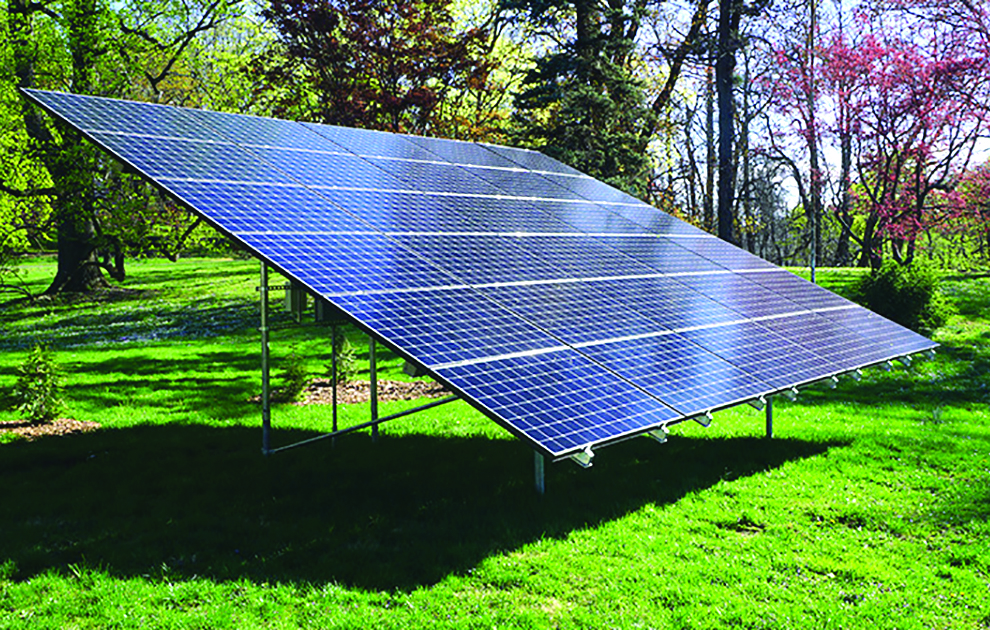 By Paul Post
 The sun rises and sets every day. In these times, some use it—solar energy—as a major source of power to heat homes and otherwise power utilities in the home.
The best time to buy a roof-mounted system that converts its energy to cost-saving electricity is now, say those in the industry.
 In the Northeast, solar electric systems generate about 70 percent of their energy for the entire year between April and September, so they need to be operational in March. But it takes several months to design, obtain various approvals and install them.
 "So the best time to start thinking about solar, getting quotes to make a decision so we can get a contract in place, obtain permits, secure materials, get the system inspected, permitted and turned on by a utility company, is this fall," said Peter Kronau, senior project manager at Queensbury-based Apex Solar.
 "I always tell residents and business owners, 'It's not when you go solar, it's that you go solar'," he said. "The sun is always coming up and going down. Time is always moving. There is a 'Goldilocks' window to have a solar system installed, commissioned and turned on to maximize the benefit from day one. If you miss that window you're playing catch-up until the system has been operational for 365 days because of how the offset works with net metering and the utility company."
 From spring to early fall, systems produce more energy than a home or business needs. With net metering, the utility acts as a virtual battery bank storing up kilowatt credits on your account. By late fall, when a system produces less than a home or business is consuming, you draw from those credits.
 "As you go through winter, surplus kilowatt hours are allocated to the balance of usage in a month and offsets the whole bill," Kronau said.
 That's why it makes sense, to maximize a system's effectiveness and achieve full savings next winter, to start shopping now.
 And going solar has never been more attractive as America's unquenchable thirst for electricity keeps escalating. Nationwide electric usage is on an upward trajectory, driven by everything from millions of small cell-phone chargers to new electric vehicles hitting the road every day.
 Rick Irizarry is director of sales and business development for SunPower by New York State Solar Farm. The Ulster County-based firm, with offices in Glens Falls, has installed more than 8,000 systems in a service area stretching from the lower Hudson Valley to Lake George.
 "The only thing that's gone up higher than interest rates is electricity," Irizarry said. "Even with higher interest rates we're still showing customers significant savings on their electric bills."
 Solar really took off around 2005, experts say. Back then, however, systems cost double what they are now and were quite often purchased by people who could afford them for their environmental benefits. During the past decade as appliances became more energy efficient, many people installed electric heating and cooling systems, water heaters and boilers and now electric cars.
 But as usage has risen, the price of solar systems has gone down thanks to a 30 percent federal tax credit and a state tax credit up to $5,000. In addition, the New York State Energy Research and Development Authority has incentive programs for both residential and commercial users.
 So a typical 10 kilowatt hour system priced at $33,000 might only cost $17,000. New York already has the 10th highest domestic electricity costs, paying 43 percent more than the national average and utility rates keep rising.
 When purchasing a solar electric system, customers lock into a set price for 25 years. Even if financed, monthly payments are still less than what they'd be paying a utility for electricity.
 "That's not going to change whereas electric rates are going up at a ridiculous rate every year," Irizarry said. "People are looking for long-term protection and getting away from utility companies. If they can do it without taking any money out of their pocket, just swapping one bill for a lower bill, once they understand that, it's like how fast can I get the solar panels on my roof?"
 "Then on top of the savings you have the impact you're making on the environment and local economy by creating jobs, which give people a paycheck and they're helping paying taxes," he said. "There's a larger component to it."
 The process of buying a system is quite straightforward.
 "We start out with a copy of your electric bill for the past year, which kind of gives us a base line of your usage," Irizarry said. "Next a consultant does a discovery call with the home owner asking how long you've lived there, and do you expect to make any changes that would drastically increase your electric usage."
 "Are you planning to add a pool or heat pump? Are you switching from fossil fuel to an electric device to heat and cool your home, or buying an electric vehicle? We're looking at where they're going. Our goal is to get as close to 100 percent of their electric usage, either currently or in the future, as possible."
 As demand for electricity has grown, the average size of solar electric systems has increased, too. In 2016, most Apex Solar installations were nine kilowatt hours. Now the average size is 12 kilowatt hours, priced at about $23,500 after state and federal incentives.
"One thing about solar is you don't have finite electrical usage, but you do have finite space," Kronau said. "Especially with the advent of geothermal and electric vehicle charging stations, now it's really becoming almost impossible to offset 100 percent of someone's electricity. For every electric vehicle you get, you don't get another half of roof. Now and in the future, what's most likely is that solar will offset a portion of your electrical usage, not all of it."
 Irizarry's firm, New York State Solar Farm, recently achieved NYSERDA 2023 Gold Status and SunPower Master Dealer status. SunPower makes the systems and New York State Solar Farm installs and services them, similar to a local car dealership's relationship with Ford, Chevrolet or Honda.
 "SunPower works on the same business model," Irizarry said. "All of the product we sell is made by SunPower. When it comes to actually designing and financing the system and any warranty work that may come up, you're going to deal with the local dealer, which we are."
 Kronau estimated that only 3 percent of homes and businesses suited for solar, with southward facing roofs, have taken advantage of this money-saving option. "It's still a drop in the bucket compared to the number of roofs out there and the number of people who have gone solar," he said. "
 Technology is always improving, but with solar "it's not like a computer where the minute you buy it, it's out of date," he said. "If you wait to get the greatest and latest you won't have anything because it's always changing. You've got to jump in the pool sometime whether it's for a car, a computer, cell phone or solar electric system."