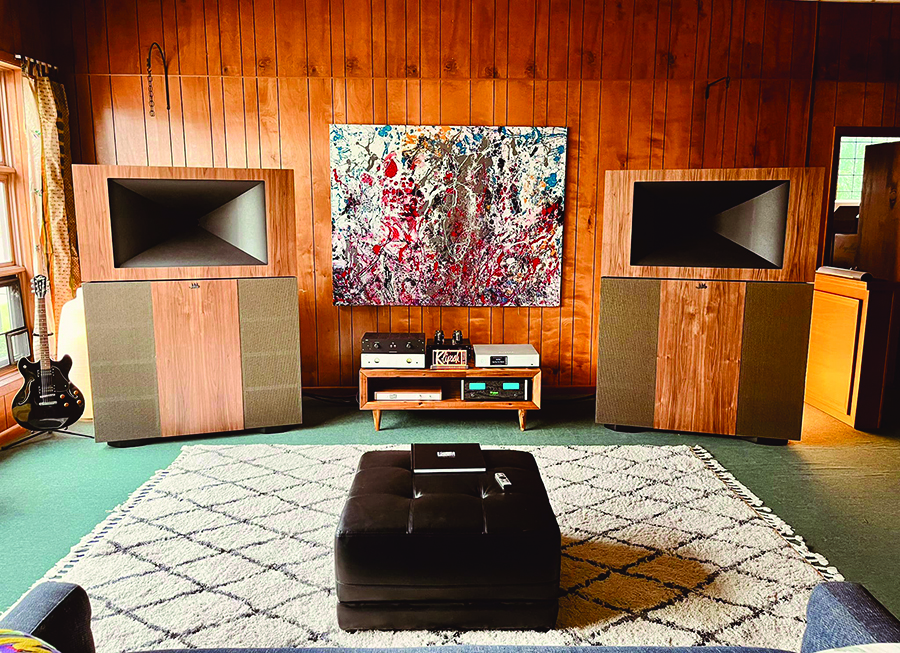 By Ann Donnelly
Walking into the new HiFi Loft shop and listening room at 32 Dix Ave. in Glens Falls, it can feel like returning to a 1970's "rec room." 
When owner and audiophile Jason Tavares saw the space, formerly Glens Falls Business Machines, with its wood paneling and a wall of windows looking out onto the street, he knew he had found a space to create his vision of what a hi-fi store should be. 
With the wood paneling, there are now geometric patterned rugs, artwork, a feature wall with retro wallpaper imported from Europe, armchairs, and sofas with throw pillows where fellow audiophiles can relax and enjoy what's on the turntable. 
HiFi Loft offers a carefully curated assortment of amps, loudspeakers, turntables, and digital sources for any budget, level of experience, or musical taste. They also have a wide range of second-hand and new vinyl record albums. 
"The records bring new and younger customers into the shop," says Tavares.
While HiFi Loft's typical customer is a middle-aged male, Tavares' ideal customers are  young people who love music. 
"They don't know what they are missing, only listening to music recorded and reproduced digitally. They will see that, with better equipment, they can get much closer to the vibe of a live concert performance," he said.
According to Tavares, digital advancements in the music recording industry have been about convenience rather than quality. 
"Excellence versus convenience. I try to convince people that they are missing something." He is talking about more than just sound quality. The way people listen to music has changed. It is now primarily experienced in a solitary way, just background noise. "The HiFi experience is about sharing the music and time with family and friends."
Even people who are not in the market to purchase high-fidelity audio equipment, they can bring an album from their collection and enjoy the sound quality from the equipment in the shop. "You can hear into your music more profoundly. You will hear things in the recording you never heard before," said Tavares. "And you'll probably want to listen through your entire music collection again."
Tavares aims to share his appreciation for the music and listening to high-quality recordings.
"It is about building a relationship more than making a sale. Come here. Let's talk about music." 
A music lover since childhood, when he started building his ideal stereo system, he still has and cherishes some of the old components.
Originally a college history professor, in 2010 Tavares became a partner in Adirondack Audio & Visual. HiFi Loft began as part of that business. In 2015, they opened a listening room in New York City at the suggestion of some existing customers who were from the city and had second homes in the Glens Falls area.
The move to a separate Glens Falls location brings about a "friendly divorce" from Adirondack Audio & Visual, with Tavares as the owner of HiFi Loft and a business importing loudspeakers from France.
HiFi Loft's Glens Falls showroom is open Monday through Friday from 10 a.m. to 5 p.m. Its website is www.hifi-loft.com and the store can be reached at 518-688-2111