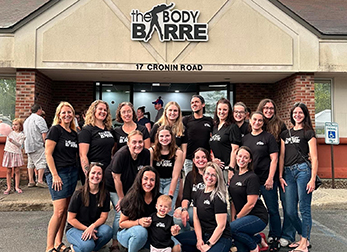 By Christine Graf
The Body Barre dance studio has found a new home in the former Social Security building at 17 Cronin Road in Queensbury. 
Owners Annie Lafontaine and Katie Langdon spent hundreds of thousands of dollars renovating the 12,000-square-foot building before opening their doors in July.
Lafontaine and Langdon met while teaching classes at the Glens Falls Ballet and Dance Center, and they opened The Body Barre in the Aviation Mall in 2018. At that time, they were primarily teaching classes for children.
"We then expanded into adult classes," said Lafontaine who is also a real estate broker and the owner of Selling ADK in Lake George Village. "That program has taken off. We now have more than 70 classes a week that we offer, at least 3 to four classes each a day are adult dance or adult fitness– Zumba, indoor cycling, barre, and now yoga."
Dance offerings for adults include ballet, tap, and hip hop. The studio also recently introduced a new circus arts class that incorporates hoops, silks, and aerial arts.
All adult classes are totally beginner friendly, and for those with more experience, joining the studio's dance team is also an option. The adult dance team currently has about 30 members and performs in local parades as well as at Boo to You in Glens Falls. 
The dance team is also featured at the studio's annual adult dance show that has taken place for the past two years at the Park Theater.
The Body Barre made the move to Cronin Road after outgrowing the multiple spaces it was leasing at Aviation Mall.
"Being in the mall was great, and it was the only way we could have started the business. Dance studios operate on a very small profit margin. That's why dance studios have to start out so small and hope to grow," said Lafontaine. "We always dreamed of having our own space."
According to Lafontaine, she and Langdon have a lease/purchase agreement for the building at 17 Cronin Road.
"We're leasing it, and we have a certain amount of time to execute our purchase contract that is already in effect. We've invested a lot of money in making this building work for us. It was in rough shape when we acquired it," she said.
The entire interior of the building has been renovated and now includes six dance studios, a reception area, and four multiple stall bathrooms. Specialized dance flooring was installed in all of the studios.
Since opening at Cronin Road, The Body Barre has increased their class offerings and hired additional instructors. 
"We finished construction, and things are really expanding," said Lafontaine. "We increased our class count by at least 30 percent, and we increased our faculty by about 50 percent. We now have 24 instructors."
Lafontaine said she is especially excited that they have been able to expand the acro classes that she specializes in teaching.
"Our acro program which is a mix of tumbling and gymnastics has really grown, and we have gone from 6 kids to about 60," she said.
In addition to offering classes, The Body Barre has a small retail shop. They sell dance shoes, tights, and apparel. Because they carry a basic line from a dancewear supplier, they are able to sell merchandise at reasonable prices.
Lafontaine said that she and Langdon are looking forward to expanding the business and providing opportunities for dancers of all ages.
For more information, visit www.thebodybarrestudio.com