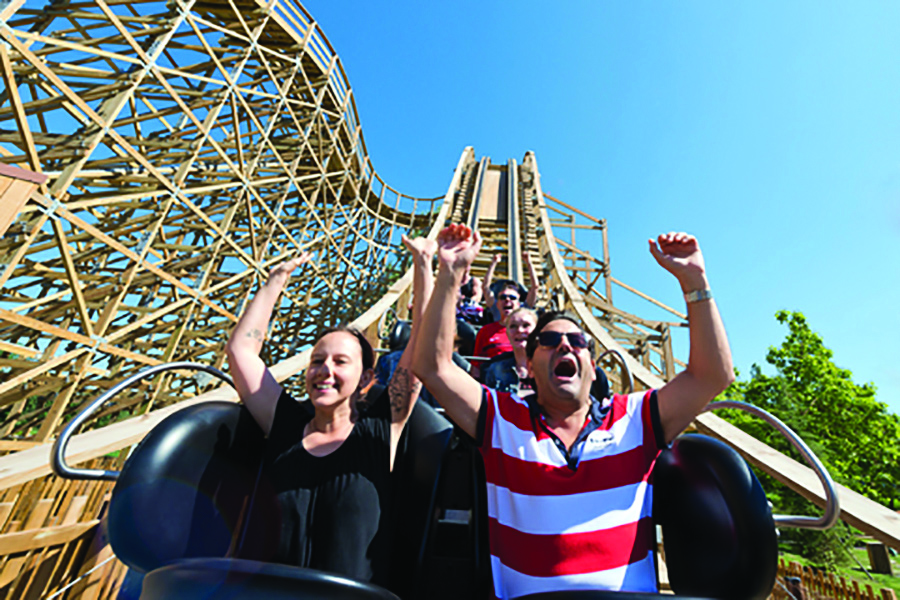 Six Flags Great Escape announced it will have a new rollercoaster ride in 2024—the Bobcat. 
This addition marks the first new wooden coaster introduced in New York state since 1999 and is the first new coaster to be constructed at Six Flags Great Escape since 2003, according to Six Flags officials. 
It replaces the Alpine Bobsled which was retired Sept. 4, 2023.
"We knew we had to find a perfect fit to replace the Alpine Bobsled in the hearts of our guests," said resort president Rebecca Wood. "This beautiful, all-natural wooden family coaster will deliver a smooth, fast and heart-pounding experience. It is sure to be an instant classic."
The Bobcat will reach speeds of nearly 40 mph, officials said. It stands 55.4 feet high and is 1,412 feet long. There will be two trains, seating 12 passengers per train.
The Bobcat is expected to begin in the spring, just in time for the park's 70th anniversary celebration. 
"The Bobcat will provide the unique feel of a quintessential wooden coaster, introducing thrill-seekers to quick turns, spunky drops and heart-pumping excitement aboard a custom, state-of-the-art, themed train," the company said.
The rest of the 2023 season includes Oktoberfest and Fright Fest.
The resort is currently hiring for Fright Fest and for a variety of positions across departments, including a seamless rapid-hire option for qualified applicants. A variety of departments and positions offer opportunities with flexible hours and perks. Many jobs start at $15 per hour, the company said.
Interested applicants can learn more and apply online at sixflagsjobs.com.
Six Flags Great Escape Resort features a 200-suite, kid-friendly lodge with an indoor water park and a theme park that offers thrills for all ages. 
Six Flags Entertainment Corp. has 27 parks across the United States, Mexico and Canada. For nearly 62 years, Six Flags has entertained hundreds of millions of guests with world-class coasters, themed rides, thrilling waterparks and unique attractions. For more information, visit www.sixflags.com