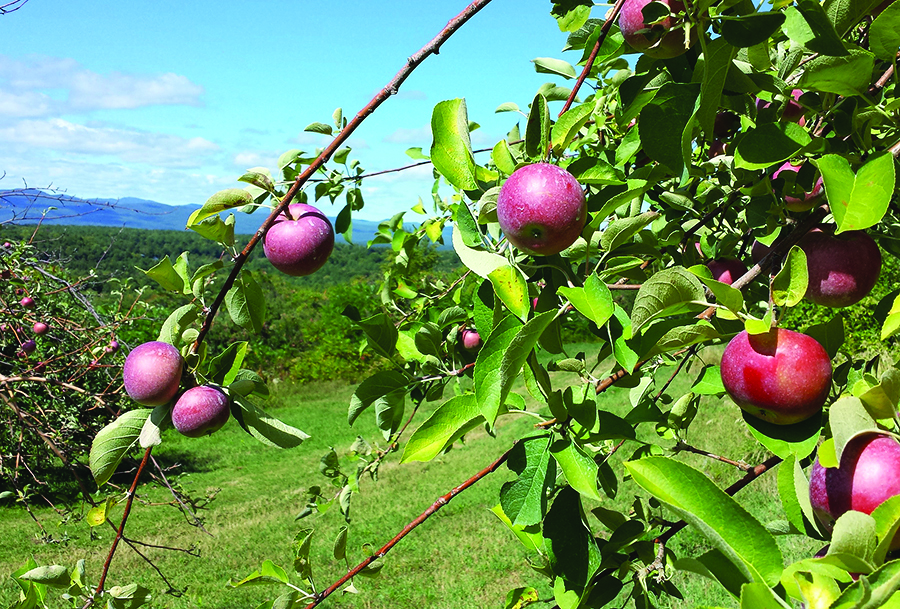 By Paul Post
 First a late-spring killing freeze. Then a devastating, early summer hail storm.
 "I've heard many, many stories about lots of orchards that had total loss and won't even be able to do anything with apples this fall," said Michelle Wilson, business manager of Hick's Orchard in Granville. "Some got hit double whammy with the hail storm a few weeks after that freeze. It definitely depends on where you were, your elevation and how cold it got."
 But Hick's, like Saratoga Apple in Schuylerville, is the exception this harvest season, whose you-pick business kicked off on Labor Day Weekend, ushering in one of autumn's most popular family-oriented outdoor activities.
 "We do have a crop," Wilson said. "I think we're going to be okay."
 The U.S. Department of Agriculture has designated 31 counties across New York state, including Washington and Saratoga, as a primary natural disaster area following the late May frost-freeze event. These designations mean that impacted farmers may be eligible for assistance,  including emergency loans from the USDA Farm Service Agency.
 The state Agriculture Department requested the disaster designation from the USDA in a joint letter with other states that are part of the Northeastern Association of State Departments of Agriculture.
 "In the days following the unseasonable frost, we visited and spoke with a number of our growers across the state to understand the extent of the damage," said Richard Ball, New York State agriculture commissioner. "Many of them hadn't seen frost conditions that late in the season in decades. We have been working with many partners since May to put together our request for a disaster declaration and to secure the assistance needed to help our growers overcome this challenging time. 
"We encourage our farms to take advantage of the emergency loans and to continue to report losses to lessen the impacts of this damaging severe weather event."
 A recent Cornell University study said New York's apple industry has a $2.1 billion economic impact, responsible for 12,000 direct and indirect jobs. Currently, there are approximately 600 orchards across the state growing apples on more than 50,000 acres.
 New York is America's number two apple producing state, but well behind industry leader Washington, which accounts for 60 percent of the nation's crop. Michigan is third.
 Hick's Orchard's successful business model has made it Washington County's second-largest tourist destination, attracting literally thousands of people on autumn weekends. Only the recent county fair, third largest in the state after Eric and Dutchess counties' fairs, is bigger.
 "People stand in line for hours for our cider donuts, voted number one in the region," said Wilson, unrelated to farm owner Dan Wilson. "Plus we're going to have a lot of know barnyard attractions this fall, like tractor tours that tell the history of the farm and this area. Our fall craft fair is scheduled for Saturday, Oct. 7 and we're hosting Jeep Jam on the Farm on Saturday, Oct. 14, a fundraiser for Haynes House of Hope Hospice in Granville."
 Hick's Ochard's diverse revenue stream also includes the production of craft ciders at its Slyboro Ciderhouse. Recently, one of America's most luxurious hotels, The Mark in New York City, began featuring Slyboro's La Saint Terre cider on its menu, a major coup for this Washington County business.
 Similarly, Saratoga Apple continues to thrive in the face of Mother Nature's many challenges by offering customers a variety of products and fun activities, too.
 Founder Nate Darrow, who passed away unexpectedly last September, took advantage of his farm's location on busy Route 29. On autumn weekends the highway is a popular thoroughfare for leaf-peepers traveling between Saratoga Springs and south-central Vermont.
 Darrow's ancestor, Jedediah Darrow planted Washington County's first orchard in Hebron, in 1784. Later, his grandfather planted Green Mountain Orchards in Putney, Vt., where Darrow grew up and learned the business.
 Then a group of investors hired Nate Darrow to plant and become foreman of an orchard in South Carolina. Before long, people began stopping and wanting to buy apples direct.
 "It was a light bulb moment for him" said Darrow's son, Eric, who now owns and manages Saratoga Apple with his mother, Christine.
 Nate moved back north, purchased the former Bullard's Orchard in Schuylerville, established Saratoga Apple and began selling direct to area residents and throngs of tourists anxious for fresh, tasty apples.
 "So we are not wholesale at all, which is not very common for commercial apple growers," Eric Darrow said. "We are just retail. We do that just through the orchard store here and by going to numerous farmer's markets all year long."
 Saratoga Apple has a regular presence at about 40 farmer's markets including those in Glens Falls and Saratoga Springs.
 Eric Darrow said his orchard was fortunate to suffer "only" a 40-50 percent loss from this year's freeze and hail. "A lot of growers are talking about 60-90 percent, some even have 100 percent loss this year," he said.
 Saratoga Apple grows about 40 different varieties.
Hick's Orchard has the oldest, continuously running you-pick business in the state. McIntosh and Cortlands are the first ones available while Northern Spy usually wraps up the season in mid- to late-October.
 The state Department of Agriculture and Markets help growers find new markets with farm-to-school initiatives and programs such as Nourish New York and New York Food for New York Families.
 "These are all aimed at strengthening our food supply chain, supporting our agricultural businesses and ensuring that all New Yorkers can access fresh, local foods," said Hanna Birkhead, department spokesperson.