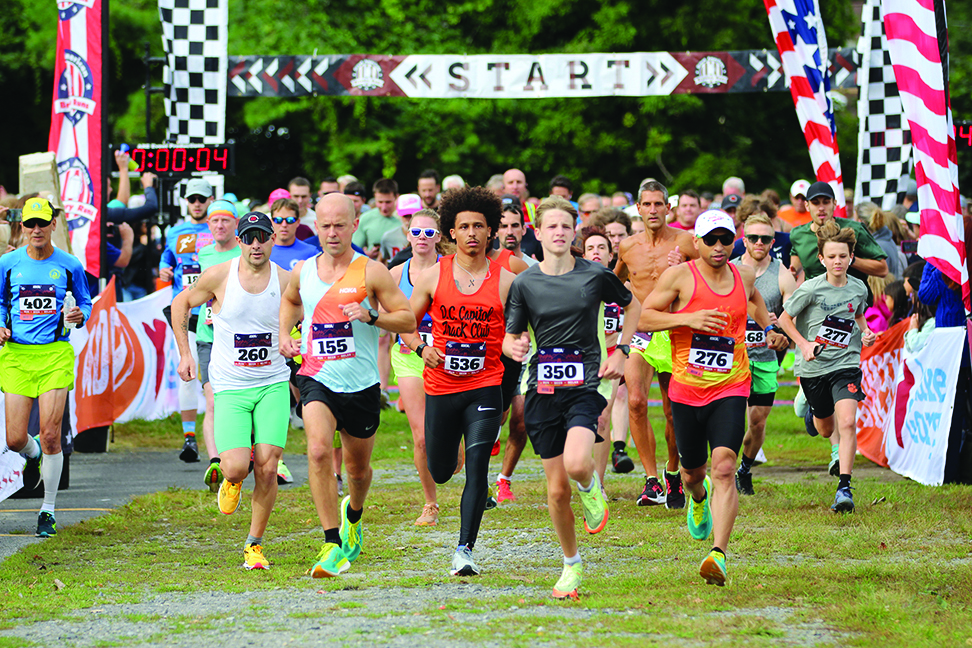 Approximately 500 runners finished in the seventh annual ADK 5K, a record for the race since the COVID-19 pandemic began in 2020, organizers said.
Officials said the event brought about 1,000 people total to Lake George, counting spectators who came to cheer on friends and family. People came from 11 states including Florida, Arizona, and Wisconsin to run the race on Sept. 16. There was also an international runner from Quebec.
The race—part of the Great American Brewery Runs Series—began and ended at Adirondack Pub & Brewery with a family-friendly party afterward complete with music, beer, lawn game zone, and more. 
Many participants make a weekend out of the event.
"It was great to see all the runners enjoying one of the most beautiful 5Ks in New York state. It was also exciting to see how many of the Adirondack Brewery staff ran in it. A great day for everyone," said Adirondack Pub & Brewery owner John Carr.
This chip-timed certified USATF 5K has grown steadily over the years and was one of the few 5K races that was allowed to take place during the COVID-19 pandemic with health and safety measures in place, leading to broader exposure of the race and its continued growth. 
"It was a perfect race day and a beautiful weekend at Lake George. We are already looking forward to next year's race on September 14, 2024," said Carl Ewald, executive director of Great American Brewery Runs.
The Lake George Land Conservancy (LGLC)—an organization dedicated to protecting the land around the lake in order to preserve Lake George for future generations—was chosen as the beneficiary. Nearly $3,000 was raised.
Over the years the ADK 5K has raised more than $10,000 for charity. 
"The Lake George Land Conservancy is honored to be the charity beneficiary of the ADK 5K," said LGLC Executive Director Mike Horn. "This is a great event, and a fantastic way to raise awareness of and support for our work to protect the land that protects Lake George. Many thanks to Carl Ewald and the Great American Brewery Runs team for including us in the event, to the Adirondack Pub and Brewery for hosting, and to our volunteers who helped out on race day."
The LGLC is an accredited, nonprofit land trust based out of Bolton Landing, dedicated to working with willing landowners and other partners to protect the world-renowned water quality of Lake George and to permanently preserve the natural, scenic, historic and recreational resources of the Lake George region.
Adirondack Pub & Brewery is a microbrewery located at 33 Canada St. in Lake George. Established in 1999, Adirondack Brewery brews  fresh craft beverages including ales and lagers, hard cider, seltzers, lemonades and teas, and its non-alcoholic offering, Bear Wizz Root Beer.