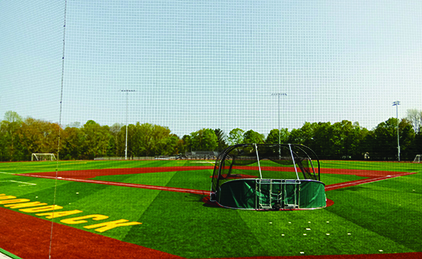 By Paul Post
 SUNY Adirondack's $5.7 million new turf field is a game-changer for its athletic program and could boost the local economy with major activities that attract teams from outside the area.
 "That's a big part of it," Athletic Director Zach Schwan said. "This is a resource not just for the college. It should draw all kinds of tournaments and events here as well."
School administrators, tourism professionals, elected officials and financial backers took part in a May 4 ribbon cutting to dedicate the facility, which includes synthetic fields for softball, baseball, soccer and lacrosse.
College President Dr. Kristine Duffy said economic development was a key factor behind the project's consideration. "We believe that we not only bring sales tax revenue into the community every time we host a SUNY Adirondack game, but we also expect to rent out the facility to sports organizations for tournaments that can be played in our region," she said. "This will bring out-of-town guests to our region who would stay in local hotels and eat at local restaurants."
 Attracting fans to the area also helps local tourism officials promote the region to guests for future events and vacation stays.