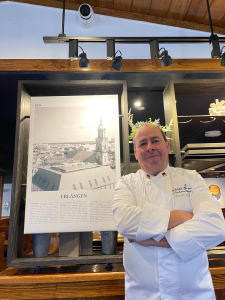 By Ann Donnelly
Chef Christian Raeth, originally from Erlangen in the Bavarian region of Germany, is looking forward to the opening of his new restaurant, Spargel on Nine, later this month. As the name suggests, the restaurant is located at 925 Route 9 in Queensbury, in the former location of Outback Steakhouse and, more recently, 40 Oak.
"While this is my first time owning a restaurant," says Raeth, "The vision of what we are trying to accomplish has been clear to me for decades. It has always been my dream.
Raeth started his culinary training with an aprenticeship in his native Germany in 1984 and has worked in some of the top restaurants in Germany, Italy, France, and Switzerland. In 1991, Raeth came to the USA, where his sister had relocated, and found a position at the Albany Country Club, where he worked for four years until he returned to Germany.  
After his father died in 2000, Raeth returned to New York State to stay. He worked in fine dining in country clubs and restaurants like Van Patten Golf Club in Clifton Park, Fort William Henry in Lake George, and Pumpernickle's in Bolton Landing. For the last 13 years, Raeth spent most of his time out of the kitchen, working in sales for Sysco, the world's largest wholesale food distributor.
Raeth aims to offer a more authentic German dining experience. "I want to give the customer the experience of walking into a restaurant in Germany, but not in a tourist area. There are no dirndls, no lederhosen. No 'oompah' music. If it's your birthday, nobody will do the chicken dance."