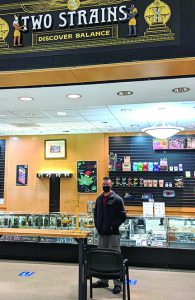 By Christine Graf
As more retail stores are forced to close due to the rise of online shopping, malls are being forced to reinvent themselves in order to survive. They are adding attractions and businesses that traditionally wouldn't be located in malls.
Pyramid Management Group's Aviation Mall in Queensbury is evolving to meet the changing landscape of the retail marketplace. In June, they were granted a zoning change that allows the company to build an apartment complex connected to the mall by two short paths. The project has been temporarily halted due to COVID-19.
Aviation Mall general manager James Griffith said COVID-19 has also impacted other negotiations that were in the works. Retailers are hesitant to make any decisions until the pandemic has ended.
"We were working on quite a few things, then COVID happened. COVID definitely slowed down some of the momentum we had with some of these national tenants. We're in a holding pattern," said Griffith.
He noted the mall isn't just going after retail tenants anymore. The mall is open to uses that typically wouldn't be in a traditional shopping center.
"One use that has been great this year that is an entertainment use is Adirondack Zombie Hunters," he said. They were in downtown Lake George and came here about a year ago. They are just knocking it out of the park."
Adirondack Zombie Hunters occupies a 3,000-square-foot space. In addition to selling survival and military surplus merchandise, the store features two laser-based shooting range simulators.