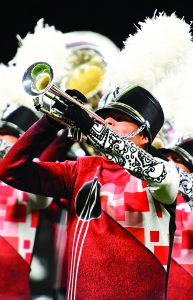 Having returned in 2018 after a five-year hiatus, Drum Corps International's Marching Music's Major League will return this summer to East Field in Glens Falls.
The drum corps has been a Glens Falls tradition since 1981.
The Glens Falls Music Academy Showcase, is set for Monday, July 22, at 7 p.m.
"It's been my intention with the Music Academy to help elevate musical cultural awareness in our region, and this is a way to expose a ton of kids and adults to a high caliber musical experience in an approachable and exciting way," said Chris Reed Jr., owner of the Glens Falls Music Academy.
"My hope is that every kid from every band program and dance company in the region will come. This really is a spectacle. You can't understand it until you see it," he said. "I remember seeing Adirondack Drums when I was 12 years old and loving it. Every kid who's in middle or high school band right now will hopefully come to this and be inspired—maybe even audition for one of the northeast Drum Corps."
The open corps lineup for 2019 currently includes the Raiders of Burlington, N.J.; the 7th Regiment of New London, Conn.; the Legends of Kalamazoo, Mich.; the Spartans of Nashua, N.H.; and Southwind of Mobile, Ala. Additional teams may be added.