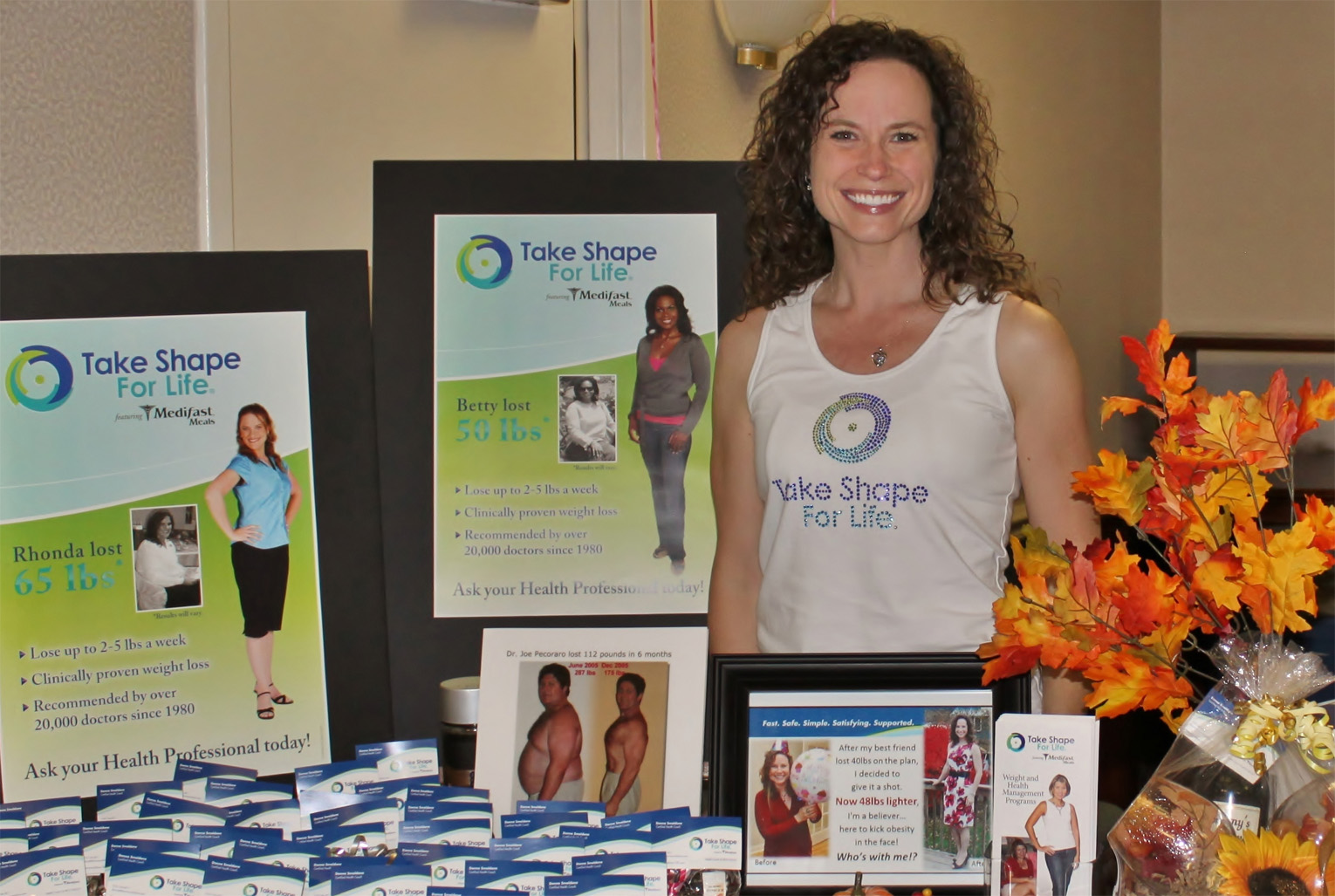 After experiencing the benefits of Medifast and Take Shape For Life, Donna Smaldone wants to help others improve their health.
By Maureen Werther
Donna Smaldone, certified health coach with Take Shape for Life, believes in "paying it forward."
After she and her husband lost a combined total of nearly 90 pounds in just a few months while on the Medifast and Take Shape for Life programs, she was offered a chance to become a health coach and she jumped at the opportunity. Realizing that losing weight was just one component of the journey toward what she calls "optimal health," she wanted to help others achieve their health and wellness goals.
"We are facing a huge obesity epidemic in this country, and we know that 85 percent of people who lose weight will gain it back within two years," noted Smaldone.
By combining the Medifast meal program with the tools offered through Take Shape for Life, Smaldone feels she can help countless people realize the same kind of transformative experience that she and her husband enjoyed in the lifestyle-changing program.
Medifast is the brainchild of Dr. Scott Wayne Andersen, who developed a line of nutritious and low-glycemic-index formula meals that he launched in 1980. The has had success in the 30-plus years of its existence.
Take Shape for Life is the coaching arm grown out of the Medifast program. Coaching services are free of charge to the client. Coaches serve as sounding boards offering support, encouragement, and advice as the client develops new ways of thinking about food and health.
There is no enrollment fee and no minimum amount of weight needed to get started in the Medifast program. "People can benefit whether they need to lose 10 pounds or 100," said Smaldone.
Smaldone said the most important part of what she does is teach people about the "habits of health." Based on a book of the same title by Dr. Andersen, Smaldone sees these habits as an integral tool clients need to practice and internalize.
"These habits are an essential building block on the path to optimal health," said Smaldone. "And the benefits are numerous, including improved sleeping, higher energy levels, reduced stress, feeling more rested and, of course continuing a healthy weight maintenance program."
The habits consist of six components comprising what is called the "BeSlim Lifestyle." Smaldone helps clients to learn and incorporate the habits into their lifestyles. They are easily remembered by using BeSlim as an acronym for each individual habit. B is for breakfast every day, which Smaldone called "the most important habit." Too many people skip this important meal and fail to give their body the fuel it needs, she said. E is for exercise. "Movement is critical to developing a healthy new lifestyle," she said. S is support from the coach, as well as support through the various educational resources available online at the Medifast and Take Shape for Life websites.
L is for low-fat meals. The Medifast routine calls for eating five to six portion-controlled meals per day. "Think of your body like a wood stove," suggested Smaldone. "It requires a steady supply of fuel in order to keep it functioning at an optimal level." Clients eat four or five meal choices available through the Medifast menu and one "lean and green" meal of their own choosing.
I is for developing an individual strategy to help clients meet their unique goals. Coaches play a critical role in helping clients identify goals and develop a plan for attaining them. M is for monitoring success and being mindful. One of the ways Smaldone suggested doing this is by weighing in weekly.
She said it is also just as easy to keep that one pair of pants handy to try on regularly, just to make sure clients are sticking to the plan and maintaining a comfortable, healthy lifestyle.
Smaldone has her own co-branded website in affiliation with Take Shape for Life. Her clients can go to the site and, with Smaldone's help, order food they need each month to succeed in the program.
"Losing weight and changing old unhealthy habits is transformative," Smalldone said. She gets most of her clients through word of mouth and from people who ask her how she has been able to lose weight and keep it off. She also has clients from different parts of the country. Each client has different needs and time constraints, some requiring a daily phone conversation with Smaldone to keep them on track. Others may only need to check in with her every few days. E-mailing can also be used to communicate daily.
"My job is not to sell or convince people," she said. Once people make a commitment, her job is to guide and support.
"Money never changes hands between me and the client. I get paid when clients order their food and other lifestyle changing tools through my website," she said.
Information is available at www.Smaldonesmaldone.tsfl.com/explore. Smaldone can be reached at 744-6811.